Duran returns to ski racing, takes the gold at Garmisch
by
Rusty Bryan
March 13, 2006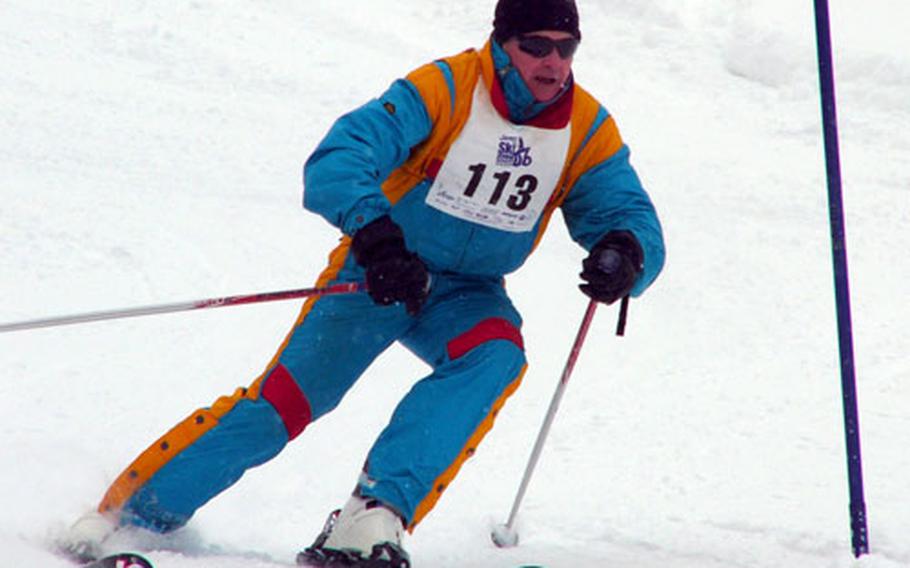 GARMISCH, Germany — Hanau's Mark Duran celebrated his return to ski racing and the U.S. Forces Europe Ski and Snowboard Championships by winning Sunday's military seniors slalom at the annual event at the Hausberg ski area.
"I skied this event in 2002, then got my masters and coached [skiing] at the University of Oregon," Duran said after collecting his gold medal in the classification for active-duty skiers aged 30-39 years. "This event is one of the reasons I re-joined the Army [in 2004]. I wanted to get back to it."
Duran posted two sub-30-second runs Sunday for a total of 58.67. He won his category by nearly 10 seconds over Christopher Camacho of Mannheim, and his time was nearly 25 seconds faster than the 1:23.29 posted by Heidelberg's bronze-medalist Eric Magnell, the man who edged Duran for gold in Saturday's giant slalom.
Duran said his weekend here required an act of generosity by his unit chain of command.
"My company's still in Afghanistan," he said. "They let me come back early to ski here."
A deployment to Afghanistan is hardly the best preparation for ski racing, but Duran did his best, unsuccessfully as it turned out, to get ready.
"I asked every pilot I met to take me helicopter skiing," he joked. "None of them would."
Duran's time was the third-best posted by an active-duty skier on Sunday. Military masters racers Mark Marchant of Stuttgart and John Roberto of Geilenkirchen clocked 55.42 and 56.49, respectively, while open champion Kyle Staples of RAF Fairford, England posted a 59.90 for the fourth-best military time on a course dusted with fresh powder.
"The new snow made conditions so-so for racing," Duran said, "but great for recreational skiers."
All four military skiers, however, were left in the dust by the demon youth skiers of Garmisch, led by 15-year-old Kristin Ellis.
Ellis, who posted Saturday's fastest overall time in the giant slalom, repeated that feat in the slalom. She posted runs of 25.49 and 25.98 for a 51.47 combined total that was more than two seconds faster than the time of overall runner-up Sebastian Smithback, 12, of Garmisch. Smithback won the boys' juniors in 54.23.
Ellis' 11-year-old sister, Joyce, won the girls' juniors in 58.14 and her mother, Christa, took the women's seniors in 57.42 to make it a seven gold-medal weekend for the Ellis females. All three won double gold in slalom and giant slalom, and Kristin added a snowboard gold, winning ahead of Joyce in the girls' category in that event.
Also pulling double gold were Amber Elliott of Garmisch in the women's open, Zach Gile of Garmisch in the boys' seniors and Marchant in the men's military masters.
Marchant edged Roberto in both events, but that was all right with the Geilenkirchen veteran.
"You never know who's going to show up for these things," said Roberto, who has been skiing the USFE event off and on since 1989. "That's what's cool about it."