DODDS spikers undeterred by private school's Far East dominance
---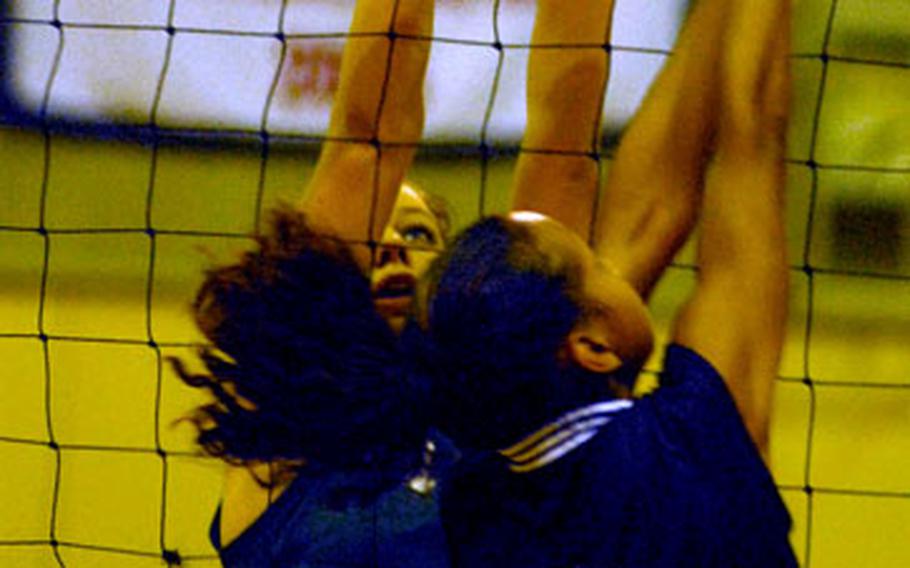 The record speaks for itself: Far East high school volleyball tournaments long have been the province of Tokyo-area and Guam public and private schools. They've won six of eight Class A tournament titles and 25 of 30 in Class AA.
But the likelihood of winning shouldn't be a deciding factor in whether to accept a tournament invite, said Chris Kelly, whose Kubasaki Dragons of Okinawa placed highest among DODDS' Class AA teams a year ago, finishing fourth.
"It gives us a chance to measure ourselves and, the volleyball gods willing, if we win, that makes it that much more special," Kelly said. "At the end of the day, you truly see who's the best in the Pacific."
Brian Swenty, in his fourth season of coaching the Class A Osan American Cougars of South Korea, agreed.
"You want the strongest possible competition," he said. "It raises the level of play of everybody. It's tougher but that's what it's all about."
Osan will join three other DODDS-Pacific schools plus two Korea international and missionary schools and one each from the Philippines, Taiwan and Tokyo in the Class A tournament at Sasebo Naval Base in southwestern Japan, where play begins Monday.
Kubasaki and seven other DODDS-Pacific schools will compete at Yongsan Garrison against four Guam schools, three Tokyo-area international and missionary academies and Hong Kong International School. The tournament opens Monday.
Unlike Far East tennis, cross-country and wrestling tournaments, which became DODDS-only affairs in 2004, Far East volleyball, basketball and soccer tournaments are split by enrollment into Class A and Class AA fields and still welcome non-DODDS participants.
Recent DODDS-Pacific basketball and soccer dominance hasn't extended to volleyball.
"We have to build teams from the ground up every year," Robert D. Edgren coach Sarah Richardson said of the constant transfers of DODDS-Pacific players. In contrast, international programs keep players sometimes through 12th grade.
"Half my team will be gone next year," Kadena coach Hoa Nguyen said. "International players keeping that player continuity is a major factor" in their success.
Still, coaches such as Kelly insist they'd rather face the stronger competition.
"Bring everybody … and play this thing out," Kelly said. "If you show up, play your best and still lose, you tip your hat, congratulate the other team and say you came up short. If you're afraid to play stronger teams, then you're in the wrong line of work. If you play just the DODDS teams, you end up with 'what ifs.'"
Richardson, whose Edgren players face only DODDS-Japan teams during the regular season, says she'd love to have the same advantages as DODDS teams in the Kanto Plain: taking on former Class AA champions American School In Japan and Seisen International and defending champion Christian Academy In Japan.
"My players see a team like that, they realize they need to go back to the drawing board," Richardson said. "It would help if we could do that during the season but when you're seeing them for the first time at Far East, it's too late. That's a big disadvantage. I want my kids to be exposed to that before Far East."
Especially at the Class A level, DODDS-Pacific teams "are struggling for height this year," said Taegu coach Jennifer Sharp, whose team lost most of its tall players to graduation last spring.
"It's a lot to overcome," Swenty said of schools such as the Philippines' Faith Academy and Taiwan's Morrison Christian Academy. "They always seem to get a 5-foot-10 player who jumps out of the gym."
In both tournaments, most teams will face each other for the first time this season. Said Kelly: "We'll play to the best of our ability and let the chips fall where they may."
---
---
---
---