DODDS' speed, experience prevail
by
Rusty Bryan
September 13, 2009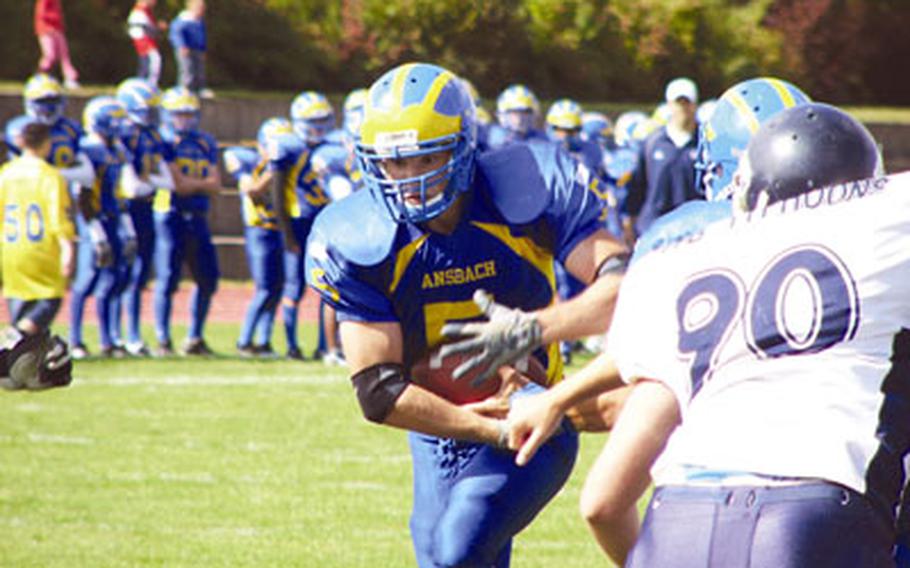 ANSBACH, Germany — In the first football contests ever played between DODDS-Europe and German high school teams, size didn't matter.
Experience did.
Combined with the American schools' superior speed, a lifetime's exposure to the game made all the difference in three-time defending champion Ansbach's 45-6 victory over Theodor-Fliedner-Gymnasium on Saturday and Mannheim's 26-0 conquest of Karl-Rehbein-Gymnasium on Friday night. DODDS squads have played local club teams in the past, but this was the first time in the 60-plus years of American interscholastic football in Europe that the opponent was a local-national school team.
"They were big," Ansbach head coach Marcus George said after his team's exhibition victory over the TFG Typhoons, "but our misdirection plays and speed were too much for them. We were like a bunch of gnats buzzing about their heads."
On Saturday, it was the gnats who carried the flyswatters as Ansbach allowed just 70 yards of offense and four first downs to the guests from Düsseldorf.
TFG's lone touchdown came on a 6-yard run by quarterback Niklas Hemstage on the game's final play. It followed a 74-yard kickoff return down the left sideline by Christoph Toormann.
Other than that, Saturday's game belonged to Ansbach.
All-Europe senior quarterback Dominic Barrale threw three touchdown passes — an 8-yarder to junior Alex Moya in the first half, and second-half strikes of 33 yards to fellow All-Europe selection Carter Gunn and 52 yards to freshman Pablo Berrios.
Moya scored on a 9-yard run in the opening half, and senior Shaun Francis scampered into the end zone from 33 yards after intermission.
"Our line opened a lot of holes," Barrale said, "and I had a lot of time to throw."
Barrale also had a good view from his outside linebacker slot of Ansbach's defense, which bent only once. The Typhoons mounted a 53-yard drive, most of it over the left side of their line, before turning the ball over on downs at the Ansbach 33 just before halftime.
"They were using one of our plays, the crossbuck, against us," Barrale said, "We made some adjustments at halftime, and our inside linebacker, Matt Jones, made some great plays."
On Friday in Mannheim, the Bison defense was even better than Ansbach's. KRG of Hanau managed just one first down and 31 yards of offense.
"We dominated them," enthused Mannheim junior Sean Knight, who played center and linebacker and was in the thick of the whipping on both sides of the ball. "We're well-conditioned, and it showed."
Despite the one-sided outcomes — both games ended under a running clock — each victor found value in the experience.
"They helped prepare us for this week's opener against Bitburg," said George, whose Cougars will put their 24-game winning streak on the line Saturday. "They got us used to playing a big team, like Bitburg always is, but they don't have the speed and a mobile quarterback like Matt Less that Bitburg does. [Hemstege] is more of a pocket passer. He didn't pose that many problems, but Less can roll out, option and run."
Mannheim, which benefited from 20-yard TD passes from Nathan Nichols to Kenyatta Hill and Kenny Conlan and scoring runs of 19 yards by J Sheppard and 2 yards by Trevin Hampton, plans to use its victory for momentum.
"This game was good for our spirit," said Hampton, a senior. "We were 2-4 last season. We worked all summer under a personal trainer. This year, we expect to win."
---
---
---
---