DODDS-Europe girls volleyball: Ramstein, Aviano, Marymount, Rota claim titles
by
Charlie Reed
November 4, 2007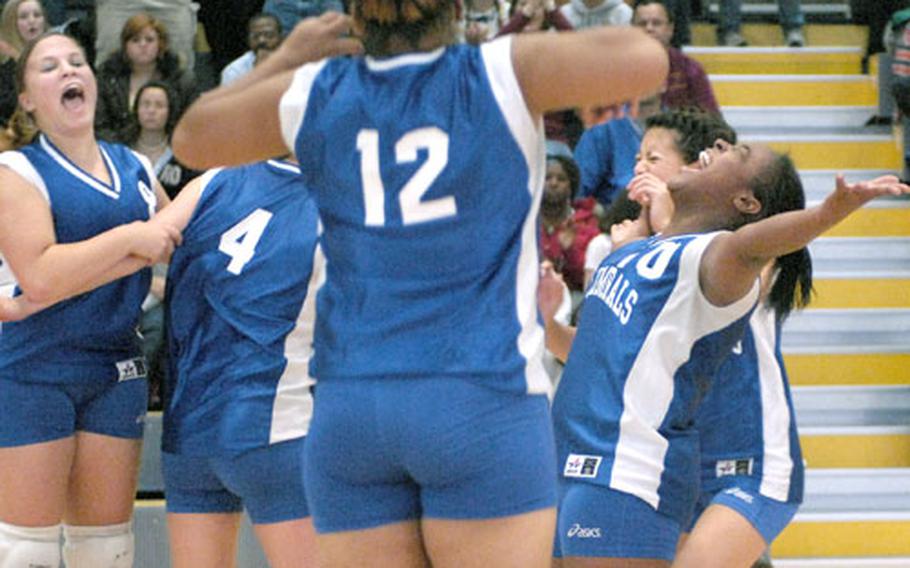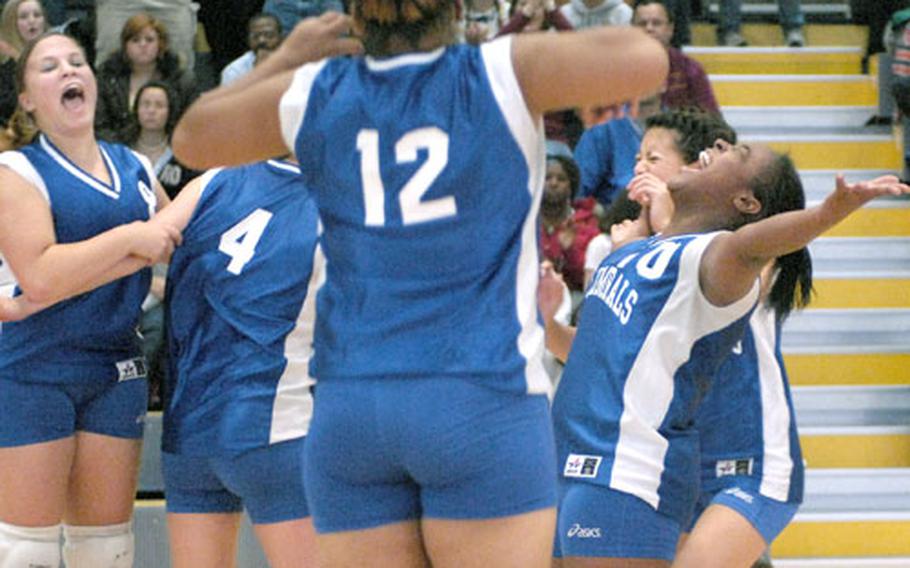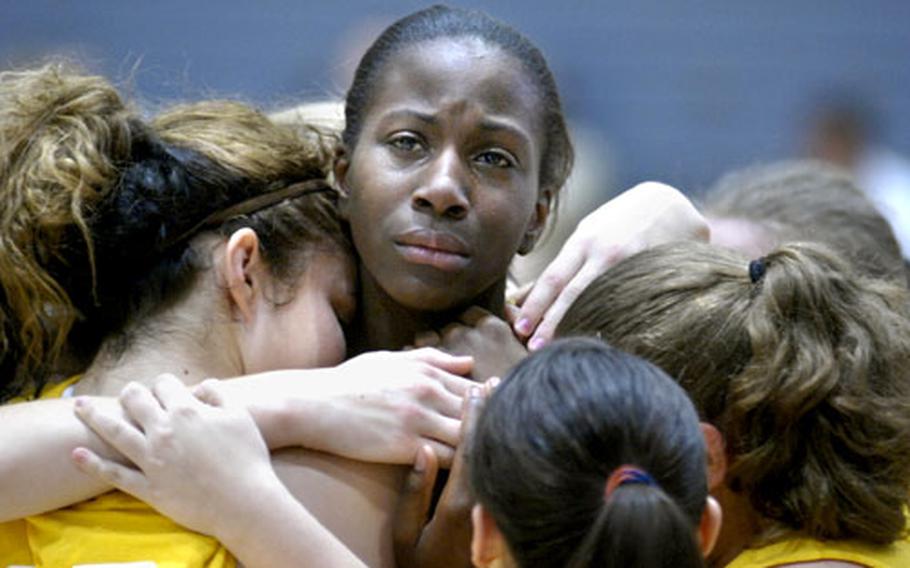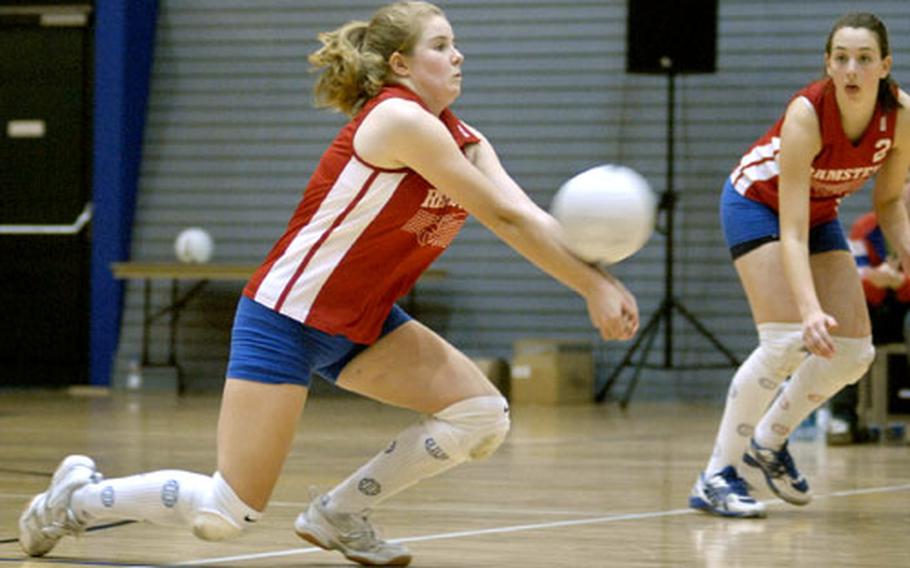 RAMSTEIN AIR BASE — An already boisterous crowd at Ramstein's Southside Gym Saturday grew larger and louder as the final match of the DODDS-Europe girls volleyball tournament between neighborhood rivals Ramstein and Kaiserslautern was about to begin.
When it was all over, it was a three-peat and another Division I crown for Ramstein.
The Lady Royals joined fellow No. 1 seeds Aviano and Rota, and surprise winner Marymount International, as division champs.
Division I: "We're ecstatic because this is a young team" coach Hia Sebastian said after Ramstein finished off Kaiserslautern 17-25, 25-15, 25-16, 25-12.
The key to the victory was "teamwork on and off the bench," she said.
Senior Sierra Stayberg, one of the team's leaders, was selected MVP.
The victory was payback for the Lady Royals, who lost to Kaiserslautern earlier in the tournament for their first defeat in two years.
"It helps heal the wound a little [of the finals loss]," Kaiserslautern coach Scott Davis said of that victory. "Playing in the final game in front of the big crowd is such a positive experience for the girls, and K-town hasn't been in the finals for some time."
Division II: Aviano's victory over second-seeded SHAPE was as swift as the 25-13, 25-12, 25-15 score indicated.
Tiffany Hight, a powerhouse for Aviano all year long, was unstoppable at the net. She dominated on offense and defense, delivering mighty spikes and big blocks that made it difficult for SHAPE to score.
Hight, a senior who fittingly scored the title game's winning point, was selected the D-II tournament MVP.
"Aviano has a strong team ... but our girls played well," SHAPE coach Chanda Gales said after the game. "They stepped up and instead of being afraid of the (Aviano) hitters, they showed they were tough too."
Division III: The D-III title game was a battle royale, with Marymount stopping Baumholder 25-7, 27-29, 25-11, 13-25, 15-4 to prevent a sweep of top seeds.
The match was marked by strong momentum changes as the teams took turns going on a roll. In the decisive game, it was Marymount, a private school in Italy, that got hot and stayed that way. Marymount sophomore Ilaria Montanari was selected MVP.
Though his team was visibly upset by the loss, veteran Baumholder coach Mike Reilly said his players would "bounce back quick."
"They showed a lot of determination and grit and never gave up," he said. "It was a well-balanced match and the winning team committed less errors.
"What's good for Baumholder is that we're a young team and I'm optimistic we can return to the [championships] next year."
Division IV: Rota's 25-19, 25-22, 25-18 sweep of Hanau gave the Lady Admirals their second consecutive DODDS-Europe championship. Last year, Rota won the D-III crown; this year, because of changes in enrollment, it played in D-IV.
Though Rota maintained its lead throughout the match, Hanau, the third seed, managed to keep the games close.
Tournament play has been nerve-wracking for Rota, said coach Judy Scarbrough.
"We've always been the underdog, and that's given us the inspiration to win," she said of her team, which travels from Spain to play in unfamiliar territory.
Rota's team spirit seemed to bring an element of cohesiveness to its play.
"We work as a family," said junior Bethany Walcott, who spiked her way to the D-IV MVP award.
About 500 students and spectators packed the gym to watch the title games. Ramstein and Kaiserslautern factions could easily be seen and heard during the final match.
But students from schools throughout Europe cheered for one another all day long. Shouts of "C'mon ladies!" and "Shake it off" could be heard from every corner of the building.
"It doesn't matter where they're from, the kids just pick a team and root for them," said tournament director Nancy Peck. "Or what you hear, too, is them just rooting for good plays. The fans were wonderful this year."
See a 2007 DODDS-Europe volleyball tournament photo gallery here.