DODDS-Europe Division II football championship: Perfect end for unbeaten Ansbach
by
John Vandiver
November 4, 2007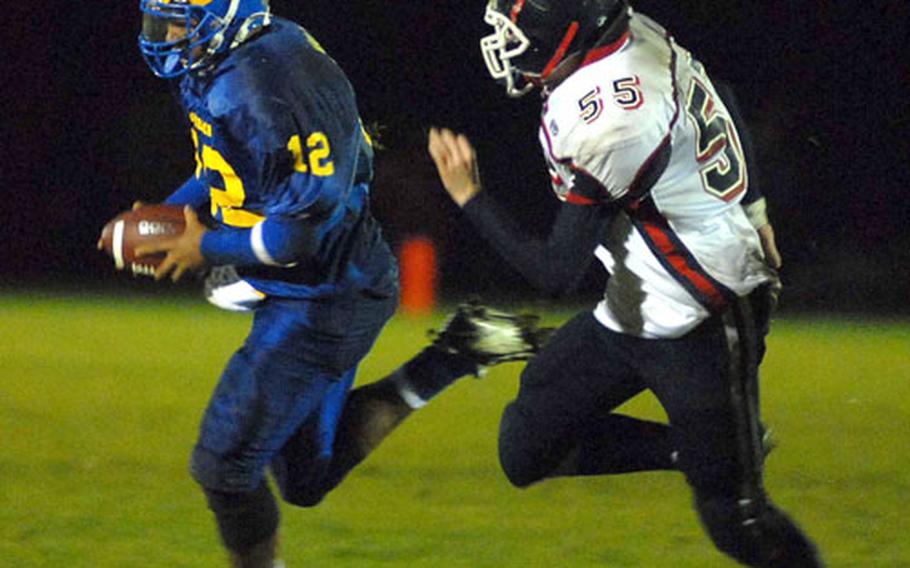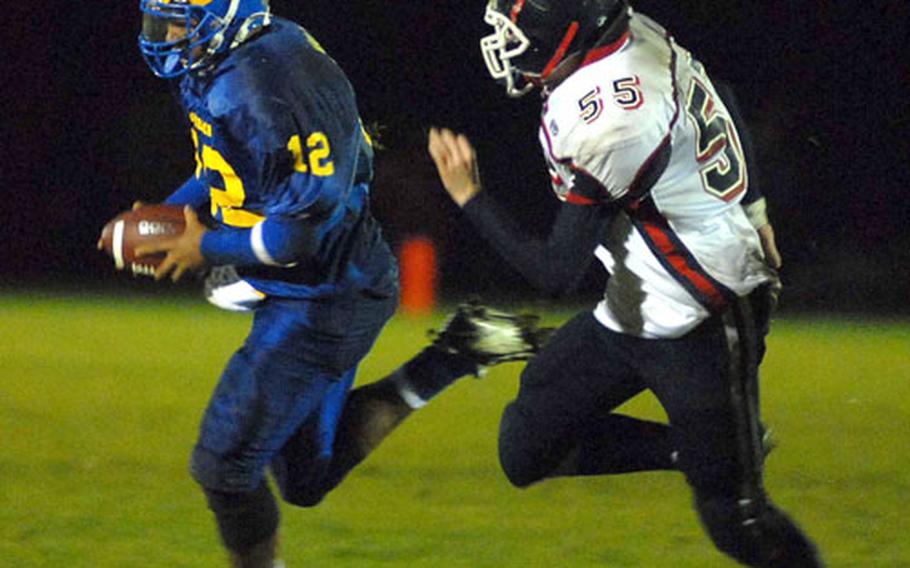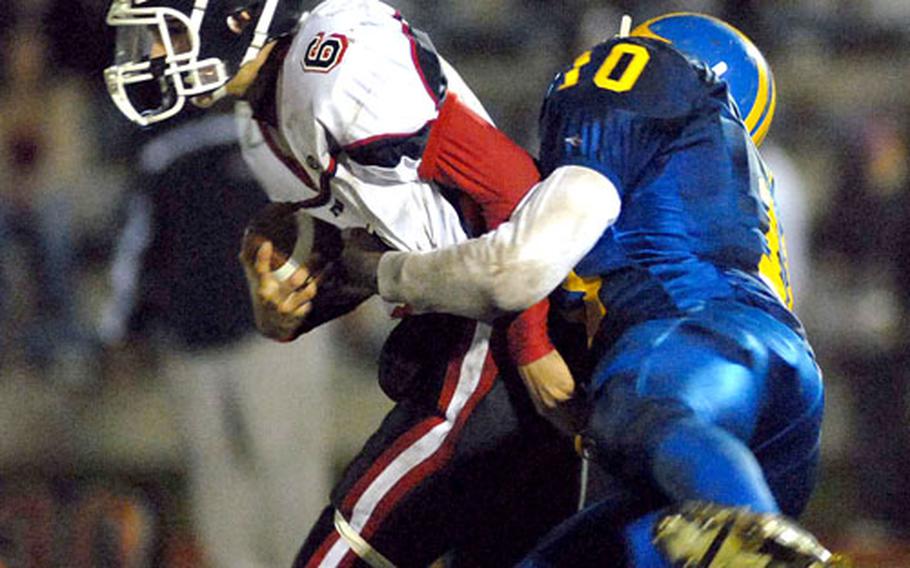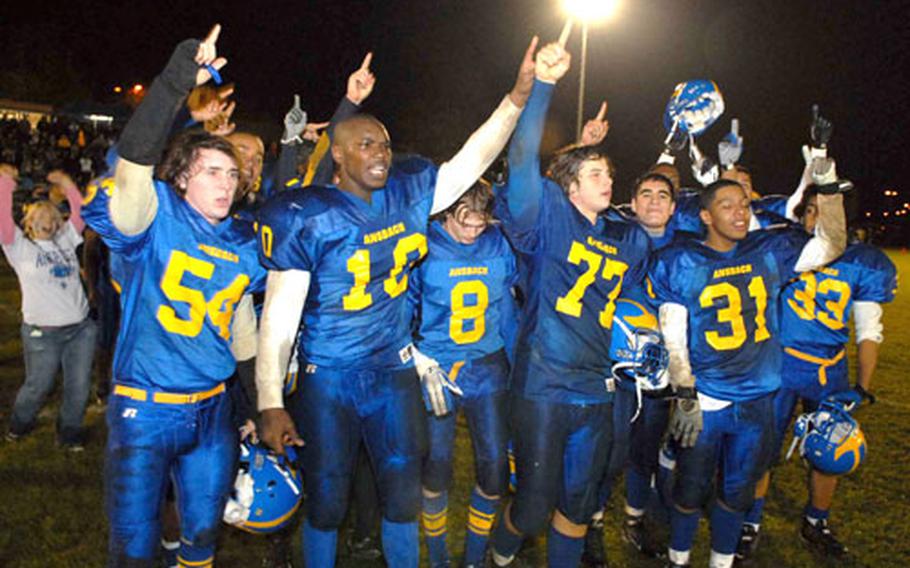 BAUMHOLDER, Germany — Ansbach scored 36 second-half points Saturday to snap a halftime tie and roll to another DODDS-Europe football championship.
The Cougars, behind the all-purpose skills of All-Europe quarterback John Willis, defeated Bitburg 44-8 on a soggy field to claim the Division II crown. Last year, Ansbach won the D-III title before moving up a division because of DODDS enrollment changes.
"We kind of shot ourselves in the foot in the first half. I made some really dumb calls,"Ansbach coach Marcus George said.
"It wasn't the kids' fault, it was mine and we just needed to make some adjustments at halftime."
Indeed, it was a tale of two halves.
On the first series of the game, Bitburg went on a long, methodical drive to score first. The Barons slowly ate up the yardage and most of the first quarter before going up 8-0 on a short TD catch and a two-point conversion by Anton Harris, their All-Europe running back.
Ansbach answered quickly on the next series. Willis threw a 55-yard touchdown pass to Jiamine Kimbell and Ansbach followed with a two-point conversion of its own.
After that, the defenses took over. When the half ended with no additional points, it looked like this would be a low-scoring defense struggle.
In the locker room, George said he had to do some "soul searching" to come up with a better game plan. "Where was my head? I made bad calls," he said.
Whatever he came up with worked. Ansbach, which finished the season 8-0 and the only undefeated team in DODDS-Europe, turned on its potent offense and began capitalizing on multiple Bitburg turnovers.
Willis, the game's offensive MVP, did a little bit of everything: A 60-yard punt return for a touchdown, a rushing touchdown and three TD passes. He finished with 82 yards running and 136 yards passing.
"This was definitely my best one (game)," Willis said.
Running back Xavier Sheppard, receiver Thomas Graham and running back Rancel Arrocha also scored touchdowns.
While the offense moved at will, the Cougars defense was equally dominant. In the second half, Bitburg was never in a position to score.
The Barons lost three fumbles, which kept their offense in neutral and their beleaguered defense on the field.
Ansbach's defense was led by the defensive MVP, linebacker Jacob Burnside, and Dominic Barrale, who had four solo tackles and 17 assisted tackles.
With 5:52 remaining, Ansbach's second string took the field to finish off the victory.
Following the game Willis, a senior, was overcome with emotion as he spoke through tears.
"I'm just so happy right now. I'm happy for my team, we did everything perfect," Willis said. "I can't believe it's over."
Photo gallery2007 DODDS-Europe football championships