DODDS-Europe boys volleyball: Milan holds off Aviano
by
Kent Harris
November 4, 2007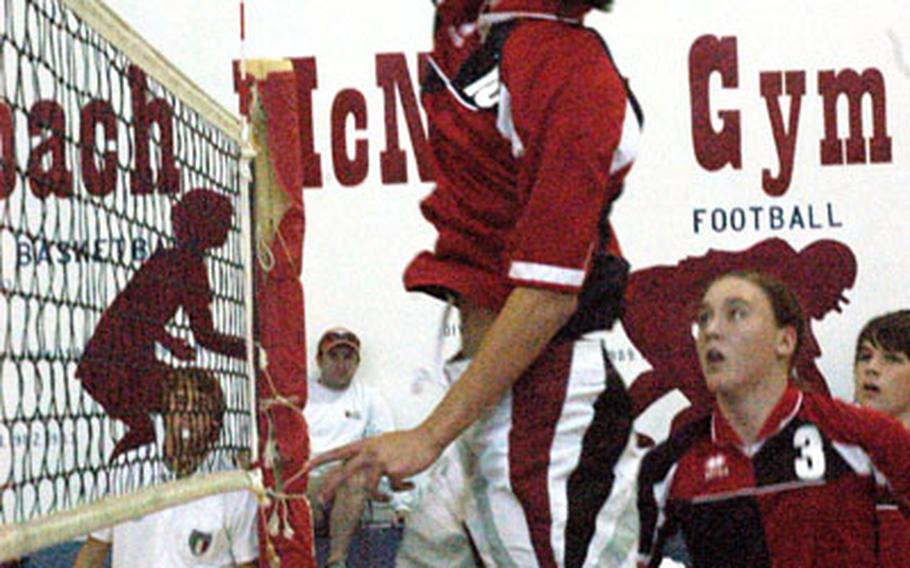 AVIANO AIR BASE, Italy — Sometimes it's not a bad thing to be the underdog.
The Milan and Aviano boys volleyball teams had met previously this season. The Saints came out on top, winning in straight games in the final contest before the season-ending tournament began. That helped them take the No. 1 seed in the DODDS-Europe Mediterranean boys volleyball championships.
But with a chance for some revenge — and the school's first volleyball title — Milan came out fired up Saturday. And revenge was sweet as Milan jumped out to a 2-0 lead and then staved off an Aviano comeback for a 25-21, 25-16, 16-25, 22-25, 15-13 victory.
Milan coach John Hogan said his team definitely remembered the previous week's contest.
"That was part of it," he said. "And the majority of the players out there were seniors. They didn't want to finish without a title."
The experience factor probably helped both schools reach the finals. Six of Milan's players are in their final year, and so are seven of Aviano's 10 players. Both teams finished second in pool play, but upended the top two schools — American Overseas School of Rome and Black Forest Academy — in the semifinals.
Height was definitely in Milan's favor Saturday. The team's middle hitter, 6-foot-5 John Diatto, towered over the Aviano lineup, none of whom topped 6 feet.
"It's taken him a while to come into his body," Hogan said. "He played better this tournament than he had all season."
And while Aviano defenders managed several blocks during the day, Diatto's final kill — which went off an Aviano defender and out of bounds — was the winning point.
Losing isn't something the Saints have tasted often. They hadn't lost all season until narrowly losing to AOSR in pool play.
"Win or lose, you want to walk off the court with no regrets," said Aviano coach Lou Lucibi. "And we have none."
Milan had only lost twice entering the tournament, including the defeat to Aviano.
It looked early on as though Milan might turn the tables with a sweep of its own Saturday. Using its height advantage — and some Aviano lapses in communication that saw the ball drop onto the Saints' side untouched a few times — Milan took the first game narrowly. It wasn't as close in the second game; Aviano didn't get closer than three points after the opening minutes.
But the third game wasn't close either, and this time it was the Saints who prevailed. Andy Kretz's kill ended it emphatically. Aviano led 22-15 in the fourth game before Milan came back to trail by only two before the Saints closed it out.
"We knew we were going to come back," Lucibi said.
The teams exchanged three-point leads in the final game before reaching an 11-11 tie. Milan then won all the key points the rest of the way. Its players and fans ran onto the court — silencing the hometown Aviano crowd — after the victory.
AOSR topped BFA 25-20, 24-26, 25-23, 25-22 for third place earlier in the day.
All-tournament teamDavide Comelli, Leonardo Buscaini and John Diatto, Milan; Andy Kretz and Nick McClary, Aviano; Aaron McKinney and Jake Loewen, Black Forest Academy; Marc Nguyen, Naples; Gabriele Fabozzi; American Overseas School of Rome.
MVP: Loewen.
All-conference teamDavide Comelli and Leonardo Buscaini, Milan; Andy Kretz, Nick McClary and Corey Potter, Aviano; Marc Nguyen, Naples; Gabriele Fabozzi, AOSR; Saidi Mwanundu, Marymount International; Christian Custodio, Sigonella.