DODDS-Europe basketball tournaments Menwith Hill, Brussels start strong in D-IV
---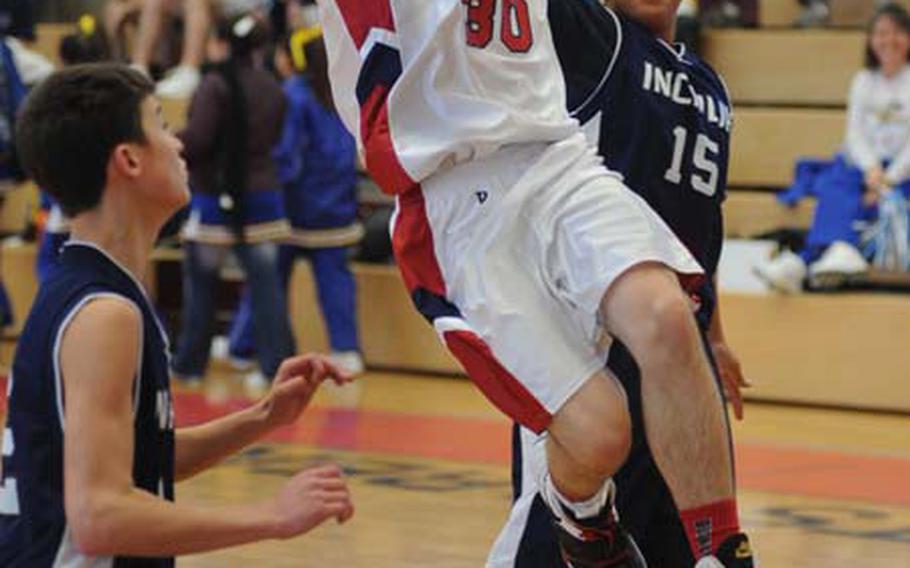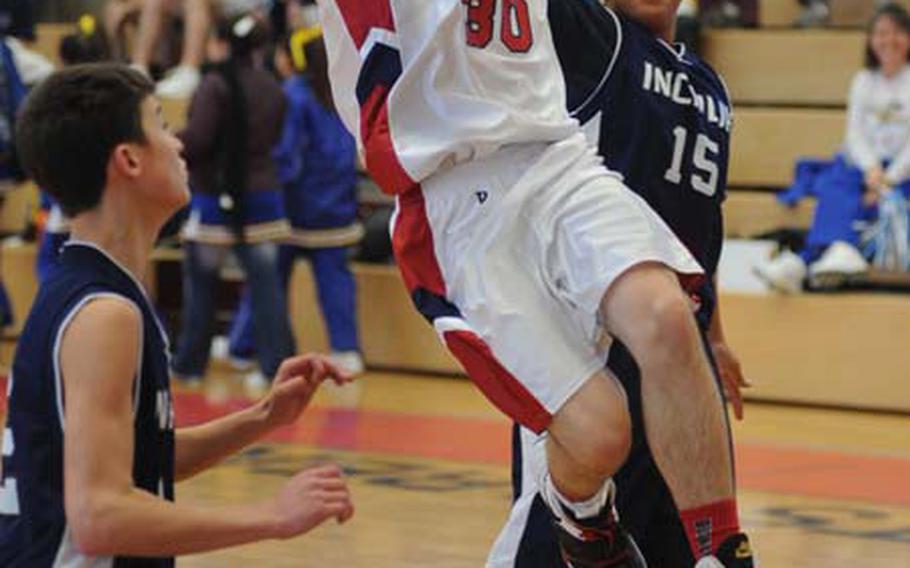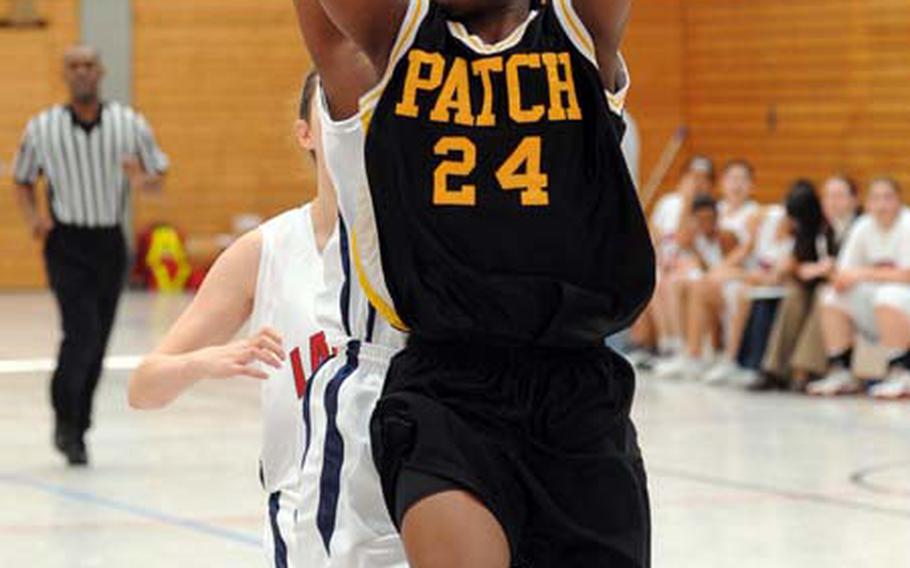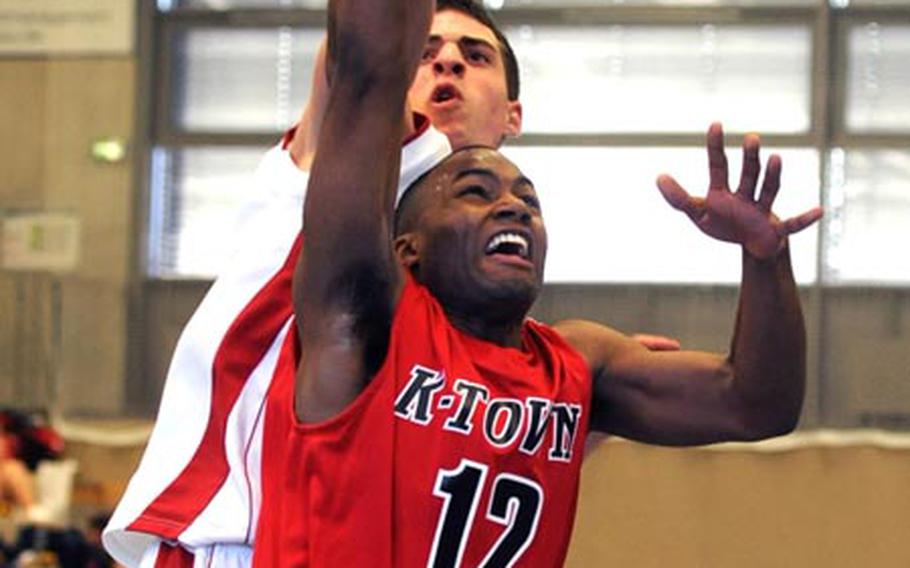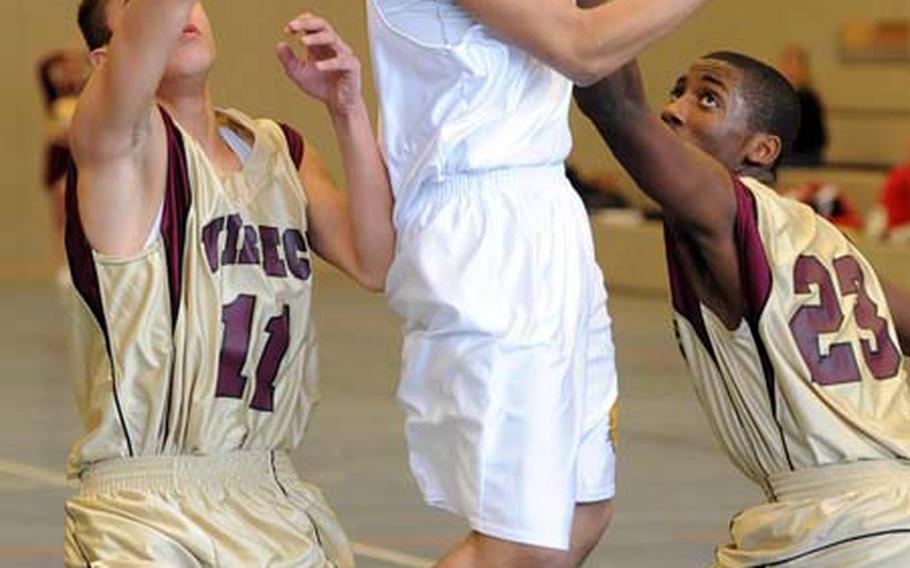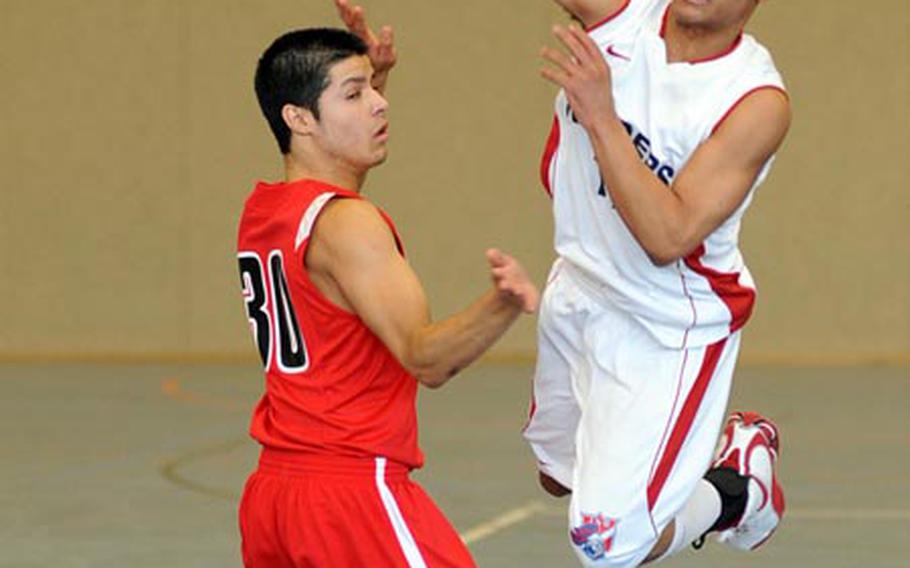 MANNHEIM, Germany — The Menwith Hill and Brussels boys conquered the unknown Wednesday as the DODDS-Europe basketball tournaments opened a four-day run at several sites in Mannheim.
Playing in the Division IV event, which is scheduled to end Friday, third-seeded Menwith Hill downed two teams the Mustangs hadn't seen before. They edged No. 6 Incirlik 37-35 in their opener, then came back to dump Lajes 52-26 to complete their first day of pool play.
"Playing teams you don't know makes it harder," said Menwith's Anthony Woodcock, whose free throw in the opener forced Incirlik to attempt an unsuccessful three-pointer as time ran out. "You have to adjust quickly."
Second-seeded Brussels, too, was working in the dark in its opener, a 66-29 romp over No. 7 Lajes. The Brigands found the going tougher in their second game, a 53-44 victory over Incirlik.
"They were fast," said Brussels' Jason Sumpter, who scored a team-high 22 points, "especially that guard."
"That guard" was Incirlik's Davontae Jackson, who scored a game-high 27 points on 5-for-8 shooting from behind the three-point arc. One of those threes, followed by three successful free throws by Adrian Criado after he was fouled behind the arc, got the Hodjas as close as 34-31 in the third quarter.
The twin killings by the Region I rivals assured each a spot in Thursday night's semifinals. Brussels and Menwith Hill play at 10:30 a.m. at Sullivan Barracks for the pool championship. The winner will take on the Pool A runner-up — top-seeded Rota, Sigonella, Ankara or Alconbury — at 6 p.m.; the loser will play the pool champion at 7:30 p.m.
That side of the pool became very clouded in Wednesday's late game, when No. 5 Alconbury knocked off No. 1 Rota 44-41 behind five three-pointers from Jimmy Luong and 14 points by J.C. Cluver. Cluver scored eight of his points, and eight of his team's final 10, in the final period.
Rota takes on Sigonella at noon Thursday, and Alconbury faces Ankara at the same time at Sullivan barracks. Victories by Rota and Alconbury would create a three-way tie at the top between Rota, Alconbury and Sigonella that tourney organizers will have to sort out.
The pool structure on the girls side is similar to the boys. Brussels and Menwith Hill, after winning twice on Wednesday, face each other at 9 a.m. at Sullivan for the pool title and the match-up against the same four teams as the boys in semifinal games at 1 p.m. at Sullivan and 1:30 p.m. at the Benjamin Franklin Village Sports Arena.
In Wednesday's other openers, which involved the system's largest schools, the top-seeded girls from Lakenheath fell 46-34 to Region III champion Patch.
Combined with Wednesday's early 42-39 victory over Ramstein, the victory ensured Patch of the pool crown and a berth in Thursday's semifinals; Lakenheath faced a later elimination game against the No. 4 Lady Royals on Wednesday.
In the other girls D-I pool games, No. 2 Kaiserslautern, the defending champion, romped over No. 3 International School of Brussels 41-12 and No. 7 Vilseck 45-24 to move into the semis. The Lady Raiders will play No. 6 Heidelberg, a 40-21 victor over Vilseck and a 30-17 conqueror of ISB, at 8 a.m. Thursday at Hammond Barracks in Seckenheim for the pool title.
In the boys D-I event, No. 1 Ramstein downed Patch 57-45, and No. 2 Heidelberg moved into the semis with 61-37 and 70-37 triumphs over ISB and Vilseck, respectively.
The Lions, two-time defending champions, will take on red-hot Kaiserslautern for the pool title at 8 a.m. Thursday at the Brothers Grimm School in Mannheim. K-town, which won just three games all season, won twice Wednesday — 77-67 over Vilseck and 63-57 over ISB.
Play in the Divisions II and III tournaments begins Thursday morning. Aviano's boys and girls are the No. 1s in the D-II field; Baumholder's boys and girls earned the same seeds in Division III.
---
---
---
---