Home Team
DODDS coaches: It's harder to be on point, play in paint
by
Gregory Broome
February 3, 2016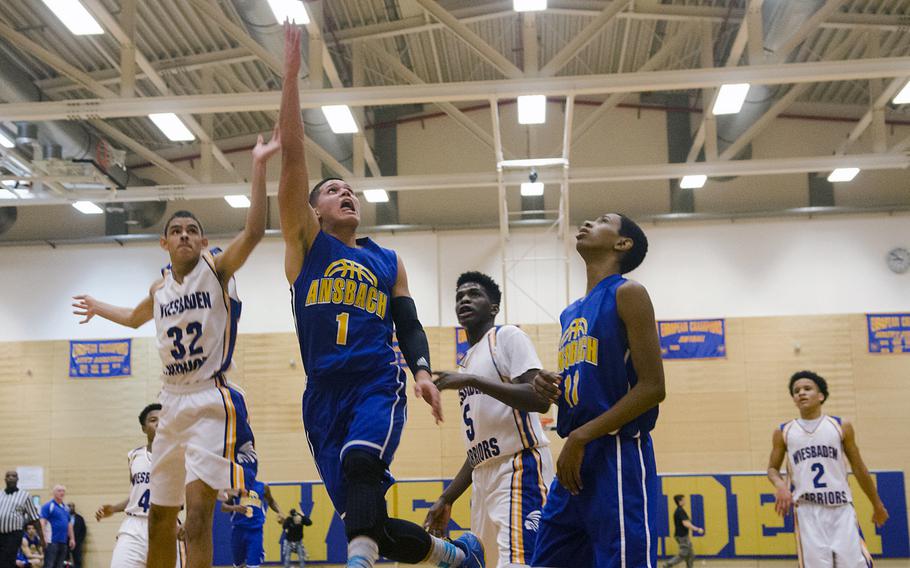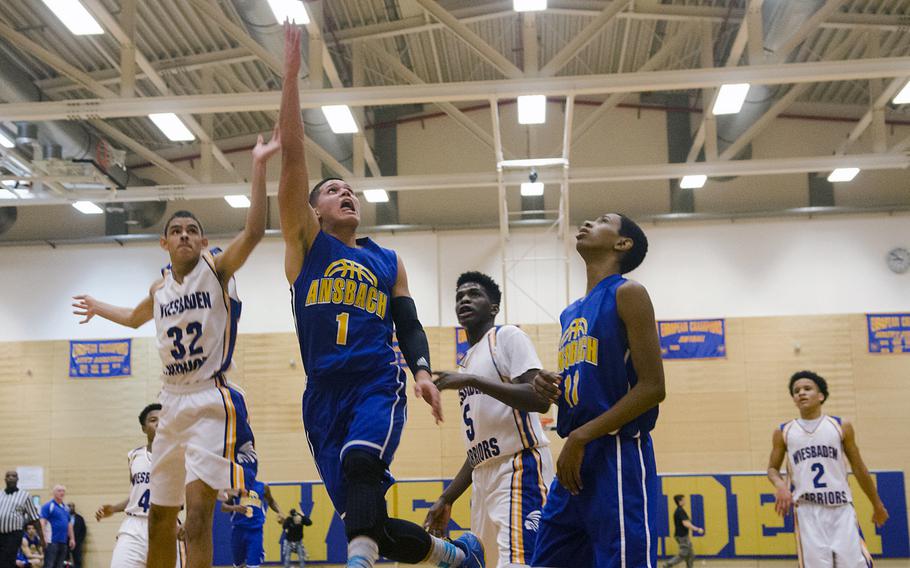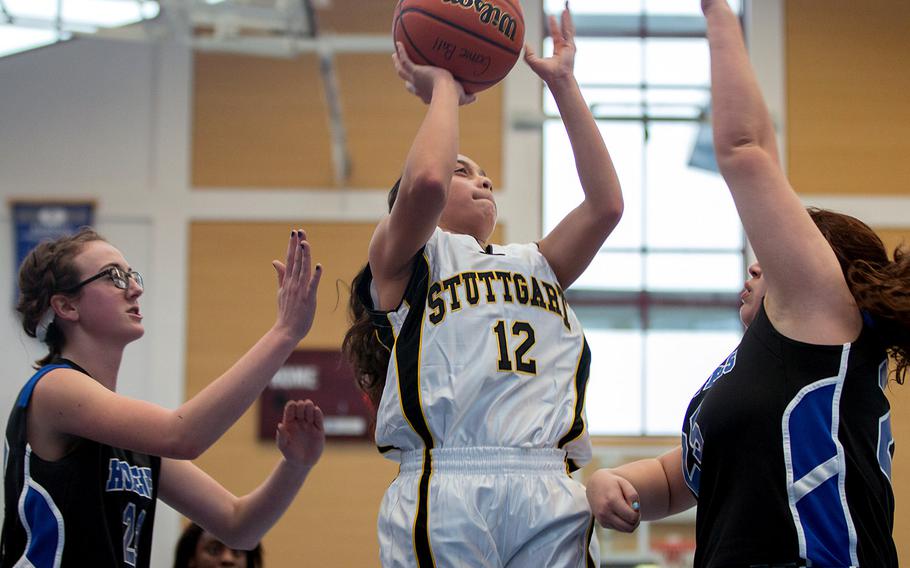 A chart accompanying a statistical analysis will often reveal an abundance of data points clustered around an area, with a few others populating spots at the extremes.
Watch a typical DODDS-Europe basketball game, and observe a similar phenomenon at work.
What you'll mostly see is boys and girls playing a straightforward brand of perimeter-based basketball - jump shots and dribble drives interspersed with the basics of passing, rebounding and defense. While some players clearly stand out as stars, it's often because they're playing a superior version of the same familiar style.
What's missing, then, are the specialists.
When asked, DODDS-Europe coaches largely report that there are two basketball prototypes seldom seen on the DODDS-Europe stage. The first is a pure playmaking point guard; the other is a dominant presence in the post.
"Most players I see in DODDS-Europe are wing players," Bitburg boys coach Nate Goolsby said. "I feel that is because most kids are willing to work on their own to attain the skills necessary to play offense from the wing."
While Goolsby identified one factor for the trend, there are a number of reasons why top-flight point guards and centers rarely materialize in DODDS-Europe basketball.
First are the obvious physical requirements. As a rule, point guards are small, smart and speedy all at once, while true centers will tower a few inches over their average opponent with the coordination to reliably catch a basketball and maneuver in a crowded space. Considering DODDS-Europe's small school populations, the simple odds of a student arriving that fits either profile are smaller.
In the instance that such a prospect does show up on campus, the job is often just beginning. Many DODDS-Europe coaches say it's harder to convey specific point guard and center skills than it is the basics of basketball on the wings.
At point guard, candidates that have the raw physical attributes for success often don't have the necessary abilities.
"It's hard to find the advanced ballhandling skills," Baumholder coach Matt Martinez said. "If out of a varsity team I can find at least two girls that can handle the ball decently, it helps a ton."
AFNORTH girls coach D.C. McDonald agreed.
"I think the point guard position is the hardest to fill," McDonald said. "It takes a special person to be able to run your offense and be your court general."
Another limiting factor is DODDS-Europe's short and sporadic season. Teams gather just a few weeks before the start of the winter season, then take an immediate intermission for the holidays. The tournament arrives less than two months after games resume in January.
"Developing a true coach on the floor takes time, which we do not normally have within in the season," Lakenheath boys coach Alan Campbell said.
Further compounding the problem is DODDS-Europe's incessant churn of incoming and outgoing players. In short, frequent turnover on the roster can lead to frequent turnovers on the court.
"It takes a lot of instincts and intuition at that position," Black Forest Academy boys coach Chris Greathouse said. "Most of that only comes from experience."
Sometimes, however, experience itself can be a negative. Players arrive in Europe from a wide variety of backgrounds, often playing styles that don't line up with the systems DODDS-Europe coaches are trying to instill.
"The most difficult part of my job is undoing learned behavior that is not productive on the court," Campbell said.
Even as possible point guards slither out of grasp, coaches are watching the traditional back-to-the-basket post game slowly die. The NBA in recent years has seen its big men migrate away from the low block to the perimeter, and younger players are emulating what they see.
"All kids now just want to shoot three-pointers," Sigonella boys coach David Berlin said. "In my view we have lost some of the best basketball of properly getting it into the low-post players."
As a result, even the players with the basic tools for success in the paint tend to squander those gifts.
"They don't have to be huge, but they do have to know what to do when they get the ball," Berlin said. "This takes time to teach and even longer to perfect."
Wiesbaden boys coach David Brown illuminated an interesting paradox at work in the development of young big men.
A high school player who stands above 6 feet tall is an obvious candidate to man the center position in DODDS-Europe boys basketball. But forward-thinking coaches realize that a player who is taller than his peers in high school won't enjoy that same size advantage at higher levels of competition. In short, a 6-foot-2 high school center must often morph into a 6-foot-4 shooting guard if he wants to play NCAA basketball or beyond.
So well-intentioned coaches look to develop the perimeter aspects of the youngster's game, while the player himself internalizes the idea that his future lies outside of the paint. That impression is further confirmed when he watches even 7-footers regularly launch three-pointers in the NBA.
"Even if you're blessed enough to get a kid with size that can effectively dominate in the post, he's usually more comfortable standing around the three-point line waiting for shots or opportunities to drive," Brown said. "If the kid has size and has played before, he's usually been told, 'You won't play that position in college, you need to work on your ballhandling and perimeter skills.'
"Sadly, post play is becoming extinct."
As potential point guards and centers gravitate towards the wing, DODDS-Europe coaches do their best to adapt and compete.
"The bottom line is, in December, when the ball is tossed up for the first time, we will put our five best players on the floor regardless of what they cannot do well," Campbell said.
Twitter: @broomestripes
---
---
---