Home Team
DODDS athletes worry about lost seasons
by
Dave Ornauer
March 23, 2011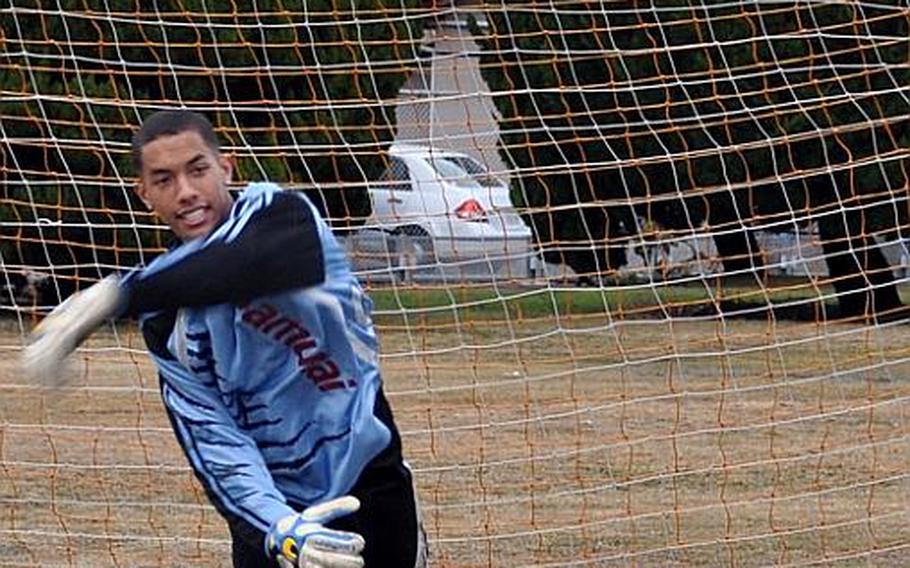 CAMP FOSTER, Okinawa – Mallory Evangelista never saw this coming.
Tens of thousands dead or missing on Japan's northeast coast, more left homeless, whole cities and towns destroyed and the safety of nuclear reactors in doubt after the devastating events of March 11.
But as much as the Robert D. Edgren senior softball player says she feels for victims, she and many DODDS Japan seniors have had what should be one of the happiest times of their lives turned upside down as well.
Scores of dependents, using the voluntary departure program, have left the Misawa, Yokosuka, Zama and Yokota communities. That's cast even more doubt on spring sports, including season-ending Far East tournaments, and other activities such as proms and even graduations.
"This is the time of year I look forward to most," said Evangelista, who plays only softball at Edgren. "I hate to sound selfish, but it would hurt so much if they (DODDS) took all that away from us."
"My kids are devastated," said Evangelista's coach, Sarah Richardson. "They understand what's going on, but they've been waiting all year to play and now, it's taken away from them."
"Our immediate focus strays from soccer toward our safety and that of our friends and family members as well as the overwhelming sorrow we feel for our host country, those homeless or missing," said senior Audrey Parker of Nile C. Kinnick's girls soccer team. "But deep in our hearts, the love of soccer is welling and I hope that by spring break everyone will return."
"It's sad," Yokota senior softball player Julia Marrin said. "A lot of us are leaving. We won't get to see each other until we graduate. Even my friends at Misawa and Kinnick, they're really upset; they were looking forward to the season and Far East."
Elsewhere, in Korea and Okinawa where sports remain as normal, students and coaches felt equally conflicted.
"I feel good that I can play, but I feel badly for those who can't," Kubasaki senior soccer midfielder Kaitlynn Hadley said. "It's not fair to those in mainland" who might not be able to have a season or go to Far East. "Nobody asked for this. It's so hard to deal with."
That there's even talk of sports' future in such hard times left some with a sense of guilt. "But we love our sports and it's a part of our lives," Seoul American baseball coach Bob Heckerl said. "We have to put it down the ladder of priority, but I'm hoping we can continue."
DODDS officials say they understand and sympathize with such sentiments and say they'll look into ways they can to help students resume a sense of normalcy, including keeping Far East tournaments as scheduled. But so much stands in the way, they say:
 With fuel scarce and highways and railways serving northeastern Japan still unserviceable, it's hard to move DODDS Japan teams to and from activities of any sort, in or out of country.
 Billeting normally available to student-athletes at various bases has been blocked off by commands for use by relief workers, either on site or transiting in and out.
 Enrollment has nose-dived at Kinnick (55 percent), Edgren (25 percent) and Zama American and Yokota (30 percent each). Spring sports practices resumed Wednesday. Some schools can field teams, but others were down to a few available bodies. Kinnick was the hardest hit, with just 28 combined boys and girls soccer players and eight total baseball and softball players. And Yokosuka Naval Base's fields are secured until Monday, so all of Kinnick's sports teams couldn't practice.
 Referee availability might be in doubt; some at Yokota and Yokosuka might be obligated to the relief effort as well.
Already, Far East junior science and humanities symposium, linguafest, music festival and Junior ROTC drill have been canceled. DODDS Japan's sports slate was canceled through April 1. It will resume with Matthew C. Perry and E.J. King going to Osaka for a boys soccer tournament.
"It's almost day to day" how things will continue to develop regarding regular-season and Far East tournaments, said DODDS Pacific athletics coordinator Don Hobbs. April 8 is the deadline date for a decision.
"We keep looking for ways to have these Far East events," he said, adding that they're looking at availability of all resources and what to do if they're lacking. "We may have to do what we did years ago, put the students in the gym," Hobbs said of billeting alternatives.
Perry's and King's soccer teams had never ceased practicing, Perry boys coach Mark Lange said. "You honor people by moving on," he said, citing Tohoku High School in hard-hit Sendai, which still sent its baseball team to the All-Japan senior high school tournament in Nishinomiya.
Examples such as Tohoku and what would happen to students if their season or Far East tourneys were canceled have most people wanting to continue.
"How many players will stay on their teams if there is no Far East?" said Butch Knox, whose daughter, Katelynn, plays for Kubasaki's soccer team. "Why spend five days a week if there's no goal to go to? Why punish everybody else in Guam, Korea and schools in south mainland Japan? I'm sure DODDS doesn't want to make that decision."
Most Far East spring tournaments are on Okinawa; baseball is scheduled for May 23-26 at Zama American.
"I can understand if they couldn't hold the tournament in Japan," Heckerl said. "But we're eight weeks away. It gives kids a goal to work towards. I'd love to see the Far Easts continue."
"We're looking at ways to make it a go," Hobbs said.
---
---
---
---