Division I roundup: Once again, Ramstein 'D' rules the day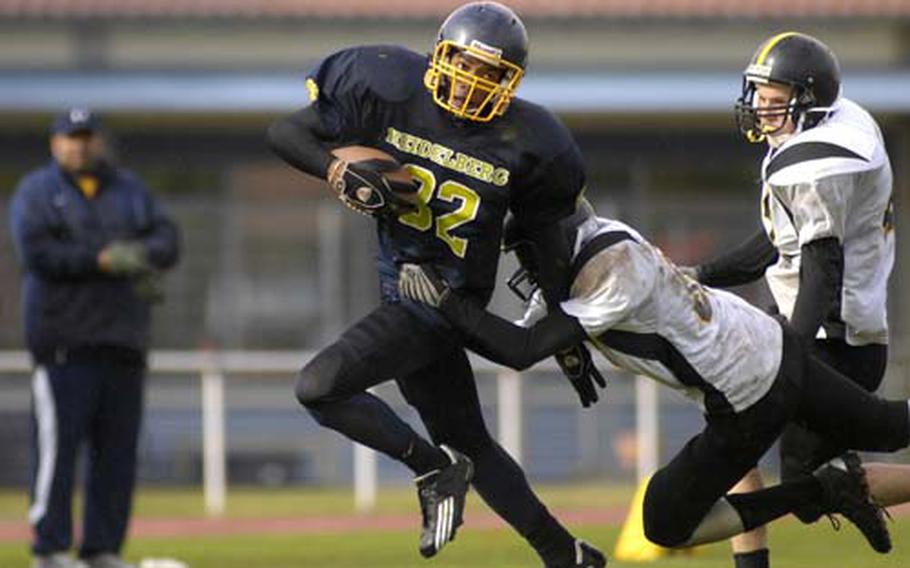 RAMSTEIN AIR BASE, Germany — The Ramstein defense extended its streak of not being scored on to four successive games Saturday and lifted the unbeaten Royals to a 35-7 victory over the Vilseck Falcons.
Vilseck's only touchdown came in the second quarter when Jamal Grant-Sandler intercepted Michael Wallace's pass and returned it 67 yards for a score. Wallace was injured on the play, and Ramstein coach Carlos Amponin elected to use his dual-threat QB on defense and in spot situations on offense the rest of the way.
Before the interception, junior Nick Nixon had scored on runs of 9 and 3 yards to put the Royals (4-0) up 14-0.
Shane Foley took over at quarterback for Wallace. Foley completed seven of 10 passes for 104 yards and threw a TD pass to Wallace, who made a diving catch in the end zone on third-and-long. Foley rushed for 42 yards and a TD on five carries.
Sophomore running back Will Canfield led Ramstein with 162 yards and a TD run of 5 yards on 19 carries.
Vilseck fell to 3-2 overall and will close its regular season and Division I-South schedule this Saturday at Patch.
In other D-I games Saturday:
Lakenheath 37, Kaiserslautern 31 (OT): At Kaiserslautern, Mitchell Christiansen scored three TDs, and teammates Sean Pontius and Emmanuel Toots each ran for scores as the Lancers (1-4 overall 1-0 I-North) claimed their first victory of the season.
That is, if the overtime decision stands. The 2009 football newsletter, which governs procedures during the season, prescribes overtime for playoff games only.
Kaiserslautern (1-4, 0-2) led 31-23 in the final quarter, but a TD and 2-point conversion by Lakenheath led to the OT. Starting at the 10-yard line, K-town fumbled on its second play. Lakenheath recovered and pushed across the winning score.
Kaiserslautern's scores came on a 32-yard field goal by Patrick Burns, TD runs by Josh Fry and Dallin Bridges and TD passes of 19 and 49 yards from Matteo Gazzale to Jamil McGinnis. Caleb Burford made 12 tackles for K-town, which benefited from two sacks by Phillip Davidson.
It was the second loss of the week for Kaiserslautern, which turned itself in for inadvertently using two ineligible players in a 36-8 victory over Patch on Sept. 19. K-town then vacated the victory, forfeiting the game to Patch.
Wiesbaden 28, Den Haag 14: At Wiesbaden, Daniel Harris rushed 23 times for 157 yards and three TDs as the Warriors claimed the exhibition victory over a Dutch club team.
Tyrece Davis carried 15 times for 75 yards and a TD for Wiesbaden (3-2). Wiesbaden, after second-quarter experimenting that bore little fruit, led 12-8 at halftime. But the Warriors opened with a successful onside kick that resulted in a TD and ignited the victory.
Heidelberg 63, Patch 6: At Heidelberg, the defending European D-I champion Lions took the ball away from Patch six times to improve to 4-1 overall and 2-0 in I-South heading into Saturday's regular-season finale at Wiesbaden. Jimmy Montfleury completed 10 of 15 passes for 140 yards, including TD tosses of 27 yards to Chase Boone and 16 yards to Aaron Tribble-Knowles.
Devin Jackson led Heidelberg's ground game, rushing nine times for 153 yards and two TDs, one a 53-yard burst. Jackson also had a sack and recovered three fumbles, returning one 10 yards for a TD.
Devin Helvie had a fumble-return TD of 30 yards, and Thomas Hogue, Sterling Jones and Jordan Shackleford each ran for touchdowns for the Lions. Napolian Myhand led the Lions' defense with two sacks, two fumble recoveries and forcing two fumbles. Jacoby Satsatin intercepted a pass and brought down a Patch runner in the end zone for a safety. Patch fell to 3-2 overall and 0-2 in I-South.