Division, Base earn spots in Marine Forces regional tourney finals
---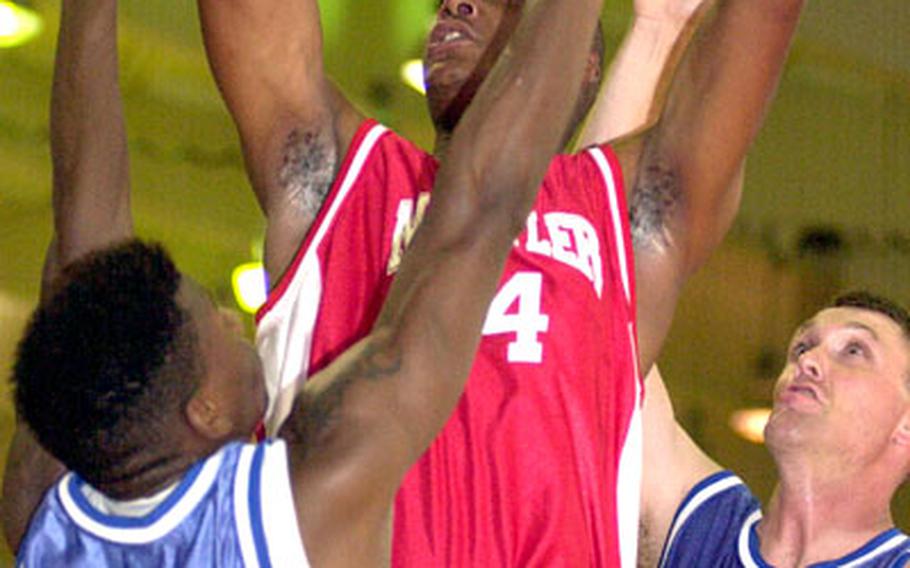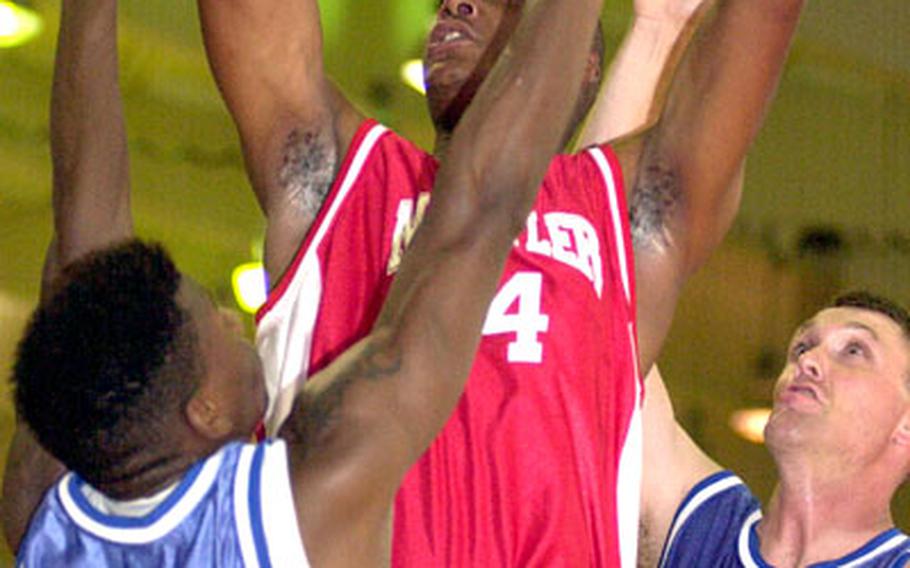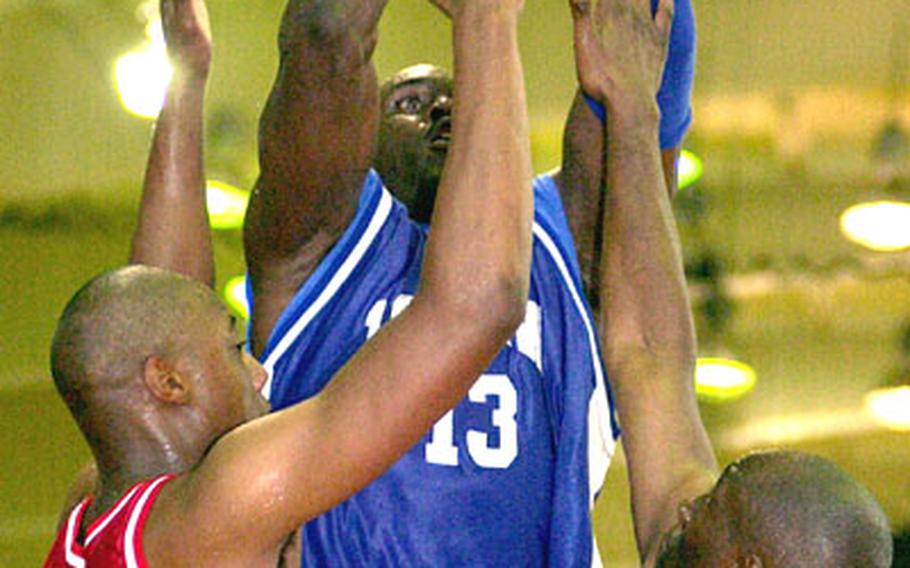 CAMP FOSTER, Okinawa — Even with just six players, 3rd Force Service Support Group likely was the most dangerous team in the 2005 Marine Forces Pacific Regional Basketball Tournament, former All-Marine forward Jimmy Wheeler said Thursday.
It had nothing to lose going up against teams with full rosters. And it had guard Demetric Noble, who averaged 25 points per game. "He can shoot big-time," said Wheeler. "He's one of the best shooters in the tournament."
But Wheeler combined with fellow former All-Marine Kyle Scott to score 27 second-half points, as 3rd Marine overcame Noble's 11 three-point goals and 40 points in Thursday's second semifinal, beating 3rd Force 86-79.
Earlier, defending champion Marine Corps Base Camp Butler reached its second straight championship game berth by rallying from a 12-point first-half deficit to upend 1st Marine Aircraft Wing 71-50. Division was to play Base for the title on Friday night.
Semifinals
Division 86, 3rd Force 79
En route to his tournament-record 11 three-pointers, Noble helped 3rd Force raise first-half eyebrows. He scored 24 points and nailed six threes, including a shot from downtown making it 47-33 at halftime and giving 3rd Force its biggest lead.
But 3rd Force's six players played two games in one day, outlasting Japan's Iwakuni Air Station 70-66 earlier in the quarterfinals. The team also faced Division's staunch defense. Eventually, it all took its toll.
Division's Lawrence Leach's two steals on consecutive 3rd Force possessions led to baskets by Scott and Wheeler that tied it 61-61. Then Scott followed with a three-point play that put Division ahead to stay, 64-61, with 9:10 left.
"That was the spark," Wheeler said of the steals by Leach, who chipped in with 24 points, including four three-pointers of his own. "We just carried it from there."
Division outscored 3rd Force 38-11 after going behind by 14 at intermission.
Base 71, Wing 50
Duty had kept center Eric Kaurenen off the court and out of Base's lineup all week. When his command finally OK'd him playing, Kaurenen proved the boost Base needed to return to the title game.
Coming off the bench, he poured in 16 points, nine in the first half after Base trailed 21-9. Reigning MVP Yonnes Sanders' three-pointer gave the defending champions the lead for keeps, making the score 38-36 with 18:53 to play. Base led by up to 23 points with 1:50 left.
Coach Johnie Hamilton credited Kaurenen and a first-half lineup change for the turn-around. He put Kaurenen on Wing forward Josh Reaser, who had 10 of his 12 points in the first half.
"We have a veteran squad. We normally start off slowly," said Hamilton, adding that the floor, made slick by heat and humidity, "took away a lot of our speed. We went with a big lineup and tried to push the ball inside."
Kaurenen might have suited up for Wing had he not deployed to Camp Hansen to a unit attached to Marine Corps Base Camp Butler. Tournament bylaws state that a Marine's current unit of assignment dictates his team.
But he made the difference in a almost a carbon copy of the 2004 championship game, once led by Wing but won by Base. "We came out blazing," Reaser said, but "we never controlled the tempo."
---
---
---
---