Div. III girls soccer: Unbeaten Aviano rolls over Ansbach
by
Rusty Bryan
May 23, 2004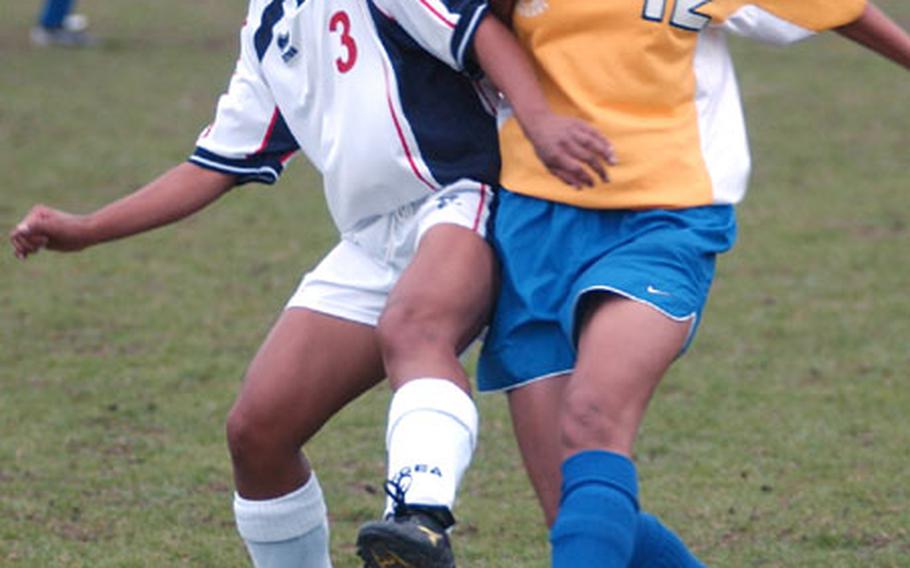 RAMSTEIN AIR BASE, Germany — Aviano striker Kassie Mangosing summed things up perfectly after her Saints dominated Ansbach 4-0 Friday to capture the European Division III girls' soccer title.
"It's our year," said Mangosing, whose scored the Saints' third goal intheir 15th straight win this year.
AuBree Mariz, Alexa Wan and Emily McNulty — who had a hat trick in Friday's 4-2 semifinal win over Hohenfels — also scored for the Saints.
Wan was named the tournament's most valuable player.
Aviano dictated play, keeping the ball in Ansbach's half of the field most of the time.
"We played our style of game," said coach Pam Hillestad, "a strong passing game."
McNulty opened the scoring when she rammed the ball past Ansbach goalkeeper Laura Antley 15 minutes into the first half. Mariz gave Aviano a 2-0 halftime edge on a long lob from the right side over Antley's head and into the left side of the net.
Mangosing's goal came on a rebound of Ashley Lynch's shot off the crossbar. And Wan finished the scoring 4:18 to play knocking in a rebound after Stephanie Cafferty whistled a 30-yard rocket off the crossbar.
Ansbach, the III-South Regional tournament champion, could get nothing going against Aviano.
"It would have been nice to have had a more exciting game," Mangosing said, "but the point is that we won."
How they won struck Hillestad as the point.
"It was a perfect season," she said. "We were having a good time all the time."
All-tournament team
Alexa Wan (MVP), Megan Englehardt, Ashley Lynch and Kendra Gustin, Aviano; Keke Johnson, Alison Hazen and Sara Herold, Ansbach; Kelsey Axon, Danielle Green and Tiara Walz, Hohenfels, and Gloria Bradshaw, Laura Keating and Tracy Light, Naples.