Div. II softball: Patch stops Bitburg's drive for five
by
Marni McEntee
May 23, 2004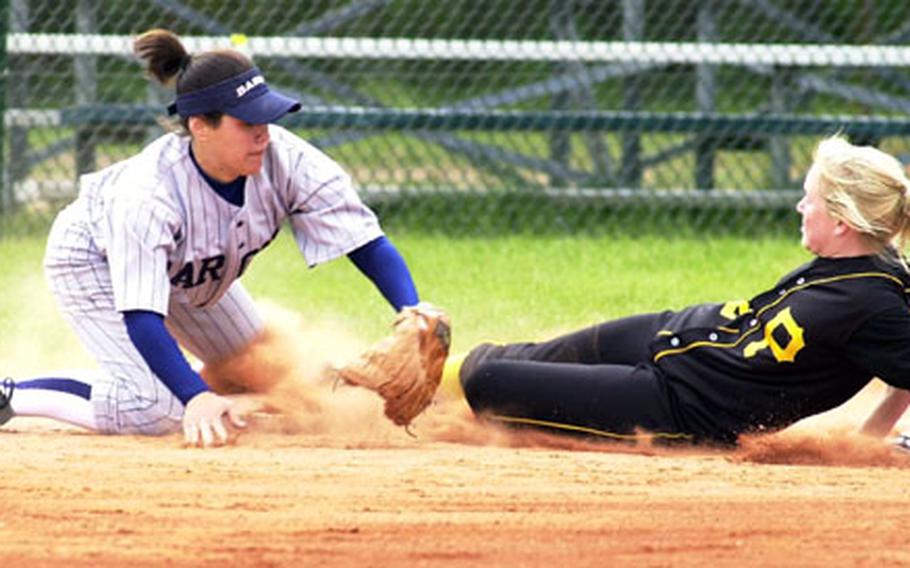 RAMSTEIN AIR BASE, Germany — Patch ended Bitburg's bid for a fifth straight title Saturday with a 9-2 victory in the Division II softball championships.
The Lady Barons started strong with a run in the top of the first inning, when sophomore Ashley Kazimer knocked in Ashley Gardner. Sable Miller drove in the Lady Barons' only other run in the top of the fourth inning.
The scrappy Lady Panthers stood behind overpowering freshman pitcher Kasy'e Lalau to stop further advances.
Freshman Elisa Nieves helped put the game away for the Panthers with a triple in the bottom of the fifth inning that drove in Meredith Beatty for a 6-2 Patch lead.
Then, in a flashy show of gumption, Nieves stole home to make it 7-2. She slid into home on her belly, since she was favoring an ankle she sprained during a game on Friday.
"It didn't matter if I was hurt," Nieves said.
"It was wonderful to win, since we hadn't got the championship for so long. To get it now, for the coach and the team and the school, is great."
Despite skillful fielding, Bitburg's hitters had a hard time answering Lalau's lightning pitches. When they did, the Panthers pounced.
"Defensively, they were a superior team," Lady Barons coach Hope Matthews said.
"But it was a great season and a great championship game."
The Lady Barons' Kazimer was in control of the Panthers hitters at times, but said she was struggling through pain from a shoulder dislocation.
"I was working on my placement," she said. "We should have won the game."
Panthers coach Billy Henry called Bitburg a "fine squad."
"I take nothing away from Bitburg," Henry said. "But we had the complete package."