Div. I football: Wiesbaden keeps pace with Heidelberg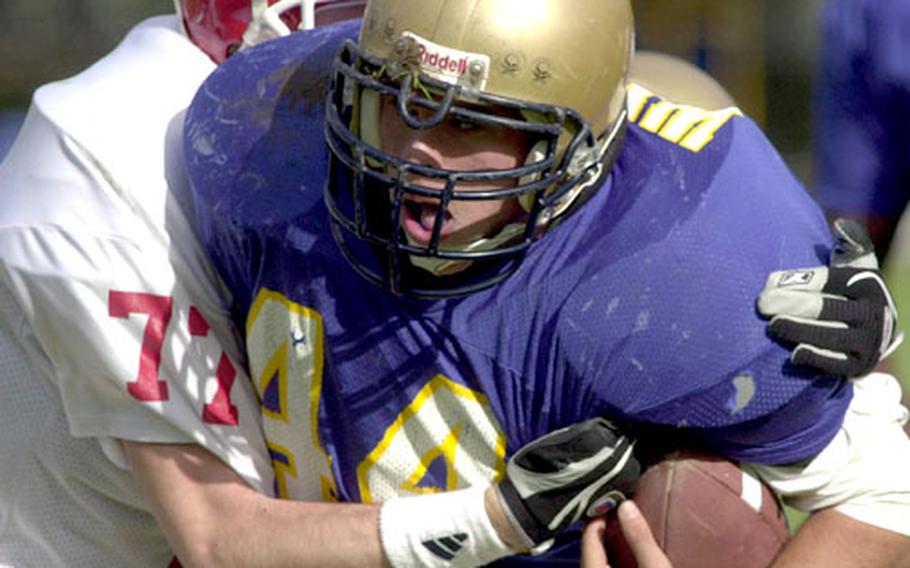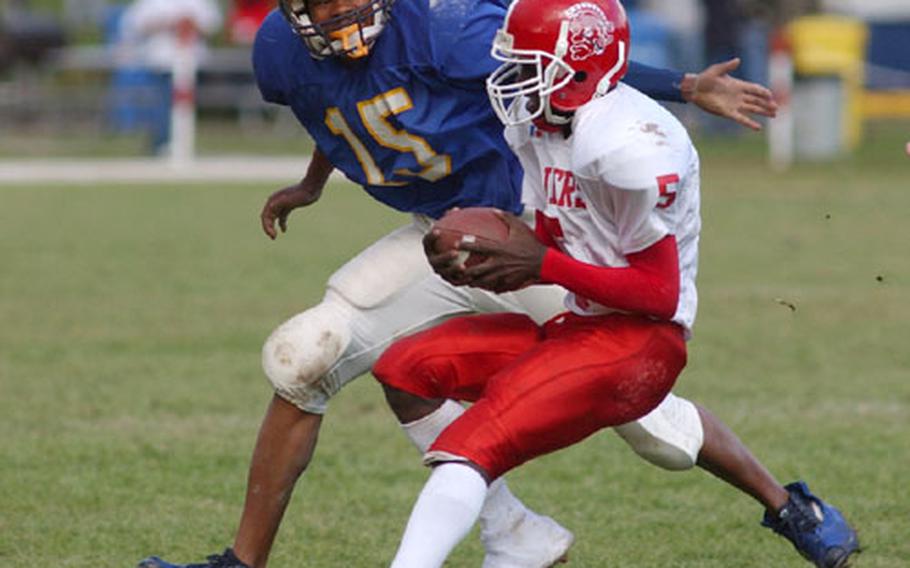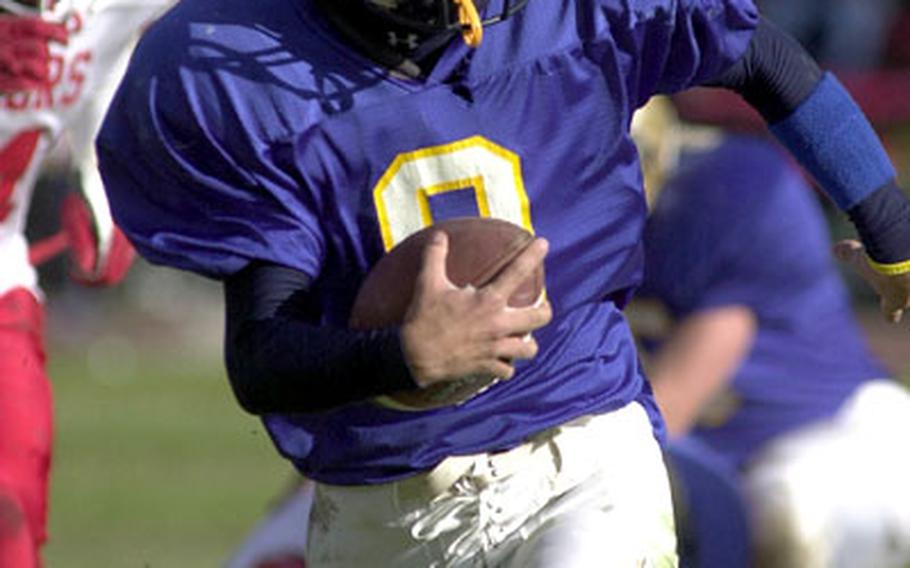 Lones Sieber grabbed a pair of touchdown passes from Aaron Orr and kicked a 50-yard field goal as Wiesbaden defeated visiting Kaiserslautern 31-17 on Saturday.
Shannon McCray returned a punt 57 yards for a TD as the Warriors (4-1, 3-1) stayed a game behind Heidelberg in the Division I race.
Paul Fry carried 19 times for 138 yards for Wiesbaden, which closes its regular season Saturday at home against Lakenheath.
Danny Morris threw a 40-yard TD pass to Mike Morgan, but he was intercepted twice by Robert Edwards and once by Chad Kelly.
Kaiserslautern fell to 1-4 overall and 1-3 in D-I. The Red Raiders will be battling for a playoff spot at Ramstein on Saturday.
In other Division I action Saturday:
Heidelberg 32, Ramstein 7
At Heidelberg, Lewis Allen ran for 236 yards, and sophomore Nick Trice caught three touchdown passes as Heidelberg clinched the Division I regular-season title.
Joseph Conway kicked a pair of field goals, and Chris Jones ran for a TD as Heidelberg improved to 5-0 overall and 4-0 in D-I going into Saturday's regular-season finale, at home against Würzburg.
Ramstein's score came on a second-quarter TD run by Mark Stephenson.
Matt Koechle had a sack, a fumble recovery and 11 tackles for Heidelberg. Chris Jones had 14 stops.
The Royals' defense was led by Matt Slaymaker's 17 unassisted tackles and a fumble recovery.
The defending European champion Royals — 2-3 overall and 1-3 in Division I — will play host to Kaiserslautern on Saturday to close the regular season.
Würzburg 38, Lakenheath 17
At Lakenheath, Iona Teriipaia threw for 224 yards and two touchdowns as Würzburg defeated Lakenheath.
The Wolves improved to 2-3 overall, 2-2 in D-I and clinched a playoff berth.
Teriipaia, who was 12 of 19 to help the Wolves amass 518 yards, connected with Joel Marbut and Jason Fleck for TD passes.
Derrick Davis rushed for 218 yards on 31 carries and a TD.
Lakenheath (1-4, 1-3) led 17-14 at halftime, but the Würzburg defense, led by 21 solo tackles from Peter Lopez, held the Lancers in check after intermission.
Darren Mercer topped Lakenheath with 92 yards on 16 carries.
Raymond T. Conway/Stars and Stripes
Wiesbaden's Paul Fry carries Kaiserslautern's Madison Hayes on his back for a 3-yard touchdown run Saturday in Wiesbaden, Germany. Wiesbaden defeated Kaiserslautern 31-17.