Far East volleyball
Disappointment could turn into joy for Perry or Edgren
---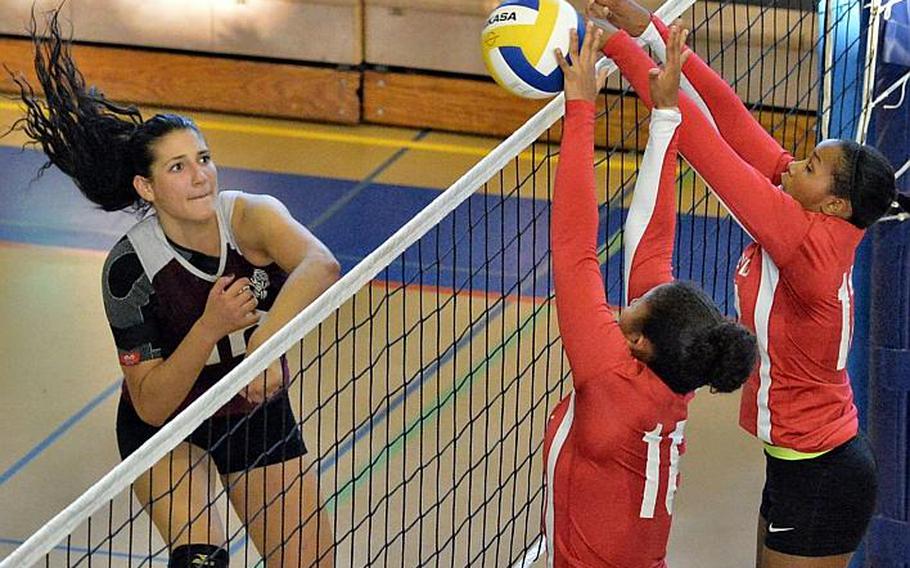 YOKOTA AIR BASE, Japan – Two teams that came up short in last weekend's DODDS Japan tournament will try to use motivation from that experience to bounce back in the Far East championships next week.
Matthew C. Perry fell in the finals to nine-time champion Nile C. Kinnick, while pre-tournament favorite Robert D. Edgren had to watch from the bleachers.
Now, the Samurai and Eagles will try to capture the Far East Division II girls volleyball tournament title for the first time in their respective schools' histories.
"It's definitely motivated our entire team to work a lot harder toward being successful," said middle blocker Lebet Erhart on Tuesday, three days after the Red Devils vanquished the Samurai 25-13, 25-18, 21-25, 25-22 in the DODDS Japan final.
"We're all working to correct our mistakes so we have the best chance at Far East."
The D-II tournament comes to Yokota for the first time, scheduled for Monday-Thursday at the base's Samurai Fitness Center. Yokota became a D-II school last Nov. 18 as mandated by DODDS Pacific due to an enrollment drop.
With Gyeonggi Suwon not coming this year, the D-II tournament remains at nine teams. The Division I Tournament returns to Seoul American for the first time since 2012 and has a record-low seven teams.
Edgren had gone unbeaten against DODDS Japan opponents up until the tournament, and lost in three sets to Kinnick – a team the Eagles had beaten twice on the Red Devils' home court in September – then fell in four sets to the Samurai in the knockout match.
Though the Eagles came up short, "on the bright side, it gave us an opportunity to challenge our competition at Far East," senior middle blocker Kalean Middleton said.
"We had never played Perry up until Saturday … but now we're ready. My team will be ready for Far East," Middleton said.
On the opposite side are the teams not expected to win their respective Far East tournaments a year ago, but that now face the prospect of chasing back-to-back titles.
"There is a lot of pressure coming from our school to bring back the banner and to some of the non-returnees on our team as well as our coaches," said Andrea Carandang, reigning offensive MVP for last year's D-II champion Osan.
The Cougars lost their setter and one of their outside hitters from last year and the coaching staff is entirely new.
"For the returners, we have done it before know how it will go, so it's not so scary," Carandang said. "We're just hoping that our best is enough to push us through this tournament and hopefully bring the banner back home."
Though Osan's title last year was unexpected, the Cougars have four D-II championships to their credit. Kubasaki, meanwhile, is in the uncustomary position of being defending champion of the D-I tournament, which never happened before.
The Dragons took down three-time champion American School In Japan in four sets in last year's D-I final, and two weeks ago beat the Mustangs in two sets in the ASIJ-Yujo Invitational Tournament.
The attention such feats get "makes the tournament interesting and it is definitely motivating for us to make an impact," senior setter Courtney Kait said.
"We would have worked hard regardless, but the stakes have been raised. It all comes down to our love and drive for the game and I believe our team chemistry will carry us through."
---
---
---
---