'Determination and hard work' paid off for Yongsan's Bartley
by
Dave Ornauer
December 24, 2004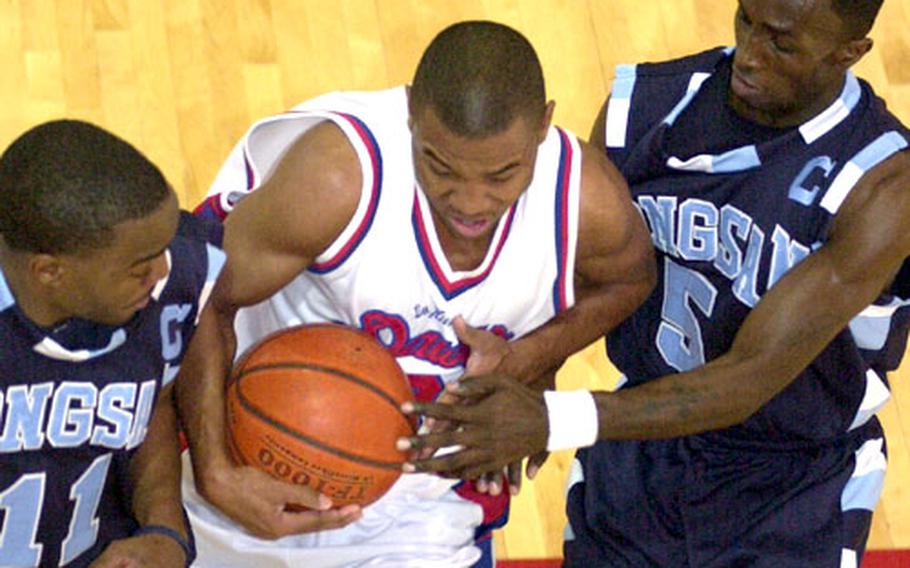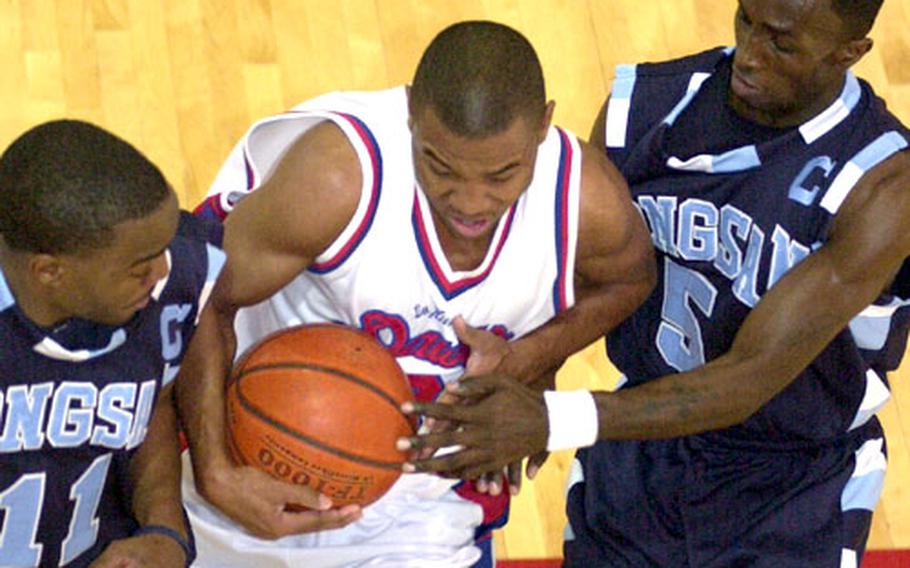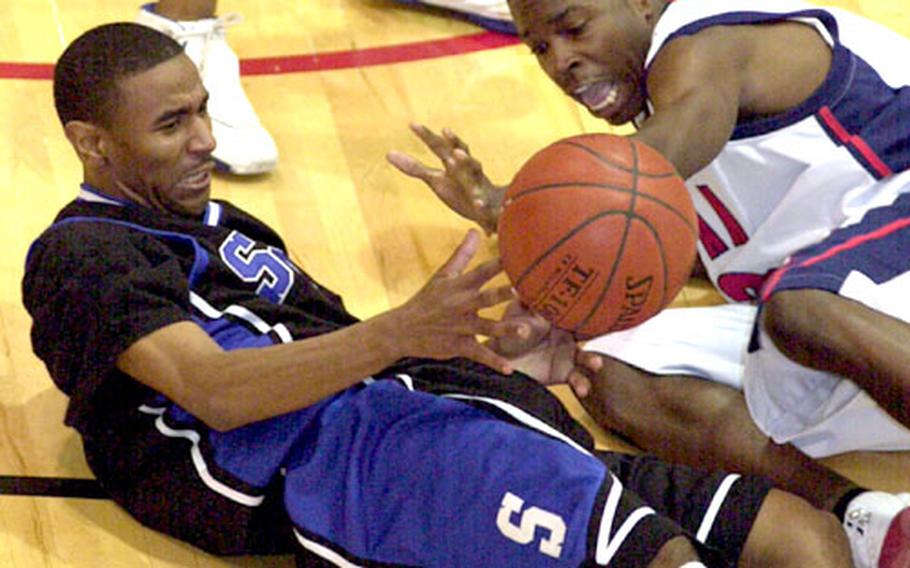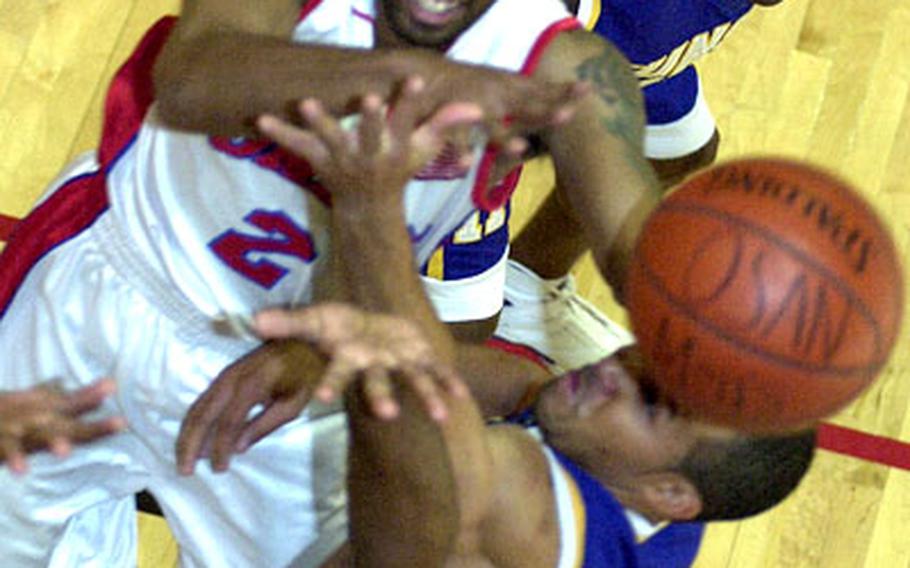 (Wednesday's Osan tournament game summaries at end of story)
OSAN AIR BASE, South Korea — All-Armed Forces point guard Ronald Bartley says his successful 2004 didn't come without a lot of resolve and without having to prove himself on each step to the pinnacle of U.S. military basketball.
"To go from here to make All-Army and then All-Armed Forces, it was all determination and hard work," said Bartley, 28, of Norfolk, Va., an Army specialist and a military policeman at South Korea's Yongsan Garrison.
That determination and hard work led Bartley to a fulfilling year:
The 37-5 record Bartley and the Yongsan Runnin' Rebels compiled in the 2003-04 Korea Traveling League season and the three all-tournament and two MVP selections Bartley picked up along the way.Making the All-Army team the first time he tried. Army won the All-Armed Forces gold medal in June at Charleston Air Force Base, S.C.Selection to the All-Armed Forces team. With Bartley running the point, Armed Forces earned a bronze medal in the International Military Sports Council Games in July at Zagreb, Croatia, then a gold medal in the Supreme Headquarters, Allied Powers Europe tournament earlier this month."It was one of the greatest experiences of my entire life," he said.
"You travel with guys who you've never played with before and you form a team, you become a family," he said. "And you play against teams from all around the world, especially that game we had with Lithuania" — a 94-87 victory in the SHAPE tournament. "There's nothing like it."
It certainly was nothing like his life just two years ago. He was one semester away from getting his degree; son Nehemiah had just been born; Bartley needed money. So the career Navy sailor's son joined the Army.
And basketball became just a part-time gig; his main job is wearing an Army uniform. "Work always comes first," he said.
But because of that invitation to the All-Army camp, he's also gotten to spend a lot of time wearing an Army basketball uniform.
"As many as 200 guys apply and they only invite 60; then you have to make the camp," Bartley said. "You have to play the best of the best. You have to prove yourself all over again."
His 8th Military Police Brigade supported him strongly, he said.
"There was never a time when they said no, even when I was new. All they asked in return was for me to work hard and be a good soldier."
Yongsan had a rough time during this week's Osan Pacificwide Open Holiday Basketball Tournament, eliminated in two playoff games.
It just shows, he contends, that he's reached the top; he knows he's a marked man and the Runnin' Rebels are a marked team.
"It gets harder now," he said. "People point to me and say, 'Oh, that's the All-Armed Forces guy.' Somebody is always going to be watching me, thinking they can do better and try to knock me off. You have to maintain your game and stature. Every time, it's a new steppingstone."
Bartley said he plans to return to All-Army camp to "prove myself all over again."
"I'll keep doing it until my legs fall off," he said.
2004 Osan Pacificwide Open Holiday Basketball Tournament
At Osan Fitness and Sports Center, Osan Air Base, South Korea
Men's double-elimination playoffs
Wednesday's summaries
Suwon 85, Yongsan 73
Leading scorers-Suwon, Quincy Randolph 33, Josh Smith 25 (five three-point goals), Robert Phipps 15 (five three-point goals); Yongsan, Ronald Bartley 24 (11-for-12 from foul line), Trey Stephens 17, Cory Jenkins 10.
Osan 74, Suwon 64
Halftime-Osan 33, Suwon 33. Leading scorers-Osan, Ramon Moss 21 (19 with three three-point goals in second half), Tyrone Bullocks 16, Raymond Besselieu 16; Suwon, Quincy Randolph 24 (16 first half), Gaston Grey 12, Robert Phipps 12. Noteworthy-Defenders scored eight straight to rally from 38-33 deficit and pulled away down the stretch.
Andersen 72, Kunsan 63
Halftime-Andersen 44, Kunsan 33. Leading scorers-Andersen, Marvin Harris 20 (13 second half), Deon Johnson 18 (15 first half), Michael Walters 16 (five first-half three-point goals), Clifford Claybrooks 10 (eight second half); Kunsan, Corie Fletcher 20 (13 second half), James Byers 12, Chris Williams 11. Noteworthy-Bombers used 15-0 run to take a 29-20 lead, which increased to as much as 14 in a game featuring 45 fouls.
Osan 86, Spotlight 47
Halftime-Osan 41, Spotlight 25. Leading scorers-Osan, Ramon Moss 14, Tyrone Bullocks 14, H.B. Williams 14; Spotlight, Peter Jackson 15, Howard Reed 10. Noteworthy-Spotlight loses three players to foul outs and finishes with just three on floor; Defenders slow tempo to hold down score.
Women's double-elimination playoffs
Wednesday's summaries
Kunsan 49, Osan 35
Halftime-Osan 22, Kunsan 18. Leading scorers-Kunsan, Amoni Sutice 12 (10 second half), Melissa Valdez 12 (three three-point goals), April Hill 10; Osan, Arlitha Ivey 8, Tonya Holmes 8. Noteworthy-Wolf Pack outscored Defenders 15-5 to open second half, and Hill's layup with 7:45 left gave Kunsan the lead for good, 35-33.
Camp Humphreys 59, Suwon 50
Halftime-Camp Humphreys 29, Suwon 22. Leading scorers-Camp Humphreys, Jackson 15, Sanna Lopez 12, Sandra Hernandez 10; Suwon, Wynn 22, Seneckia Phipps 10. Noteworthy-Bulldogs used 8-0 run to take a 16-9 lead.
---
---
---
---