Despite returning stars, Kadena faces leadership worries
by
Dave Ornauer
September 2, 2010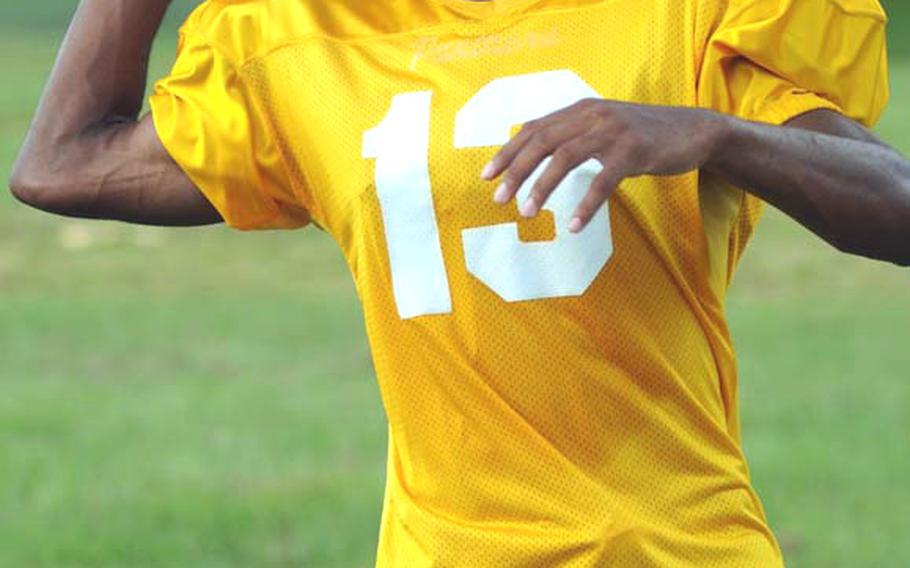 KADENA AIR BASE, Okinawa — With a pair of standout running backs fleet of foot and long on big yardage totals, it might appear as if four-time defending Okinawa Activities Council and defending Far East Division I champion Kadena might be sitting pretty.
But beyond the glitzy numbers that seniors Shariff Coleman (1,152 yards, 20 touchdowns, 122 carries) and Thomas McDonald (685, 16, 65) bring to the table lie some difficulties that coach Sergio Mendoza says will take much work to overcome.
The biggest one: replacing departed senior leaders Stan Schrock and Norm Correa at quarterback and the anchor of the line, Sean O'Neil.
"We're missing key people who were leaders," Mendoza said. "At this point, we don't have true leaders stepping up yet. We have a bunch of good guys who are great followers. But we're going to need the leadership as the season goes on."
Next comes filling key positions, and doing it with people who've not played those spots before, particularly at quarterback. There, incumbent fullback Lotty Smith is being asked to fill Schrock's and Correa's shoes having never played under center before.
"We have some gaping holes that we need to fix," Mendoza said. "Our biggest challenge will be helping these young men grow and mature, because they're going to have to step into spots that are going to be uncomfortable for them."
The best way to get all that done? Throw them in and hope they float, Mendoza said. He's had seasons when only one or two players filled that leadership role, and this may be another one of them, he said.
"We're going to need some adversity," said Mendoza, in his fifth season at the Panthers' helm. "We're going to have to get into the frying pan and see who are going to be these guys at gametime who are going to step to the plate and carry the team."
But with that adversity will come some welcome challenges for the Panthers, as well as Kubasaki, Kadena's Okinawa Activities Council rival, which is seeking to end four years in the Panthers' shadows.
They'll each play games against their DODDS Korea brethren, giving each team more of a complete schedule that mirrors what DODDS football teams do in Europe.
Kadena will host Seoul American and Osan American and travel to Daegu American, while Kubasaki will visit Seoul and Osan and host Daegu, all occurring in September.
"I'm excited for the community. I'm excited for the program. We finally have a true schedule," Mendoza said. "It's a long time coming. We appreciate all the people who worked hard to get it done."
But at the same time, Mendoza says he enters those games, as well as the best-of-three series against Kubasaki with a Division I playoff berth on the line, with trepidation.
"We can't take anything for granted," he said. "It's going to be a tough season. It doesn't look like it on paper, but with our key losses, it feels like a rebuilding year."
Over in Dragonland, coach Fred Bales feels Kubasaki's players have benefitted from a sturdy off-season conditioning and weight regimen and plan to come out fighting hard.
"My expectation is that we're tough, disciplined, and we're going to give great effort on the practice field and every snap in every game," Bales said.
---
---
---
---