Deployment doesn't bench fantasy football players
---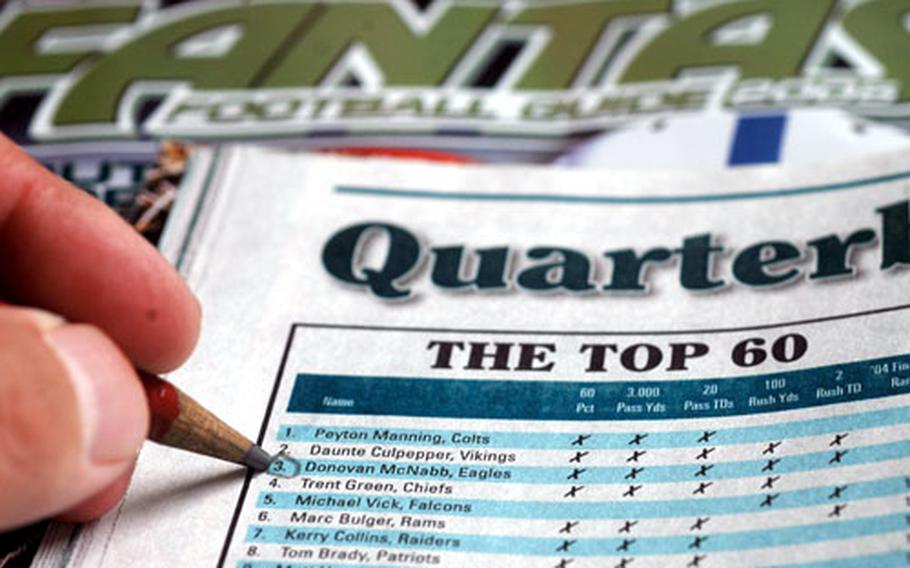 It takes more than a deployment to a war zone to stop fantasy football fanatics from getting their game on.
The fairly widespread availability of Internet access to deployed soldiers means they can keep up their fantasy play even while deployed in Iraq.
One self-proclaimed fanatic is quite possibly the most devoted fantasy owner on earth.
"I guess I can be considered a fanatic," Spc. Chris Connelly, Headquarters and Headquarters Company, 42nd Infantry Division wrote in an e-mail from Forward Operating Base Danger in Tikrit, Iraq. Connelly has been playing fantasy football for eight years.
"About three years ago my wife decided to have our youngest child's christening on the day of my fantasy draft party. This would have caused no problems for the average fantasy owner. He just would not go to the party — but not for me. On the way to my wife's family's house, I slipped away to go to my draft party. No one at the draft could believe what I did, so they said I was a true fan. Five hours later, I had to answer for it. It was not pretty."
This year, Connelly wrote that he "worked a bunch of magic" to get home on rest and recuperation in August to attend his league's draft party.
Fantasy football players who can't get home for the draft — despite being geographically detached from the NFL — are still in the know when it comes to draft choices and the starting lineup.
Connelly and Spc. Michael Foster, 16th Signal Battalion, located at Forward Operating Base Courage in Mosul, Iraq, said Indianapolis Colts quarterback Peyton Manning would be their No. 1 draft choice.
"I'm thinking if I have the first pick, I would have to take Peyton Manning," said Foster, who has been playing fantasy football for five years.
"It would be [San Diego Chargers running back] LaDainian Tomlinson, but there are a lot of good running backs in the league this year."
Foster's second choice was the top pick for Air Force Staff Sgt. Christian Cantrill, 386th Expeditionary Security Forces Squadron, in Southwest Asia. He has been playing fantasy football for five years.
"[Tomlinson] has all the tools and is the main focus of his team," Cantrill said.
Although their downtime may be limited, Connelly and Foster are each playing in three leagues.
"I'm currently in three leagues," Foster said. "One with my unit over here in Iraq, one with my dad back home in Fort Worth, Texas, and I'm in a money league through the Internet."
Cantrill, who plays in only one league, said playing in more than that was too frustrating.
"A few years ago, I had three," he said. "But I kept watching in horror as player one in one league was my opponent in another, so who do you root for?"
Though they're halfway around the world from the nearest NFL stadium, fantasy football fans in Afghanistan are also gearing up for the season. Sgt. Edsel Broughton is eagerly awaiting it. He's played fantasy football for the past four years and will be playing again this year, despite long hours working at Kandahar Airfield.
"With fantasy football, the process is basically checking over your roster, who you're playing against next week and setting up your roster for the game," he said. "That could take as little as 30 minutes."
But, he said, as an avid fantasy football player he'll spend more time doing research.
"I check the stats, see how this particular running back fared against a particular defense," he explained.
He'll be able to do this, he explained, because his barracks building has Internet access, courtesy of one of the squadron's officers.
"With the Internet in my room, it's just as good as if I were at home," he said.
Those assigned to Bagram Airfield have their own fantasy football league, explained Lt. Col. John Waters in an e-mail to Stars and Stripes.
"We have one here in [our] … shop," he wrote. "Additionally, we are running a non-gambling Joint Task Force 76 football-picking contest with weekly and end-of-season winners.
"Also, we will be sponsoring an 'elimination pool' contest where fans have to pick the winner of one game each Sunday," Waters added. "Those with winning picks move on each week.
"It should be a big deal and even though there is no money involved, bragging rights are priceless," he wrote.
But not all football fans in Afghanistan will find the time to compete for those bragging rights.
Spc. James Dill of Company C, 864th Engineer Battalion, has played fantasy football for the past four years but won't have the time this year.
"I'm here and football season's just about to start," he said. "I had fun doing it. Those who are dedicated will probably be a little frustrated."
Still, the Fort Worth, Texas, native said, though he won't be coaching his own team this year, he'll be keeping up with his favorite Dallas Cowboys.
A sampling of helpful Web sites
The growth in fantasy football has led to more fantasy-specific sites and and more traditional news sites offering more fantasy-related content. The list could be endless, but no one has that kind of time. Here are some of the best and what they offer:
How it's helpful: One of the better-known sites — and it's connected with NFL.com — and offers free and paid leagues. Detailed player rankings and cheat sheets with a ton of stats ... very helpful, but mainly if you have a team in one of its leagues.
Drawbacks: Very few, though some of the "experts" are not the fantasy fanatic-types that were around before the boon — they're CBS announcers.
For one-stop shopping, there aren't many better.
In the preseason, before you draft, you can plug in your league's scoring system and, using the sites projections for yards and TDs, get rankings based on how many points each player will score in your league. This is especially useful if your league strays from the typical performance-based system.
Also, it's probably the best site for finding last year's statistics, and they can be sorted, by position, based on several categories (rushing attempts, receptions, total yards, etc.)
There also are weekly chats, and even if you're question is not answered, others with similar questions often are.
Drawbacks: It isn't geared specifically to the fantasy football players, so, while news on teams and players is helpful, it won't give you as much from a pure fantasy perspective.
How it's helpful: Another of the one-stop shopping places...but only if you want to pay. ESPN might have the best insight into the NFL and it might have the most useful fantasy information, but ...
Drawbacks: You have to pay for almost everything that is "insider" information.
How it's helpful: It has your standard cheat sheets and rankings and projections. The bonus comes from the Draft Day Features box, which always contains Camp Thunder, a look at news from that day, and other informative items that can help you prepare for the draft.
Drawbacks: The players news isn't as good as others, and the projections aren't as easy to understand.
How it's helpful: Has the best newsbreakers segment among these sites. It gives news about a player, then deciphers what it means from a fantasy perspective.
And during the preseason — before your draft — this site's Player Spotlight gives a fairly detailed synopsis of players whose worth is uncertain.
Drawbacks: Other than the newsbreakers, doesn't have much that's free during the season.
How it's helpful: It touts that it is 100 percent free, and there are not many sites that would try to claim that.
It's great for cheat sheets and gives you an opinion of whether a player is a bust (overvalued) or a sleeper (undervalued) and how much risk is attached to each player.
Drawbacks: A recent look showed some of the evaluations had not been updated recently. And it's one of the more difficult to navigate.
How it's helpful: They give you the news — like USA Today — and use that to give you the fantasy spin. They also have a "Whispers" column under "The Way We Hear It" header from which fantasy players can glean insight.
Drawbacks: While it leans a little more toward fantasy than USA Today, it doesn't go as far as other fantasy-specific sites. You're not likely to find cheat sheets or mock drafts.
How it's helpful: In addition to several mock drafts, which can be influenced by just one owner overvaluing a specific player, they offer a staff consensus for where a player should be drafted.
Also when it's time to create (or print) cheat sheets, they offer various way to build them, including placing players in each position in tiers, so you know where there is a dropoff in value.
They also offer previous years' stats and this year's projections together, so you can see if the projections make sense without scrolling through several screens.
Drawbacks: Not as timely in breaking news or as insightful into what the news means.
How it's helpful: They seem to have some of the best insight and projections, but ...
Drawbacks: Very little is free.
How it's helpful: It has a link to more sites than can be written about here. If you have the time, you might find a nugget that's useful. They also give you their take on some of the sites.
— Complied by Sports Desk Chief Ed Rogers
---
---
---
---