Defense pays off for Aviano boys, Sig girls
---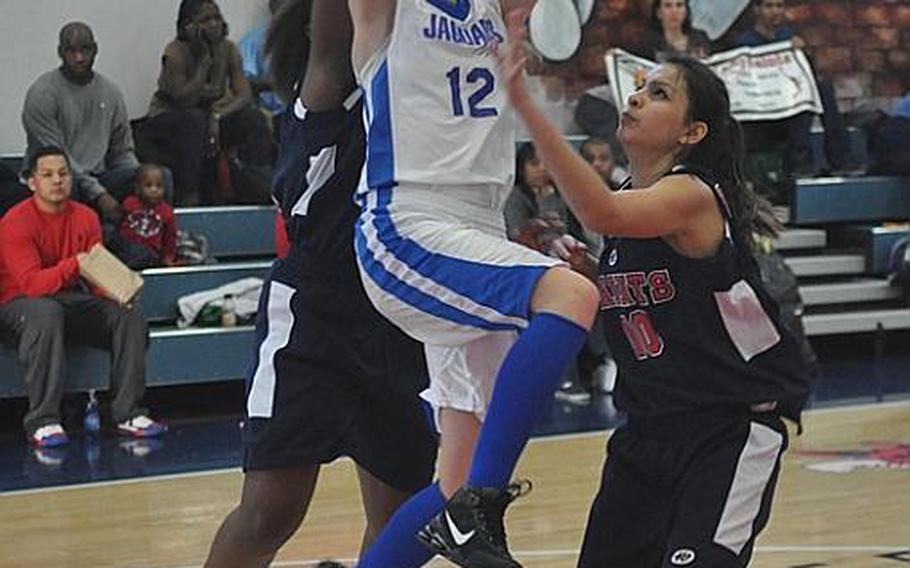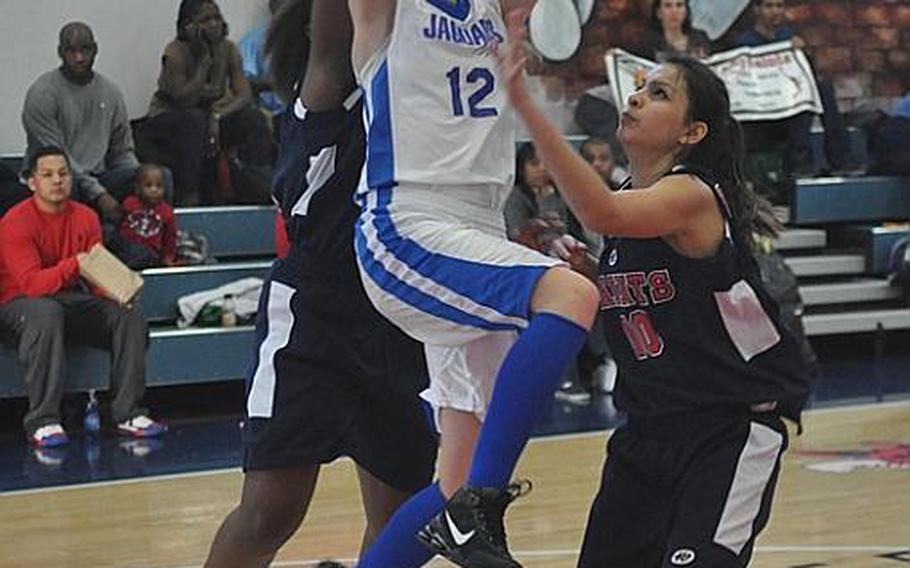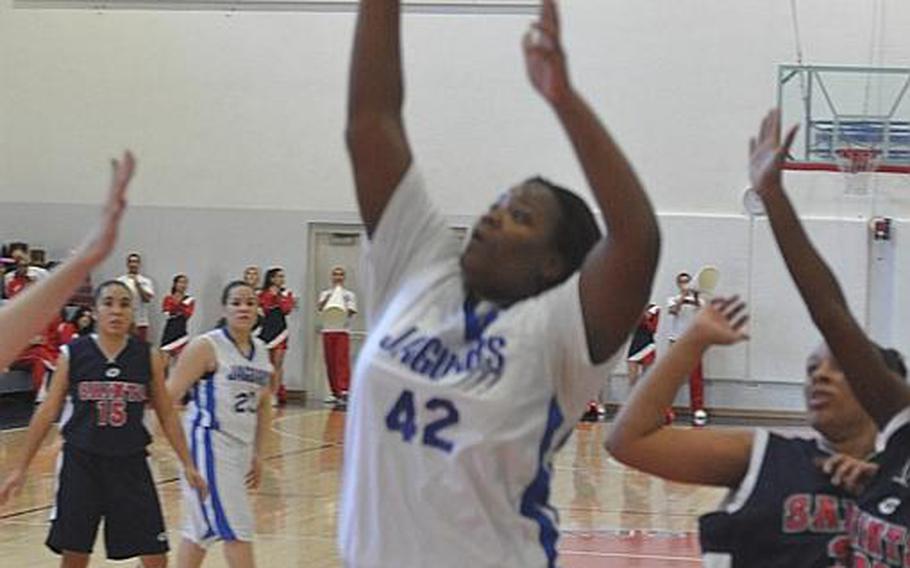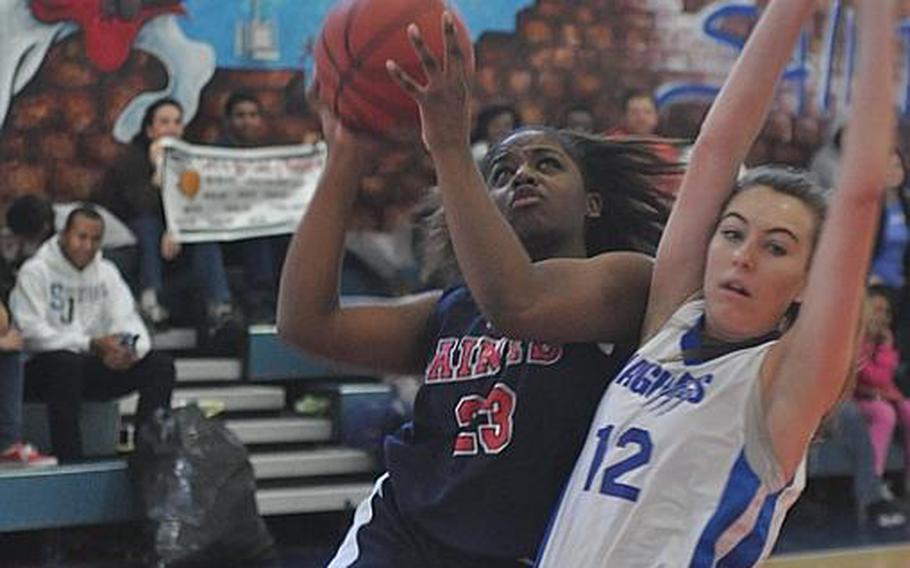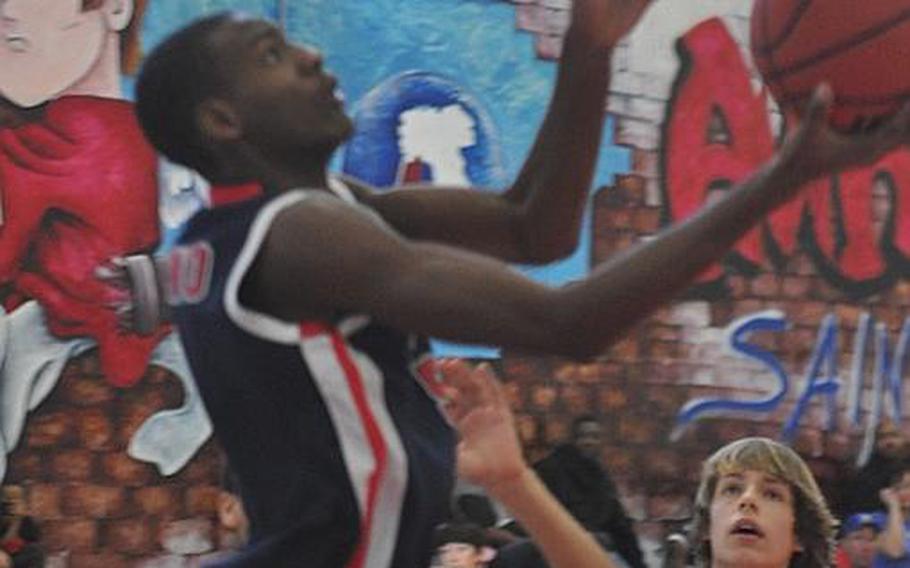 AVIANO AIR BASE, Italy — While most of the glory in basketball often goes to those scoring the points, preventing someone from scoring can be just as important.
The girls and boys basketball games Saturday between the Sigonella Jaguars and the host Aviano Saints offered clear evidence of it.
Using a loose version of a triangle-and-two defense, the Lady Jaguars kept the ball out of Kyerha Smith's hands and dumped the Saints, 36-32. Smith, Aviano's sophomore point guard, had scored 27 points in the Saints' 39-26 win Friday.
The Saints boys, however, took it one step further, virtually eliminating any Sigonella scoring inside the paint in a 64-36 victory to stay in a first-place tie atop the Region IV standings.
"They toughened it up a lot around the basket," Sigonella coach James McKissick said. That severely lessened the impact of his son, Chris, the Jaguars' starting center, and didn't give the Jaguars many second-chance opportunities.
Aviano, which improved to 7-1 with the win, didn't need many second chances of its own. The Saints came out hot, missing only a handful of shots en route to a 24-11 first-quarter advantage. Sigonella, which fell to 2-6, didn't get within double figures after that.
The Saints blew the game open in the third quarter by scoring 24 of the first 26 points after halftime. Andrew Bert and Zack Erskine, who each finished with a team-high 15 points, did most of the damage during that span.
But they weren't alone. Saints sophomore center Ricky Warren and senior forward Myron McRae each scored 11 points and anchored the inside defense. The Saints also scored a bunch of easy baskets with guards Bert, Erskine and Cory Webb clogging the passing lanes.
"This is the best we've played as a team this year," longtime Aviano coach Ken McNeely said. He was happy with his team's defense, but said, "We're going to get better."
Sigonella couldn't have devised a better strategy to defeat the Saints in the girls game. Sabrina Sabel and an alternating teammate followed Smith, named to the All-Europe second team last year as a freshman, around the court. Smith tried to fight through it, but often ended up catching the ball in awkward situations. She missed her first 10 shots.
"I think she's the difference on that team and we did not want to let her have the ball," Sigonella coach Tonya Strobridge said.
Her daughter, Tenia, the Jaguars' center, battled it out underneath with Aviano's Katyln Atchley, eventually scoring a game high 14 points and grabbing 13 rebounds. Atchley, hounded by several Sigonella defenders every time she pulled down a rebound, finished with 19 rebounds and six points.
The Saints led 16-11 at halftime without a point from Smith, but went cold in the third period as the Jaguars took over. Smith scored her first basket with 2 seconds left in the quarter and finished with a team-high nine points.
---
---
---
---