Defending champs look to hold off threats in track
---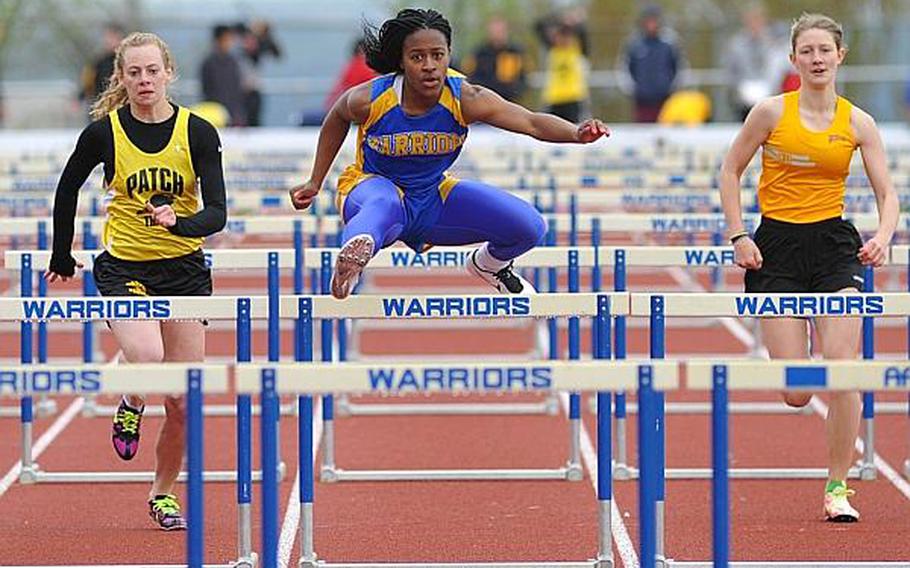 The 2013 DODDS-Europe track and field championships will be held Friday and Saturday at Kaiserslautern High School in Kaiserslautern, Germany.
The Red Raiders' freshly opened facilities, which also hosted portions of this week's DODDS-Europe soccer championships and the Super Six football festivities in the fall, will serve this weekend as a new site for the continuation of old track rivalries.
Here's a look at what to expect from the two-day event, based on the season's results and input from participating coaches.
Boys Defending champion Vilseck has its talons wrapped firmly around the field of DODDS-Europe track, and it will take a multifaceted effort to wrest it free. The Falcons feature elite contenders from the top to the bottom of the event list, including sprinters, middle-distance runners, jumpers and field-event specialists. Defending 200-meter European champion Shawn Peebles is a good bet to earn an early medal for the reigning champs.
If anyone has the depth to chase down the frontrunning Falcons, it's Ramstein.
DODDS-Europe's largest school and its athletic programs continues to grow in stature and expand its self-proclaimed "Empire," and track might be the latest front to fall. A strong third-place finisher in 2012, the Royals have the talent to improve on that in 2013.
Wiesbaden is a rising contender who might be a year or two removed from legitimate championship contention. Last year's runner-up, Heidelberg, has likely lost too much to make another run. Kaiserslautern, Lakenheath and Patch will also be in the running.
At the Division II level, reigning champion Bitburg appears well-stocked for another title. Italian contenders Aviano and Naples might represent their toughest rivals, while AFNORTH, Ansbach, Hohenfels, SHAPE and Black Forest Academy will be heard from as well.
Defending Division III champion Rota, meanwhile, will attempt to stave off challenges from a field including new arrival Baumholder.
Girls Patch ended the Kaiserslautern dynasty in 2012 with a sizeable team victory. It's entirely possible that outcome marked the beginning of a long Panther reign.
But a Patch repeat is by no means a sure thing. Wiesbaden, featuring a fast-improving overall roster paced by returning European champion Phylecia Faublas, won a regular-season meet against Patch before the Panthers reasserted their status a week later. It seems inevitable that the Warriors with an influx of more athletes will become a perennial contender at some point in the next few years, and this year might be the start.
Vanquished Kaiserslautern remains a threat to snatch back the crown it reluctantly yielded a year ago, while Ramstein is rising in the girls ranks as well as the boys. Vilseck, Heidelberg and Lakenheath have candidates for individual medals but likely not enough depth to seriously vie for a team title.
Among the smaller divisions, the loss of Stars and Stripes girls track Athlete of the Year Sara Sawyer leaves AFNORTH's title very much up for grabs. SHAPE, Bitburg, Ansbach, Naples, Aviano and Vicenza are among the potential new champs.
Reigning Division III Menwith Hill will get a test from new divisional rival Baumholder, along with familiar foes Brussels, Alconbury and Rota.
Twitter: @broomestripes
---
---
---
---