Defending champs in USAREUR volleyball semis
by
Rusty Bryan
May 31, 2003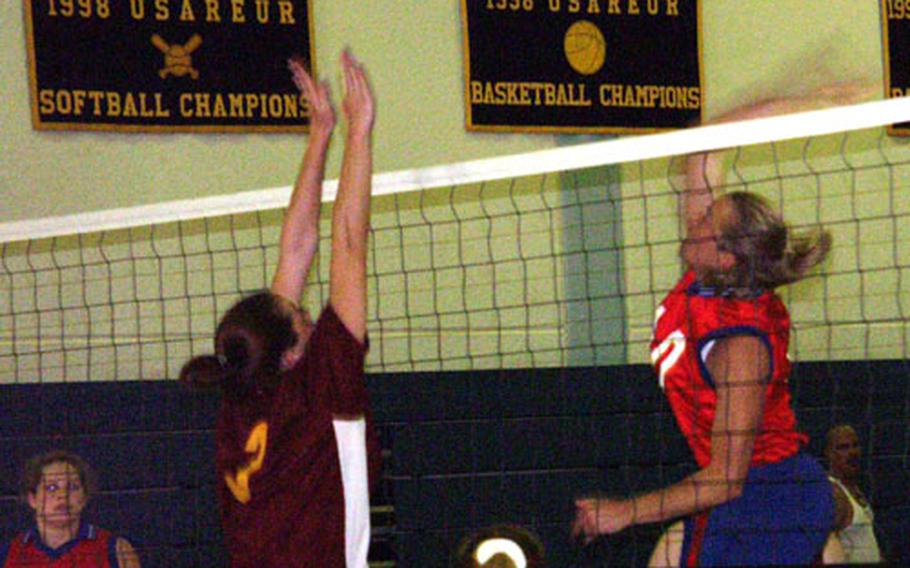 HEIDELBERG, Germany — The defending champion Stuttgart men and Heidelberg women will take undefeated 3-0 records into Saturday's semifinals of the 2003 Army-Europe volleyball championships.
With one game left to play in pool play, Heidelberg assured itself of the top seed in the women's draw thanks to a 25-15, 25-19 victory Friday over Bamberg.
Bamberg was playing its second match in succession Friday and third of the day when it ran into Heidelberg. Still, fatigue wasn't a factor, according to Bamberg's Erin McLaughlin.
"It's uncommon for a tournament in which there are so few matches to run over two days," she said. "We'd prefer to play one match after another — to get in a zone and stay in a zone."
Bamberg's zone began with a forfeit victory over Graf-Vilseck, then a 21-25, 25-6, 15-13 victory over Ansbach and a 25-15, 25-17 conquest of Vicenza.
Playing one match after another certainly paid dividends for the Stuttgart men, who claimed a forfeit victory over no-show Kitzingen on Thursday, and then defeated Graf-Vilseck 25-15, 25-15 and Vicenza 23-25, 25-17, 15-10.
Kitzingen showed up Friday, and took a game to come together before downing Vicenza 25-27, 25-21, 15-8.
"We couldn't pull a team together on Thursday," said Kitzingen coach Val Aquino after his Rattlers had defeated Vicenza. "Everybody had to work."
Having to forfeit two matches put Kitzingen into Saturday's 4 p.m. semifinal against top-seeded Stuttgart.
"We've taken a couple of games from them during the season," Aquino said of Stuttgart, "but they won all the tournaments we played."
The other men's semifinal, scheduled for 2:30 p.m., pits Graf-Vilseck against Vicenza.
Women's play begins at 10 a.m. with a playoff for fourth place between Graf-Vilseck and Vicenza. The winner takes on Heidelberg at 1 p.m.
At 11:30 a.m., Bamberg and Ansbach will play for a berth in Sunday's 1 p.m. title game.
The men's championship game is scheduled for 2:30 p.m. Sunday.