Boys soccer preview
Defending champs face stiff challenges
by
Gregory Broome
March 14, 2019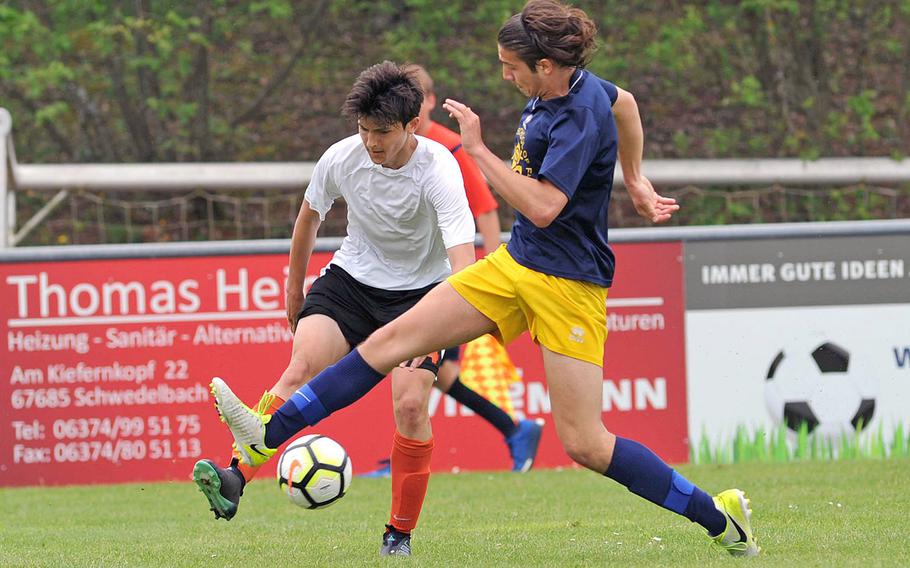 Defending champions Kaiserslautern, AFNORTH and Brussels face significant threats to their title reigns as the 2019 DODEA-Europe boys soccer season opens this weekend.
Division I The Kaiserslautern Raiders have gone through several iterations in recent seasons. They were frustrated contenders in 2015 and 2016, falling short in heartbreaking semifinals. They were conquering titans in 2017, an undefeated champion unrivalled in skill, depth and technical sophistication. And they were the resolute reigning champs in 2018, winning a second straight title in a gritty sequel to the prior season's glamour and glitz.
So what's next for the Raiders?
Returning coach Enrique John has just four returning players on his roster, and he'll lean heavily on non-seniors such as defenders Colin Dyer and Elijah Daniels and forward Jahiem Allen. But John remains typically optimistic.
"This year we have a pretty rounded team, a lot of young players mixed in with the experienced returning players," John said. "I'm looking forward to seeing what comes out of it."
Among Kaiserslautern's primary threats are the teams it beat for its two titles: the Stuttgart Panthers, who clawed their way into the 2018 final before taking a 2-1 loss to Kaiserslautern, and the Ramstein Royals, who fell 3-1 to the rival Raiders in the 2017 title match and entered the 2018 postseason an undefeated top seed before faltering against Stuttgart in the semis.
Meanwhile, the Wiesbaden Warriors will look to blast through the glass ceiling that has kept them from advancing to the championship game. Coach Ben Arcila said he'd like his squad to "develop into an offense-minded team" that can outshoot and outscore opponents. Senior forward Tyrese Harris will headline that effort, while senior center backs Anthony Hall and Joshua Scahill lead the Warrior defense.
Those four southwestern German powers will also face challenges beyond each other, including 2017 semifinalists SHAPE and Naples, the latter of which returns nine starters from its 2018 roster, and the promising Vilseck Falcons. New head coach Mary Corrigan said her team has added "a number of strong, swift and skilled players" to a solid core of seven returning starters.
Division II The Marymount Royals have long been the team to beat in DODEA-Europe's middle division. That's exactly what the AFNORTH Lions did last spring.
AFNORTH stunned two-time reigning champion Marymount in a 2-1 title-match victory last spring, avenging the mercy-rule beating it absorbed against the Royals in 2016. Now it's the Lions presenting a target for the dangerous Division II field, but the defending champions seem plenty capable of standing their ground.
New coach Mike Miano fields a team of 12 returning players, including eight of the 11 starters from last year's game. Forward James Barata, the MVP of last year's tournament, is back to spearhead the offense alongside fellow senior Victor Soriano. And the Lions scatter more proven seniors around the field, specifically midfielder Guillermo Rodriguez and defenders Nicolas Aponte and Lasse Bohlen.
It's safe to expect Marymount to renew its efforts after last year's setback, just as it did after its 2016 championship-game loss to upstart Bahrain. Marymount's local rival American Overseas School of Rome, the runner-up in 2017 and third-place finisher in 2018, also remains a constant threat.
Black Forest Academy, meanwhile, is eager for a championship breakthrough similar to those enjoyed by Bahrain and AFNORTH in recent years. The Falcons have 10 returning players back from last year's group and are stinging from sitting out the semifinals over the last two seasons.
"This team is quite motivated after some disappointing finishes the last few years," BFA coach Isaac Michaels said.
Division III None of last year's six boys and girls European soccer champions won as overwhelmingly as the Brussels Brigands, who enjoyed an undefeated Division III regular season, a dominant run through the small-school tournament and a 7-0 victory over overmatched Ansbach in the championship match.
While a third straight title isn't out of the question, success won't come so readily for this year's Brussels squad. The Brigands are undertaking a rebuilding project with just three returning players as a foundation.
Ansbach, the runner-up to Brussels in 2017 and 2018, will again field a co-ed boys soccer squad this spring and will look to capitalize on any vulnerability displayed by the reigning champions. The Cougars have seven players back from their 2018 group.
Among the division's other contenders are Alconbury, which won the 2016 title ahead of Brussels' two year-streak, steady contender Sigonella and Division II transplant Spangdahlem.
Twitter: @broomestripes