Baseball preview
Defending champs face an array of hungry contenders
by
Gregory Broome
March 21, 2019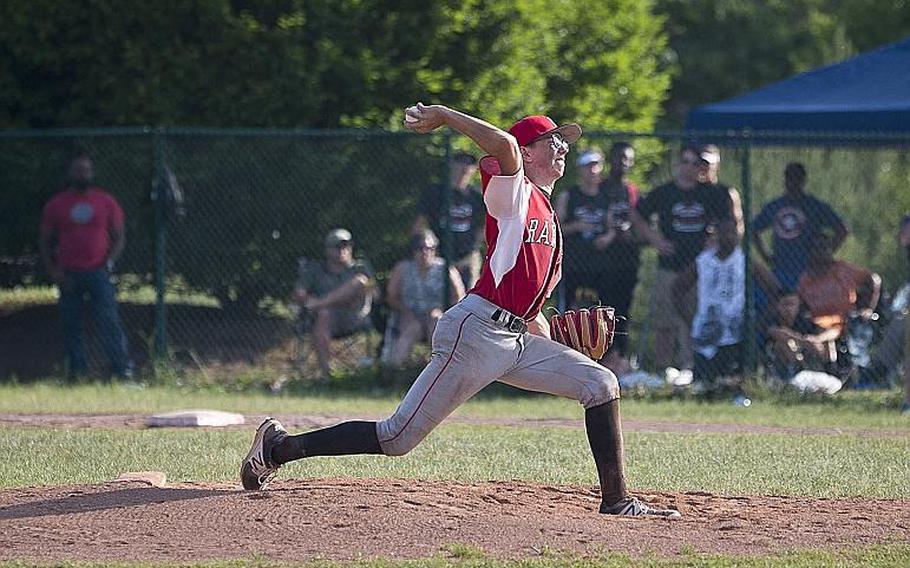 Two vulnerable defending champions and fields of highly qualified contenders should make for a fascinating DODEA-Europe baseball season, opening this weekend at sites across Germany, Italy and Belgium.
Division I The Lakenheath Lancers disrupted the large-school status quo last spring, becoming the first team other than the Stuttgart Panthers or Ramstein Royals to win the division's European title. Their remarkable run featured an 8-7 semifinal win over Ramstein, ending the Royals' five-year championship dynasty, followed by a 9-6 defeat of Kaiserslautern in the title game later that same day.
This season will determine whether the Lancers' triumph was a one-off outlier or a harbinger of more parity and unpredictability to follow.
Lakenheath itself will be hard-pressed to repeat its 2018 performance, having lost four All-Europe performers to graduation. But Kaiserslautern, still seeking the title breakthrough the school's boys soccer and softball programs have enjoyed in recent seasons, might be ready for its moment. Head coach Justin Bates returns five starters among 10 incumbent Raiders, among them ace pitcher and utility man Ronin Sherman, a sophomore coming off an impressive debut.
"We have a solid core of returning players who gained a lot of baseball experience last year," Bates said.
Ramstein will look to rebound under new head coach Osvaldo Garcia Carrillo, most recently the coach at Seoul American in the Pacific, and the Royals have considerable talent on hand with which to restart their stalled dynasty. Carrillo said seniors Jerod Junkins, Nathan Kranz and Tieran Shoffner, all members of the Royals' most recent championship team, are stepping up to the challenge.
"They are showing off their hitting power at every practice," Carrillo said. "They enjoy the role to be the veterans of our team, and they are not shying away from the spotlight."
Stuttgart saw its once-elite status fade during Ramstein's five-year reign, and the Panthers missed the elimination round altogether a year ago. But new head coach Rob Loyd has nine returning varsity players as the foundation for a rejuvenated contender.
The Wiesbaden Warriors and Naples Wildcats joined Kaiserslautern, Stuttgart, Ramstein and Lakenheath in posting .500 or better overall records a year ago. Wiesbaden lost a lot of talent from its 2018 semifinalist, while Naples coach Jim Davis has just four incumbent varsity performers to headline an upstart team he described as "scrappy and quick."
Meanwhile, the Vilseck Falcons might be next in line for a Lakenheath-style surge. New head coach Michael Valenzuela's group of 12 returning varsity players features junior star Jordan Leighty, an ace pitcher and all-around contributor coming off an All-Europe sophomore season.
"The core group of players have been together for three years and have grown a lot," Valenzuela said.
SHAPE and Vicenza, which finished clustered around Vilseck at the bottom of last year's standings, will join the Falcons in attempting to level up this spring.
Division II/III A third straight small-school championship is the goal for the Sigonella Jaguars, although a very different group of players will have to be the ones to achieve it.
Only three Jaguar starters are back from last year's repeat champion, and neither of the Jaguars' 2018 first-team All-Europe selections are among them. In place of that lost star power, head coach Matt McKown has flipped to a less glamorous recipe for winning, stressing his team's "speed on the base paths" and positional depth.
Fortunately for the Jaguars, the returning runner-up is facing a similar predicament. Spangdahlem, which last year lost 1-0 to Sigonella in one of the more well-played championship games in DODEA-Europe history, lost all three of its All-Europe performers.
Rota, whose own multi-year run as champion was superseded by Sigonella, and fellow 2018 semifinalist Aviano are among the teams primed to capitalize.
Twitter: @broomestripes