Girls soccer championships
Defending champs, Bitburg appear to be teams to beat
by
Gregory Broome
May 11, 2017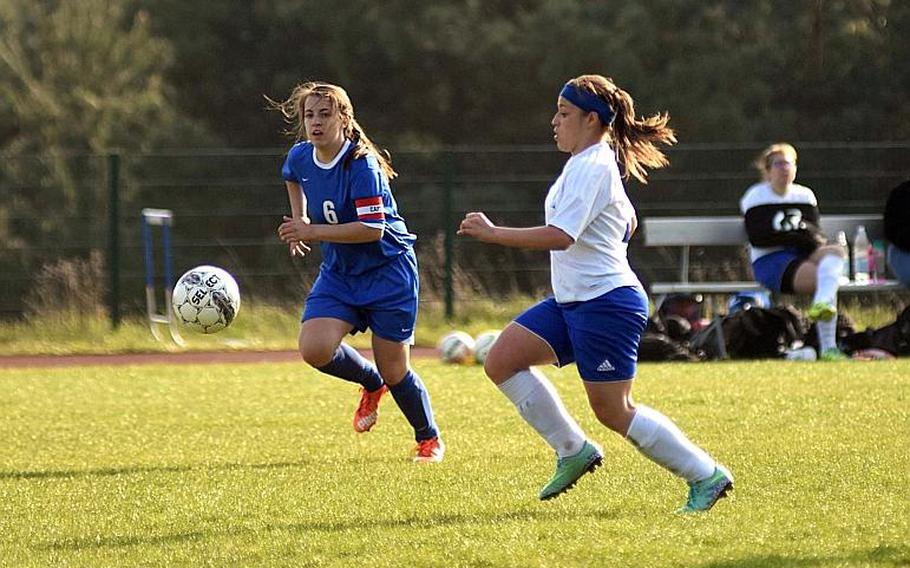 Division I Stuttgart and Division III Alconbury will each pursue a third straight European championship at the 2017 DODEA-Europe girls soccer tournament, running Wednesday through Saturday at sites around the Kaiserslautern Military Community.
Division I The Stuttgart Panthers are the two-time defending champions and the lone unbeaten team in Division I girls soccer. It's hard to recall a bigger championship favorite entering the annual postseason tournament.
The Stuttgart roster is brimming with talented and experienced seniors at every spot on the field. Four-year varsity performer Meaghan Ambelang headlines the defense. Midfield playmaker Lexi Mclellan was named the MVP of last year's European tournament. Alexa Smith, the 2016 Stars and Stripes girls soccer Athlete of the Year, is among the most dangerous strikers DODEA-Europe has seen.
Surrounding that core are players that are good enough to occupy a more central role on any other team in DODEA-Europe, including senior Marissa Encarnacion, versatile scorer and distributor Emily Smith and fast-rising freshman Victoria Antoine.
The results are indisputable. Stuttgart is not only the sole unbeaten team in Division I but is responsible for the only loss sustained by each of its two closest rivals. The Panthers beat archrival Ramstein 4-1 on April 15, in the process blowing up the teams' history of close, low-scoring matches. Less than a week later, they blasted Naples 8-2 in a rematch of Stuttgart's 4-0 win in last year's European title match. That's a thorough demonstration of mastery not always available to teams in a division stretched across DODEA-Europe's vast geographic reach, and the Panthers took full advantage of the opportunity.
However dominant Stuttgart appears, it will have to beat those proud teams all over again to realize its potential as a three-time champion.
Ramstein couldn't match the Panthers' firepower in the teams' regular-season meeting this spring but might be able to tap into its long tradition of trading off titles with the Panthers for another strong tournament run. Naples found some strategic success on defense early in its game against Stuttgart and might have another, more sustainable approach in the works.
Among the rest of the field, Wiesbaden has the potential to make some noise in the bracket after a 2016 semifinal run and an above-.500 2017 regular season.
Division II DODEA-Europe's midsize division has produced two different champions and four different finalists in the two seasons since dynasty Naples moved on and up to Division I. That trend appears set to end this season.
Returning runner-up Bitburg, led by the overwhelming offensive efforts of Baileigh McFall and Ashlynn Floyd, has emerged as a favorite to return to the European championship match. Like most Division II squads outside of Italy, the Barons played a limited divisional schedule this spring. But the two games they played were very impressive: a 3-1 defeat of Black Forest Academy in a rematch of BFA's 2016 title-match victory, and a 5-0 shutout of 2015 runner-up and 2016 semifinalist AFNORTH. Bitburg even tossed in a 7-2 rout of 2015 Division II champion Hohenfels, since dropped to Division III, for good measure.
While BFA and AFNORTH remain viable contenders, Bitburg's top challenges might come from elsewhere.
Rota made a brief but memorable cameo in the DODEA-Europe regular season with wins over American Overseas School of Rome, Aviano and Marymount by a combined score of 13-5. The Spanish program has already established itself as a major Division II player in nearly every other team sport; this might be the year it does the same in soccer.
Aviano has a fighting chance to advance on the strength of striker Hailey Pulliam, one of DODEA-Europe's most prolific goal scorers.
Division III Three teams enter the Division III tournament with realistic paths to a championship. And until the tournament, none of those paths will have crossed.
Foremost on the short list of contenders is two-time defending champion Alconbury. The Dragons blew out divisional rivals Baumholder and Brussels this spring while performing admirably against larger opponents such as SHAPE, Kaiserslautern and AFNORTH. The squad's core group of Isabel Black, Laela Evans and Roni Teti is a collection of talent few small schools can match.
Hohenfels recorded wins over the same two Division III rivals, Baumholder and Brussels, as Alconbury but was otherwise brutalized by an arduous schedule of upper-division opponents.
Sigonella, meanwhile, fared well in a regular-season schedule devoid of divisional competition but full of tough Italian competition. The Jaguars recorded signature wins over Division I Vicenza and Division II Aviano in a break-even season that appropriately finished with consecutive ties against Marymount and AOSR.
Twitter: @broomestripes