Girls basketball preview
Defending champs appear to be in the mix again
---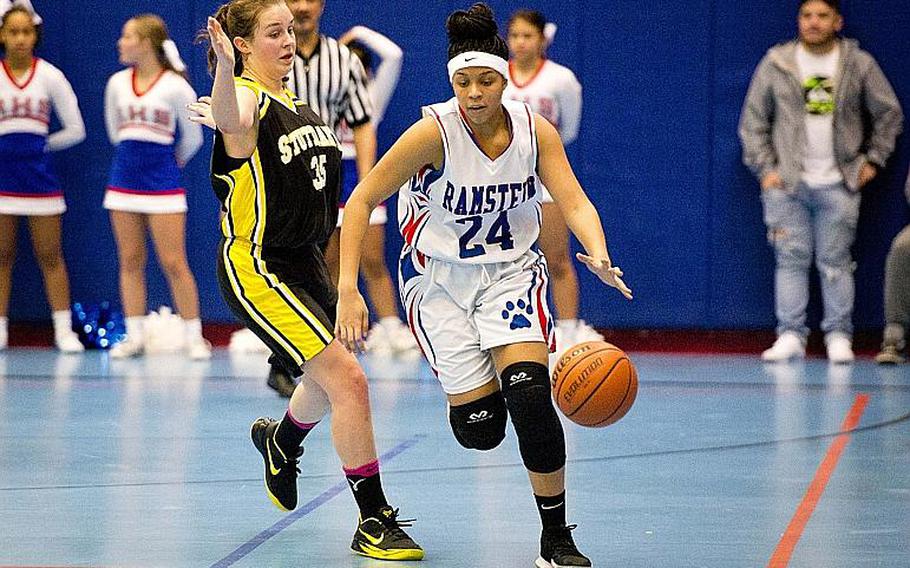 The Naples' Wildcats bid for their first Division I girls basketball championship headlines this week's DODEA-Europe tournament, which starts Wednesday at sites around Wiesbaden, Germany, and concludes with a set of championship games Saturday at Clay Kaserne Fitness Center.
Division I Accomplished teams from the geographic fringes of DODEA-Europe have been exposed as pretenders in the past when the breadth of competition expands to include every large-school hoops power.
The Naples Wildcats do not appear to be such a team.
While much of Naples' perfect 14-0 regular season was achieved at the expense of smaller regional opponents, the Wildcats have done plenty to project their power over the whole of DODEA-Europe. That effort started in the season's first weekend with a long trip to the United Kingdom and a convincing sweep of Lakenheath, and reached its zenith a week later with a 39-35 defeat of reigning Division I champion Stuttgart. Wins over Vilseck and Vicenza rounded out Naples' 6-0 divisional record and earned the Wildcats the tournament's top seed.
If it weren't for Naples hovering over the division, this year's large-school girls race would rank among the most evenly matched in recent memory.
The defending champion Stuttgart Panthers, returning runner-up Ramstein Royals and perennially strong Kaiserslautern Raiders form a very solid second tier of contenders with the potential to derail the Wildcats' apparent championship destiny.
Stuttgart, a year after dominating the division in an undefeated 2016-17 season, has faced a tougher path this winter, including losses to Naples and Ramstein. But the Panthers evened the score with the rival Royals and retain enough of last year's championship moxie to mount a worthy title defense.
Ramstein brings a respectable 8-4 divisional record into the tournament, but has proven prone to lapses in losses to Lakenheath, Vilseck and Kaiserslautern.
The Raiders, meanwhile, have surged back to Division I prominence after a shaky start and proved they belong among the bracket's legitimate contenders. Kaiserslautern beat Ramstein 36-31 on Jan. 30 and dropped a pair of tough February games to Stuttgart by a combined five points.
Vilseck ranks as the wild card in the division, capable of knocking off the elite but struggling to sustain momentum. Lakenheath is in a similar position, swapping signature wins with deflating losses.
That abundance of solid teams doesn't leave much room for new entries in the title conversation, but Wiesbaden, Vicenza and SHAPE will do their best to squeeze in.
Division II The Black Forest Academy Falcons have unequivocally been the class of Division II girls hoops in recent years. They've won the last two European championships and three of the last four and have appeared in every divisional championship game since 2014.
This year's version of the Falcons have typified the depth and versatility that have made that run possible. BFA brings a 2-0 divisional mark and its usual record of success against upper-division opponents into the tournament.
While BFA is firmly ensconced atop the division, there is perhaps a vacancy in the role of its foil. Spangdahlem, a consistent antagonist to the Falcons and winner of the 2015 crown under its former identity as Bitburg, has dipped deep down the divisional standings this season, leaving space for a new team to take its shot at BFA.
AFNORTH auditioned well for the role this winter, winning all four of its Division II games and reaching double digits in the overall win column. The Lions should be hungry for a tournament run, having seen only Division III opponents since a successful swing through Italy on Jan. 19-20.
Rota, Marymount and American Overseas School of Rome bring respectable records into the bracket, while Spangdahlem and Aviano have some ground to make up in the postseason. Unpredictable Bahrain will return to the bracket after a third-place finish in 2017 and another season without a DODEA-Europe regular-season game.
Division III The Sigonella Jaguars snapped a streak of three straight championship-game losses - with all three coming in heartbreaking, overtime fashion - when they beat Baumholder 14-11 for last year's small-school title. Now they'd like to further their new, more pleasant streak with a second straight championship, and have spent the bulk of their winter schedule tuning up for the task by facing much larger opponents and winning way more often than not.
The Hohenfels Tigers and Brussels Brigands rank as the Jaguars' primary threats in the six-team bracket. The Tigers survived their divisional schedule undefeated until a loss to Ansbach on the final day of the regular season, while 6-2 Brussels matched Hohenfels' win total and flashed its big-game capabilities with an overtime defeat of AFNORTH to end the regular season.
Twitter: @broomestripes
---
---
---
---