Far East basketball
Defending champs among the favorites on the courts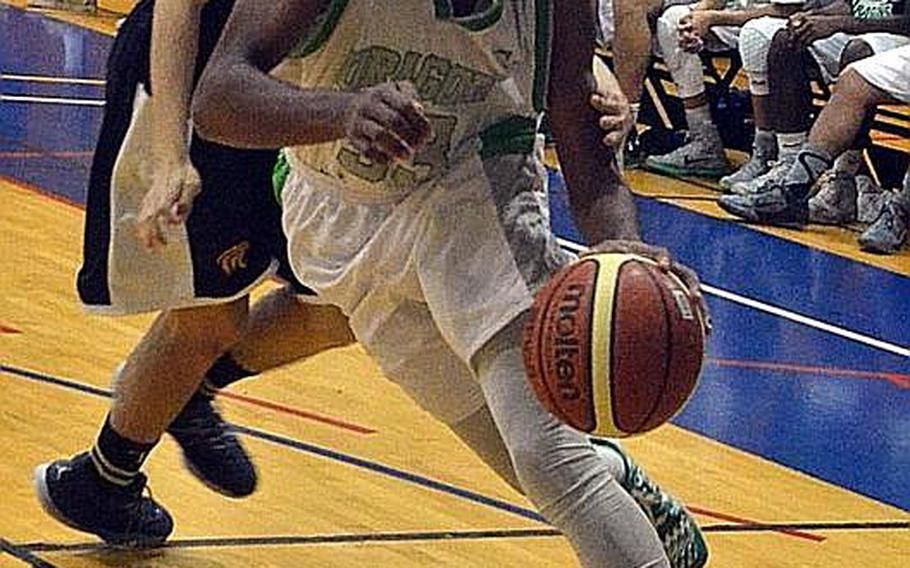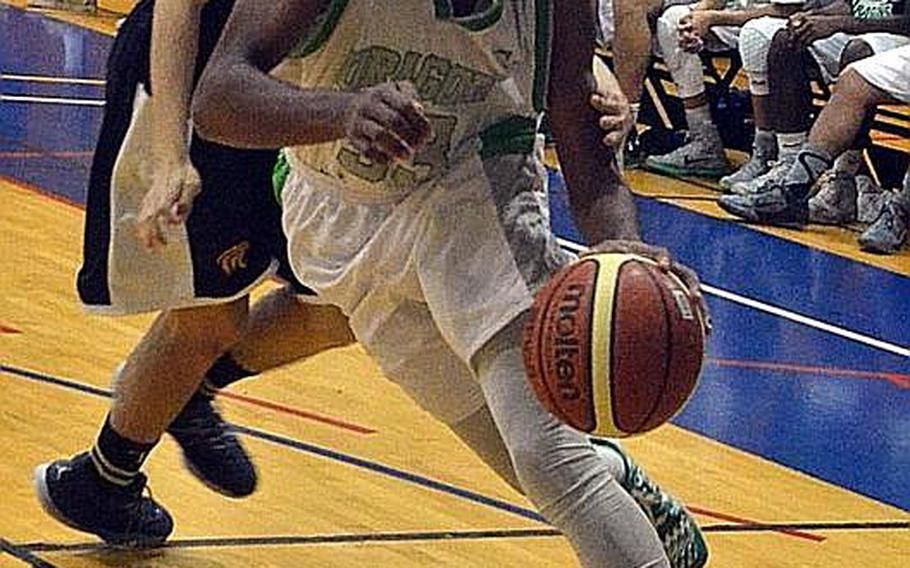 Teams don't often win back-to-back titles in Far East boys and girls basketball, at least not in recent years.
But there's a decent possibility – though certainly not a guarantee – that all four defending champions could return to the winner's podium at this year's events.
Kubasaki's boys, with only a single loss to blemish an otherwise perfect season – and Yokota's girls – unstoppable since the addition of freshman phenom Kaliah Henderson – have the best cases on paper.
Division I boys The Dragons have beaten everyone they've played with the exception of American School In Japan, which knocked off Kubasaki 76-68 at the end of January, breaking a 27-game winning streak dating back to last season. The team hasn't lost since.
Point guard Jacob Green, small forward Skylor Stevens and center Matt Ashley, all seniors, have done everything for Kubasaki this season.
The Dragons are as close to a dynasty as there is in Far East basketball, winning the title three times in the last five years. They fell to Faith Academy in the 2014 finals.
ASIJ is the only other school to claim a title in that span and the Mustangs have proven they can beat the Dragons once this year – though they'll be playing on Kubasaki's home court this time. Kubasaki also hasn't seen Seoul American, which won the Blue Division tournament in Korea.
The biggest unknown is American School of Bangkok, off the radar during the regular season.
Division II boys Yokota was heavily favored heading into last year's tournament, only to lose in the first game of the double-elimination tournament. The Panthers, who hadn't lost a game entering the tournament, then had to win a jaw-dropping five games on the final day to win the crown.
Yokota, which will host the tournament, hasn't been as dominant this season. But the Panthers are still one of the teams to beat. Another is Humphreys, which topped DI contender Seoul American twice this year and won the Blue Division regular season title.
Yokota's Japan rivals Robert D. Edgren and Matthew C. Perry – which gave it fits in the tournament a year ago – are among the schools that have a good chance at an upset or two.
Division I girls ASIJ is the rare program that has won back-to-back titles and is looking for three straight. It's joined as favorites by Kadena, which knocked off the Mustangs early in last year's tournament and forced them to battle back for the title.
The two didn't play this season and much of the personnel has turned over from a year ago. That includes tourney MVP Mia Weinland of ASIJ, who dominated the volleyball and basketball courts in her Mustang career before graduating.
Kadena again won the season series from Kubasaki, but hasn't played most of the schools it will face in the tournament. Okinawa rival Kubasaki hosts both boys and girls tournaments, giving Kadena a home-court advantage over most foes.
Division II girls Yokota, which won its first DII title last year not long after dropping to a lower division due to declining enrollment, looked vulnerable earlier this season, falling to ASIJ and Zama in December. But since Henderson, injured in volleyball, has joined the team, they've been unbeatable – getting some revenge on the Trojans with a pair of victories in the process.
She's far from a one-person show, though, joining a team with several key contributors from a year ago. Senior center Caitlyn Rowan (11.7 points, 13.3 rebounds) and the guard tandem of Jamia Bailey (17.5 points) and Sarah Cronin (13.1) give the Panthers a formidable lineup.
Zama, which has a top freshman of its own in Destiny Thomas, is led by junior captains Ti'Ara Carroll (19.1 points, five assists) and Ally Chiarenza (16.8 points). The Trojans fell to the Panthers in last season's championship game and lead a group of other schools with title aspirations. Matthew C. Perry is the tournament host.
---
---
---