Girls soccer preview
Defending champions will be tough to beat again
by
Rusty Bryan
March 14, 2012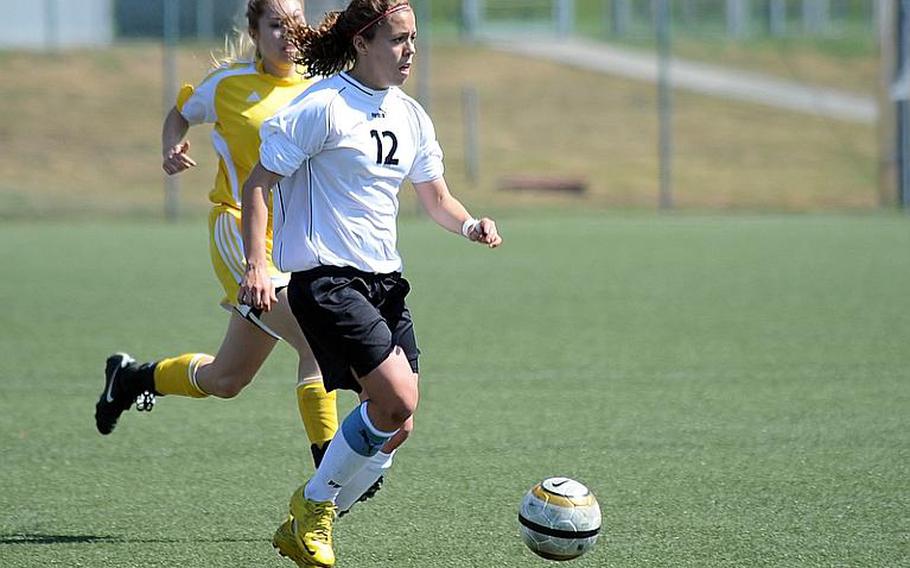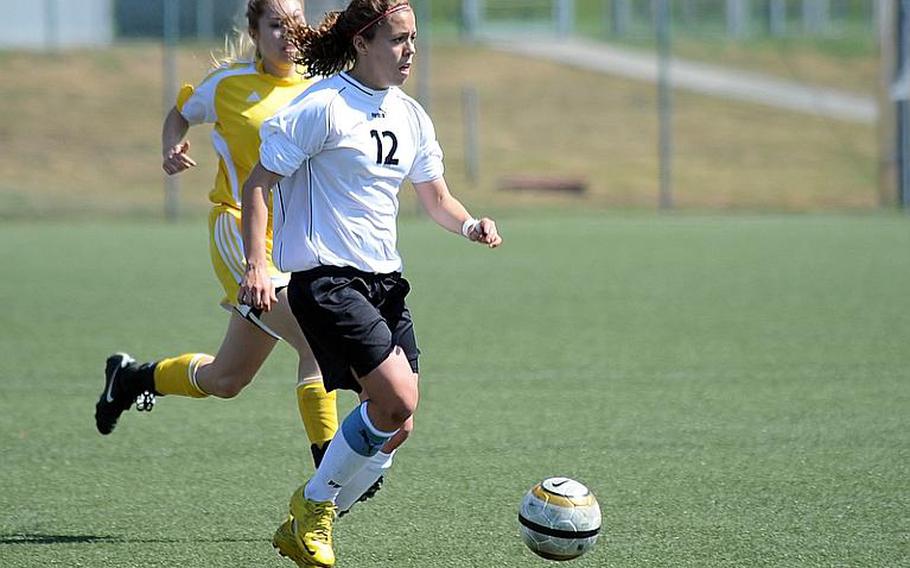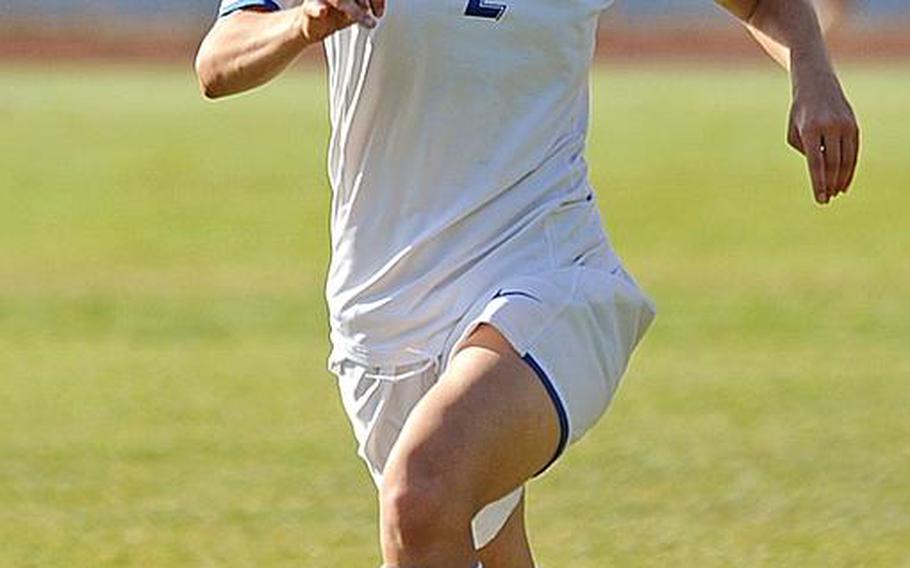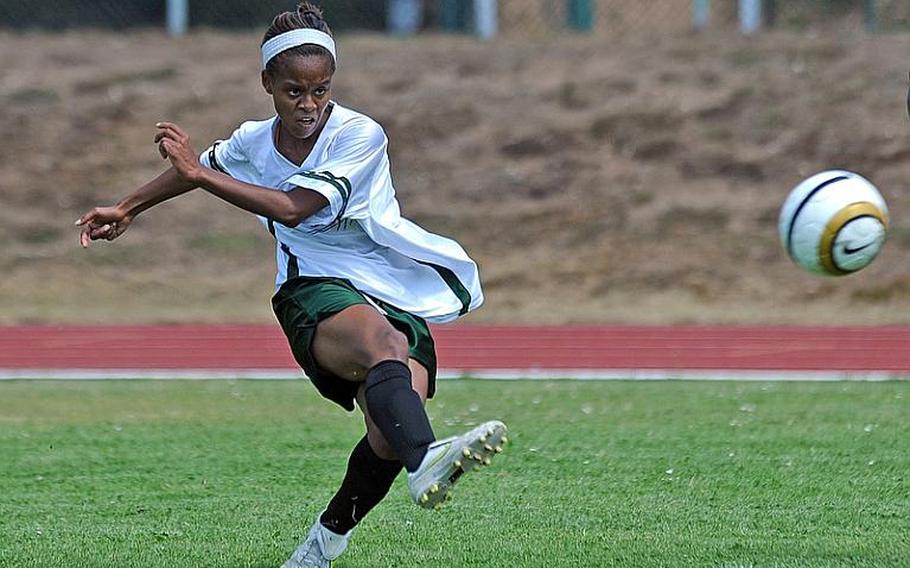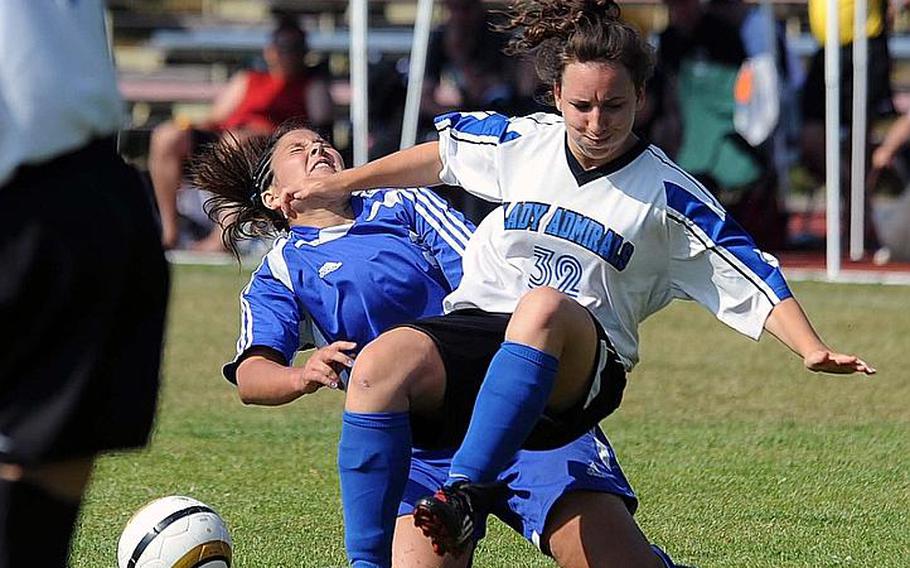 Any team wishing to mount a challenge to the three defending European girls' soccer champions would be well-advised to bring their A-games, beginning with Saturday's season-openers.
The reason?
All three 2011 champs – Patch of Division I, Naples of Division II and Rota of Division III return players who played key roles in winning last year's titles. Well-armed to repeat.
Division IOf no team is that more true than two-time defending D-I champ Patch. Tom Manuel's perennially strong program returns no fewer than three 2011 All-Europeans, among them midfielder Emma Murray, a playmaker and eight-goal scorer who was voted the MVP of last year's title-winning team, and defender Tori Gilster, MVP of last year's D-I tournament. Add to that pair returning All-Europe midfielder Caroline Rivera, who showed dominating speed and defensive prowess, according to Manuel.
Challenging the Lady Panthers as usual are Ricardo Buitrago's Ramstein Lady Royals, led by NCAA Division I signee Josie Seebeck, the 2011 Stars and Stripes player of the year.
All Seebeck, who'll be taking her game to Central Michigan University after she graduates in June, did in 2011 was score 24 goals and hand out 16 assists. Ramstein scored 48 goals all season, so Seebeck had a hand in 83 per cent of them. She's joined by her classmate, All-European Mackenzie Crews, a stopper of the kind of athleticism and determination which has made her an All-European in three sports.
Joining the Patch-Ramstein mix this season is Heidelberg, which returns All-European midfielders Melissa Fry and Layna Lowe, who registered 10 goals and seven assists and nine goals and four assists, respectively, in 2011.
Like his counterparts in basketball, Heidelberg coach Jim McCauley also imported a huge talent from defunct Mannheim in senior Amber Veranen, a two-time All-Europe sweeper for the Lady Bison.
The other teams in D-I appear to be a step or two behind the Big 3 on the eve of the season.
Fans wanting an early look at how the favorites shake out should plan to be at Heidelberg's PHV athletic field Saturday. Patch, Ramstein, Heidelberg and Kaiserslautern will be on hand to test each other in a jamboree beginning at 9 a.m., according to McCauley.
Division IILike Patch, Naples goes into its season well-stocked, thanks mainly to the return of senior All-Europe forward Alexandra Mack, who scored two goals in last season's come-from-behind 3-2 title-game victory over Vicenza.
Also like Patch, however, Melinda Durham's Lady Wildcats face significant challenges for a 2012 D-II crown.
AFNORTH coach Christopher Booth can call on scoring punch from senior Kaley Harless, who chalked up 18 goals and nine assists in 2011, and sophomore Erin Rivers, who accounted from eight goals and seven assists. Both made the All-Europe team.
Marymount International School of Rome expects to challenge behind All-European Caroline Wiley, and 2011 runner-up Vicenza can call on its All-Europe tandem of sophomore Alex Frank and senior Maya Swinehart.
Cautioned Booth, however, in an email: "Division II is always a crap shoot. The championships always seem to spring some surprises – during the season we never compete against the Italian league schools, but, then again, they never compete against us. Though, with SHAPE being placed in Division II, the competition will really be wide open."
Division IIILike Patch, D-III champ Rota is chasing a three-peat. Unlike Patch, though, the Lady Admirals don't have any returning All-Europeans to lead them.
Just plenty of experienced talent, according to co-coach Clarice Brown.
"Yesenia Solis, Tasha Eisenhower, Gabriela Rivera, Thais Gartland and Diana Santana," she identified them in an e-mail. "I call them the 'Five Babies.' They came on board when they were 9th graders and now are seniors."
Last year's runner-up, Brussels, coalescing around Alexandra McVicker, again expects to be a factor, as do Pete Resnick's Menwith Hill Lady Mustangs, who are blending seven returning starters, including perennial all-star Kaia Pierce, with talented junior newcomer Samantha Cubbler; Menwith Hill's neighborhood rival Alconbury, and Italy-league-tempered Sigonella, always a tough nut to crack.
Play begins Saturday at eight venues scattered across Europe, working toward the concurrently played D-I, II and III events at Ramstein May 21-24.
---
---
---