European girls soccer roundup
Defending champions all reach finals
---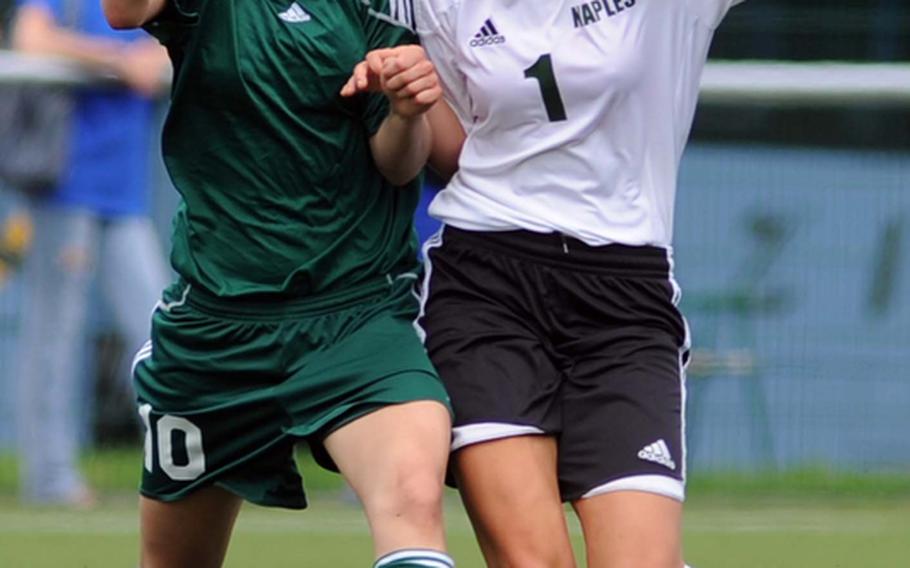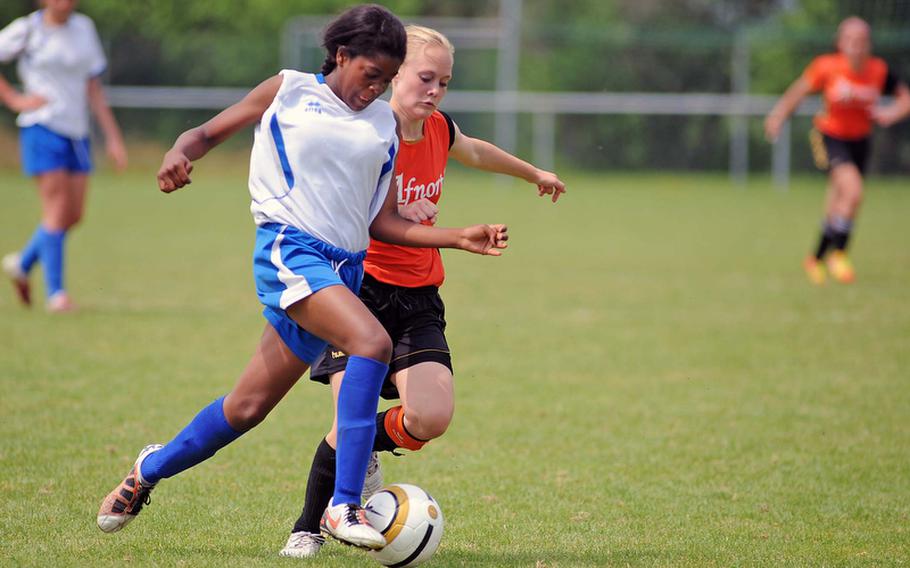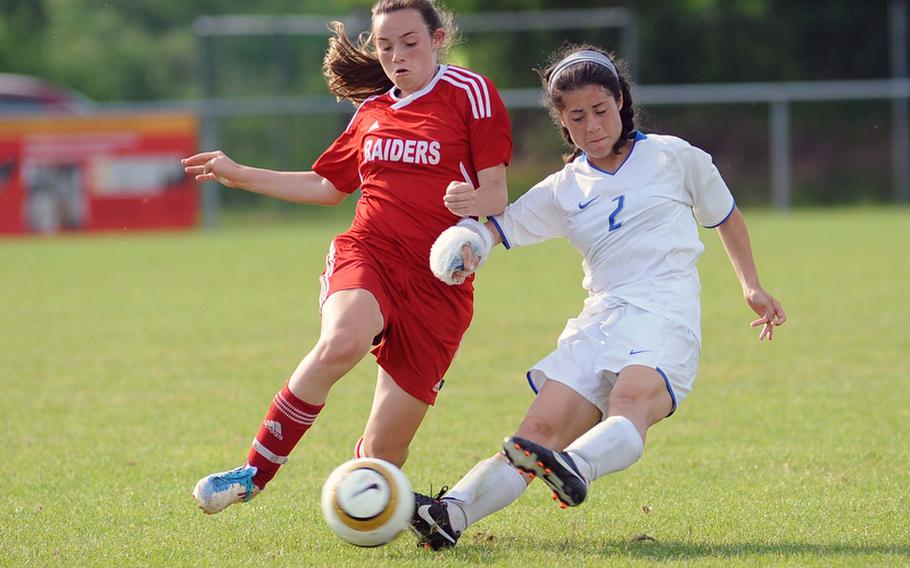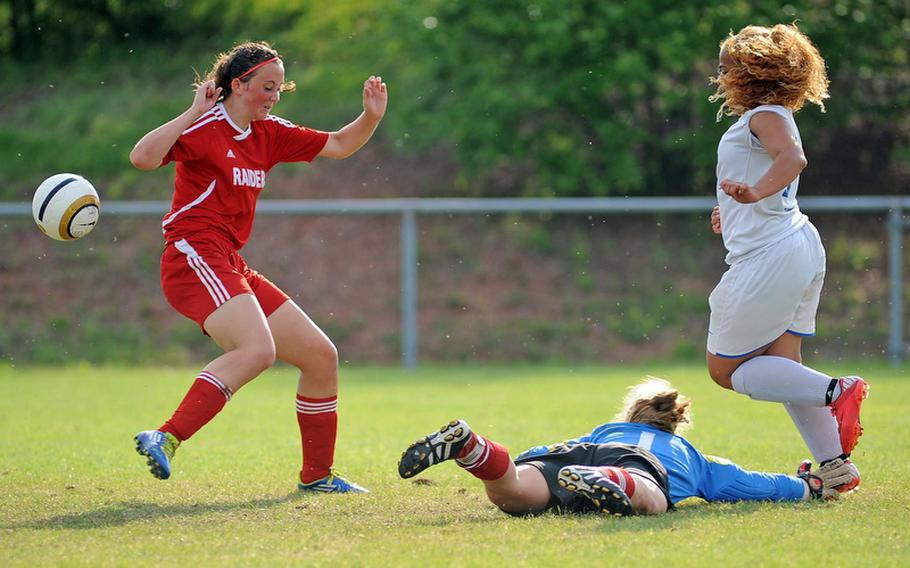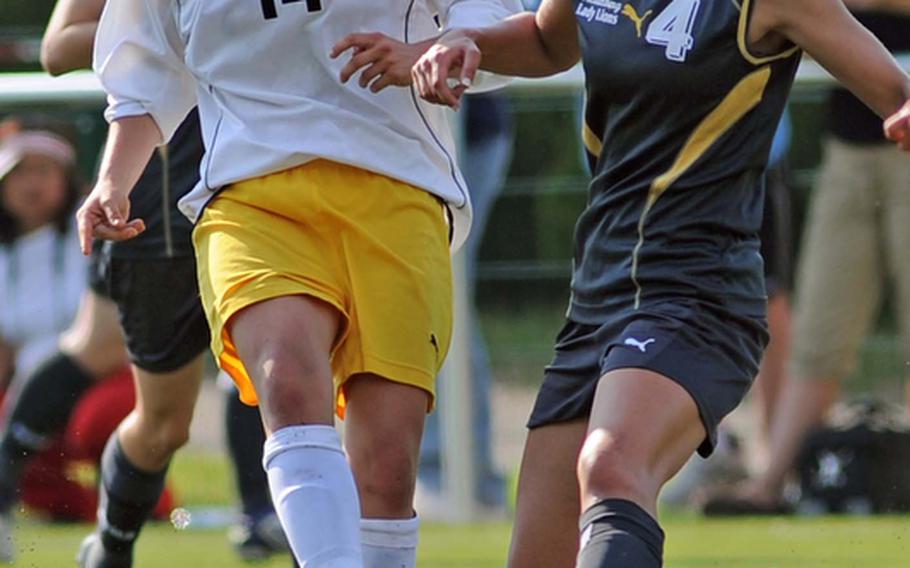 This article has been corrected
REICHENBACH-STEEGEN, Germany — All three defending girls champions will get a chance to win those crowns again Thursday, when the Divisions I, II and III girls title games are scheduled to be played at Ramstein high school.
Wednesday, two-time defending D-I champ Patch downed Heidelberg 5-3 in their semifinal game, two-time D-II champion Naples bounced SHAPE 6-1 in their semifinal contest, and two-time D-III top dog Rota, which won the no-longer-contested D-IV title in 2009, blanked Ankara 5-0 to top the round-robin standing in that division.
Two-time defending girls' champ Naples spotted SHAPE an early goal in their semifinal, then roared back with six unanswered goals.
All-European Alexandra Mack scored three of them, Kelsey Ortwin added two and Abby Waller one.
"I'm so proud of our team," said Mack, who got the Wildcats even at 1-1 on a penalty kick, then put her team in front just two minutes later on a quicksilver drive into and through the SHAPE box. "We stepped it up and really worked together."
She repeated the feat in the second period to make it 3-1, and then turned over the scoring to Waller and Ortwein.
SHAPE led early, 1-0 on a goal by Liz Burden, but had a tough time cracking the Naples defense thereafter.
The Wildcats are scheduled to face AFNORTH in Thursday's 1 p.m. title game. AFNORTH blanked Marymount International School of Rome 3-0 in the other D-II semifinal behind two goals from Erin Rivers, one by All-European Kaley Harless and some impenetrable goaltending by Jasmine Doll.
Patch's two-time D-I girls find themselves in their usual last-day position in these tournaments, occupying one of the two benches at the title game. It's to kick off at 4:45 p.m. against Ramstein, which topped Kaiserslautern 4-1. It'll be a rematch of last year's championship game.
But the way the Panthers made their way to this finale was a bit out of the ordinary.
Patch, which surrendered just one goal all season and none in its three pool-play games here, gave up two in the first half in its 5-3 semifinal victory over Heidelberg.
"We knew they were going to come out with their usual Heidelberg intensity," said Patch All-European Emma Murray, who scored twice.
Murray's first strike, which came off a rocket she launched while cutting across the top of the box, put Patch up 1-0 in the 13th minute, but Heidelberg became the first team to lead Patch this season when Melissa Fry converted a penalty kick awarded for a hand ball in the box, and All-European Layne Lowe hammered a shot just under the crossbar as she made a Murray-like move across the box 21 minutes into the game.
Kaileen Pritchard made a strong run down the right side just two minutes later and converted a pass from Samantha Barglof to make it 2-2 at halftime, and Patch went up 3-2 just 10 minutes into the second half when speedy Lauren Rittenhouse beat the Lions' defense to a long ball off the foot of Whitney Mannier.
"Our speed always caries us through," Murray said.
Heidelberg, however, equalized again when Fry got her head on a rebound and rammed it past Patch keeper Ellie Welton, before Murray and Brittany Nixon put the game away with stellar individual goals from just outside the box.
Rota's girls completed a 5-0 run through the round robin with their blanking of Ankara on Wednesday. The Admirals are to take on Brussels, a 2-0 victor over Menwith Hill on Wednesday, in the D-III title game at 10 a.m. Rota beat Brussels 2-1 on Wednesday and 1-0 at Alconbury during the season.
CorrectionPatch's Brittany Nixon was misidentified in an picture caption in an earlier version of this article.
---
---
---
---