Deeper Kadena team seeking AA report
by
Dave Ornauer
April 25, 2004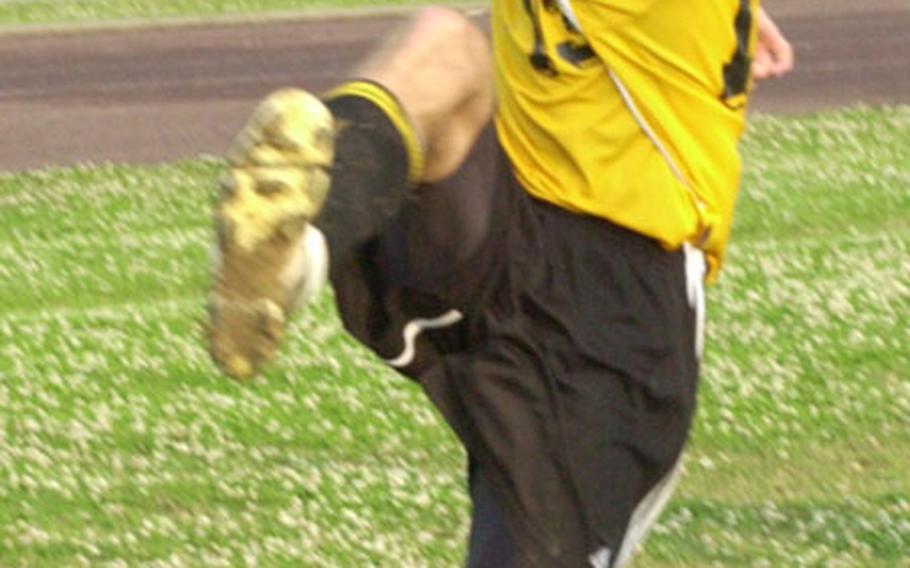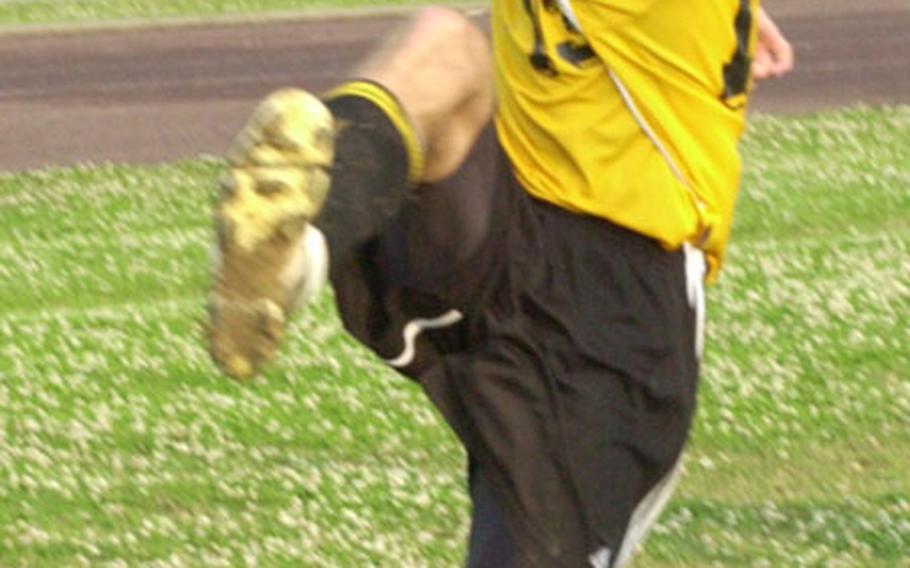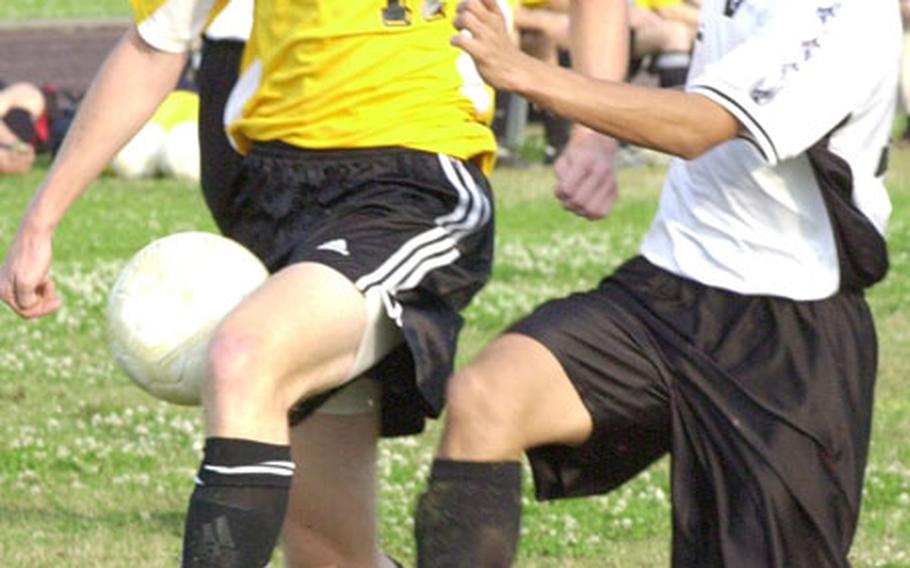 Might the Kadena Panthers, the defending Far East High School Boys Class AA Soccer Tournament champions, actually be better than in 2003?
In no way has third-year coach Sue Fitzpatrick intimated that a title repeat is a foregone conclusion. But she feels that superior depth and good communication could carry the Panthers deep into the tournament, scheduled for next week at Yokota Air Base, Japan — the first time that base has hosted the playoffs.
"We have more depth at every position this year than we did last year," said Fitzpatrick, whose Panthers (6-0-1) have nine players, including seven starters, back from last year.
Of the 15 on the roster, none has scored more than five goals, but 12 have scored a goal or recorded an assist.
They've outscored opponents 27-7 this season, paced by brothers Zach and Aaron Zendejas (five goals each), the play of midfielders Brenden Stanford and Nathan LaGrave (four each), fullback Rich Ranch and goalkeeper Ted Awana (three shutouts).
"They don't rely on one player to carry them," Fitzpatrick said. "I have confidence in whoever comes off the bench, if they go up front, defend, be a playmaker. I have so many versatile players. It's a great coaching situation."
And many of her players are underclassmen, including Awana, who's just a sophomore but has the full confidence of Fitzpatrick.
"It's something when a team has a strong defense and a goalkeeper of his ability," Fitzpatrick said, noting that Awana played football for Kadena and has been to soccer camps in the States. "He loves it back in the net, and to watch him play back there, it's a lot of fun."
Communication is "how they've pulled together. That's one thing they're doing very well," she added. "They've come together as a team."
So what, if anything, looms as a potential negative for this team, which beat host Yokota 2-1 in the Class AA final last May?
"Only that I couldn't bring my entire roster," Fitzpatrick said of having the difficult decision on which three of her 18 players to leave home. "It's a solid team. And they're playing well together."
Former two-time Class AA champion Kubasaki has had a front-row view of its Okinawa Activities Council foe; the Panthers went 2-0-1 in the season series with the Dragons, with a 1-1 tie on April 2, when Kadena was missing four starters, the only blemish on its record.
Fitzpatrick played at Central Florida. Kubasaki coach Butch Spain says the combination of a knowledgeable coach and skilled players who do all the little things — talk to each other, make the deft back-taps and head-flicks — make Kadena formidable.
"They're excellently schooled. They have good experience," Spain said. "Sue is an excellent coach, a technician. You put that with skilled players, that's a great combination. When you've got that much, it's kind of hard to beat it."
But can Kadena be beat?
"If they're off and you can hold them," he said, "you can win, but it's too hard to hold them. You mark a key scorer, a key player, deny them the ball, then you can keep their game down. And hope that everything doesn't go in like they did on us."
Yokota, the runner-up the past two seasons, gets to face its 2003 conqueror in Monday's first round-robin game. Panthers coach Tim Pujol says being at home gives his team an edge.
"We'll gain a little advantage over everybody else by being at home, familiar surroundings and all," he said. "It's nice for the players to go on with their usual routine, sleep in their own beds, eat mama's home cooking."
That by itself won't vanquish a champion, Pujol said. Last year's finish and the number of people returning, he said, makes Kadena "a really tough team for us to beat. But anything's possible."
Coach Bill Schofield of JSL champion Nile C. Kinnick concurs; his Red Devils lost to Kadena 3-2 in last year's tournament.
"If we come with the game we can play, I think we can give them a good run for their money," Schofield said.
Said Fitzpatrick, "We're not thinking it's in the bag by any stretch of the imagination. We're going to have to give respect to every team and not look beyond them. We're going to have to work just as hard as anybody to be successful. I just happen to be fortunate to have a complete roster."
---
---
---
---