Deep Yokota wrestling squad takes dual-meet tourney crown
---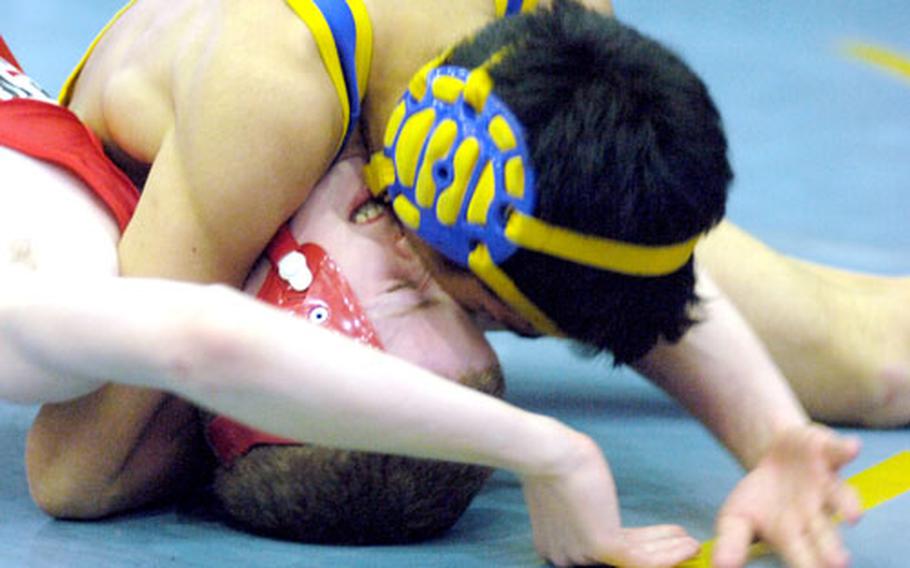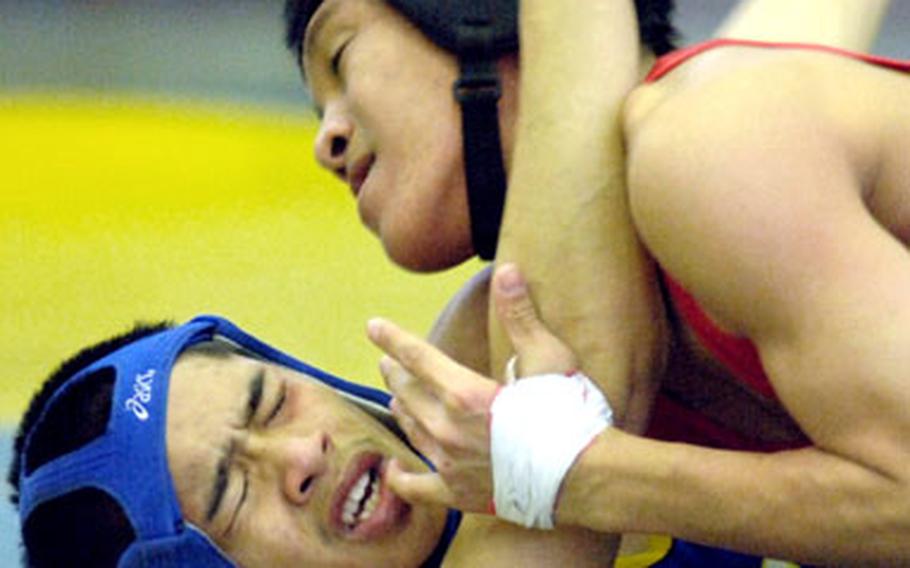 Assuming that Yokota's wrestling program simply rides the coattails of three defending Far East champions and another returning semifinalist would be easy. But coach Brian Kitts says that's the furthest thing from the truth.
"Everybody assumes we have just four studs," Kitts said Saturday after the Panthers prevailed 39-22 over Nile C. Kinnick in the championship dual of the 2006 Kanto Plain Association of Secondary Schools dual-meet tournament. "But [just] four kids can't win anything. … We feel we're pretty solid across the board."
Defending Far East champions Jason Rodriguez (122 pounds) and Zach Dopslaf (180) each won their bouts by pin, while 215-pound semifinalist Jim Scott won by decision. But Kitts also cited pins by Nick Guzman (108) and Kyle Shimabukuro (141) and a superior decision by Robert Rodell (129) as keys to victory.
Rodell, in his fourth year on the squad, "is probably the most technical wrestler on our team," Kitts said, while third-year junior Kyle Shimabukuro is "in a tough weight class getting the job done. We expect him to win. He's getting better every week."
Even in defeat, youngster Darnell Murphy, a sophomore in his first year of wrestling, scored five technical points in losing by pin to defending Far East champion Kenji Doughty at 148 pounds. "Some four-year guys can't score two points on Kenji," Kitts said.
"The whole team is doing the job," Kitts said of a Yokota squad that's 4-0 in Kanto regular-season dual meets — the Panthers' best start in 27 years — and has won two in-season tournaments. "Whether it be to score points or prevent the opponent from getting maximum points or just being there to make teammates better, they're doing it."
Yokota prevailed despite returning Far East champion Patrick Pamintuan suffering his first loss in 1½ seasons in Panthers uniform, falling to Bobby Antonio by pin.
It was the last tuneup before Saturday's Nile C. Kinnick Invitational "Beast of the Far East" Tournament, the only in-season tournament featuring Department of Defense Dependents Schools and international school teams from all areas of the Pacific.
American School In Japan took third place by downing Christian Academy In Japan 35-17; St. Mary's International finished fifth, beating Zama American 31-20.
Seoul American suffers another scareAfter years of dominating the DODDS Korea League, Seoul American is finding itself fending off upset bids on a weekly basis. A week after surviving Osan American 34-23 in a tri-meet at Osan Air Base, the Falcons outlasted Taegu American 34-29 in the fifth of six regular-season tri-meets, this one Saturday at Seoul American.
"Both Osan and Taegu are coming along," said Falcons coach Julian Harden.
Rather than focusing on win-loss records, Harden said, the three squads are emphasizing preparing as best as they can for the Feb. 16-18 Far East tournament at Yokosuka Naval Base.
The tactic has been successful, he said.
The squads compete against each other but also help each other. For instance, Harden provided tips on freestyle wrestling to Taegu's first-year coach Jason Warder, whose background is in collegiate wrestling.
"Because of that, we're starting to see growth in the programs," Harden said of Osan and Taegu, which are fielding full squads for the first time. "There's hope for the future. If those same kids stick with it, if the coaches stay, I see where one of them will beat us or at least knock on the door."
Bad weather keeps some hoop teams homeSnowfall in the Tokyo area caused two Kanto Plain Association of Secondary Schools basketball games scheduled at the Christian Academy In Japan to be postponed.
Nile C. Kinnick's girls were to visit the Knights, as were the St. Maur International Cougars of Yokohama. Not immediately known was when the games would be rescheduled. Up to four inches of snow fell in the Kanto Plain area on Saturday, with more forecast for Sunday.
---
---
---
---