Prep roundup
Daegu girls overcome Seoul American hex
---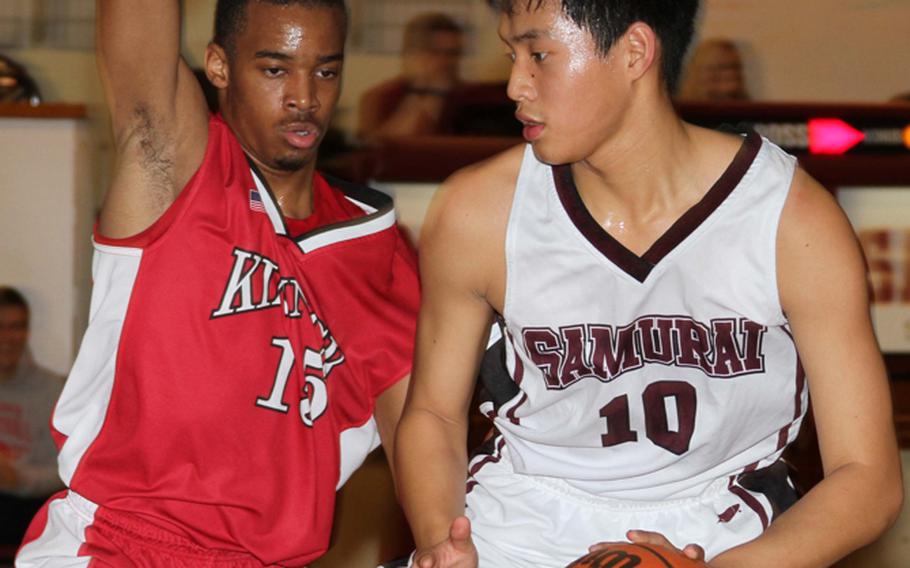 It was almost 15 years since Daegu High's girls basketball team last beat Seoul American before the two teams met Friday. But that drought came to an end, thanks to the scoring and defense of Sarah Wright.
The sophomore guard netted a career-high 31 points and 11 steals and Raven Calloway had 11 steals and 13 rebounds to power the Warriors to their first victory on the Falcons' home court, 53-46, in overtime.
"It's been my dream, to beat Seoul American, and I finally did," Wright said. "The team wanted it. We played with all of our hearts."
The victory was the first by Daegu (8-0) over Seoul American (5-2) since the Korean-American Interscholastic Activities Conference postseason tournament in April 1997 at Camp Walker's Kelly Gym, considered the Warriors' second home.
It's also the first time the Falcons, who've won 19 straight KAIAC regular-season titles, have lost two KAIAC regular-season games since the 1992 season, when Seoul American lost twice to Seoul International.
"I told the girls we made history tonight," Warriors coach Ken Walter said.
Daegu outscored the Falcons by nine points in the middle two quarters before Seoul American rallied to knot it 43-43 at end of regulation, then the Warriors outscored the Falcons 10-3 in the extra session.
"We played pretty well from start to finish," Walter said. "They (Falcons) battled back pretty good, but we hung on in overtime."
Maleah Potts Cash added 14 rebounds for the Warriors. Mecca Perkins of Seoul American almost recorded a quadruple double with 23 points, 19 rebounds, eight steals and nine blocked shots. Jasmine Thomas added 15 rebounds and seven blocks.
"We're getting there," said coach Jesse Smith of the Falcons, the two-time reigning Far East Division I Tournament champions. "We're climbing steps, one step at a time."
Seoul American's boys (8-1) left nothing to chance, outscoring Daegu 39-8 in the second half to hand the Warriors (7-6) their first KAIAC loss, 66-31.
Elsewhere ...Tim Pujol was the girls coach at Daegu when the Warriors last beat Seoul American in 1997. His current team, the Yokota boys, didn't get off to as good a post-Christmas start as his former team, falling at Edgren, 55-49.
Yokota's girls continued their Pacific-best start, improving to 13-0 by routing the Eagles 75-30 behind Erika Ettl's 31 points and 13 assists.
In the battle between scoring machines, Nile C. Kinnick freshman De'Asia Brown won out over Matthew C. Perry senior Rebekah Harwell. Brown scored 47 points, becoming the sixth girl to score 40 or more in Pacific history, and Harwell fouled out with 30 points as the Red Devils romped 59-36. DeAnthony Evans had 20 points and 17 rebounds and Kinnick handed Perry's boys their second loss of the season, 66-32.
Zama American's boys shut out E.J. King 20-0 in the first quarter en route to a 60-23 win. Briana Myrick's 14 points and 12 rebounds boosted Zama's girls past the Cobras, 39-25.
---
---
---
---