Home Team
Daegu girls not starting slowly this year
by
Dave Ornauer
March 30, 2011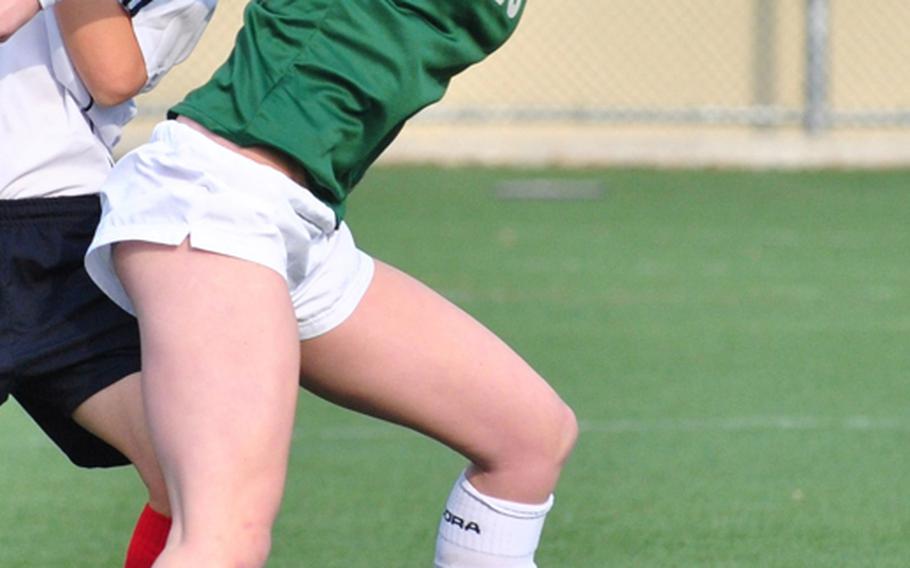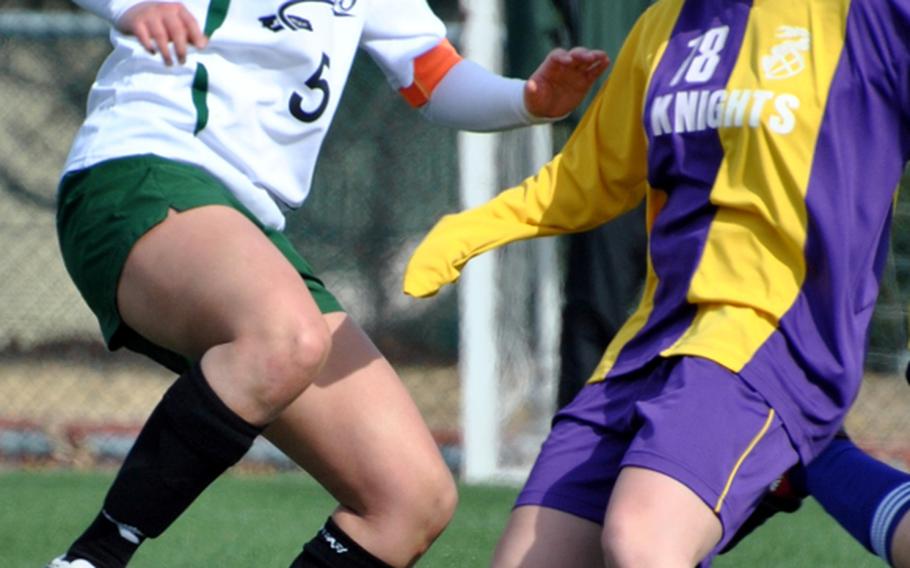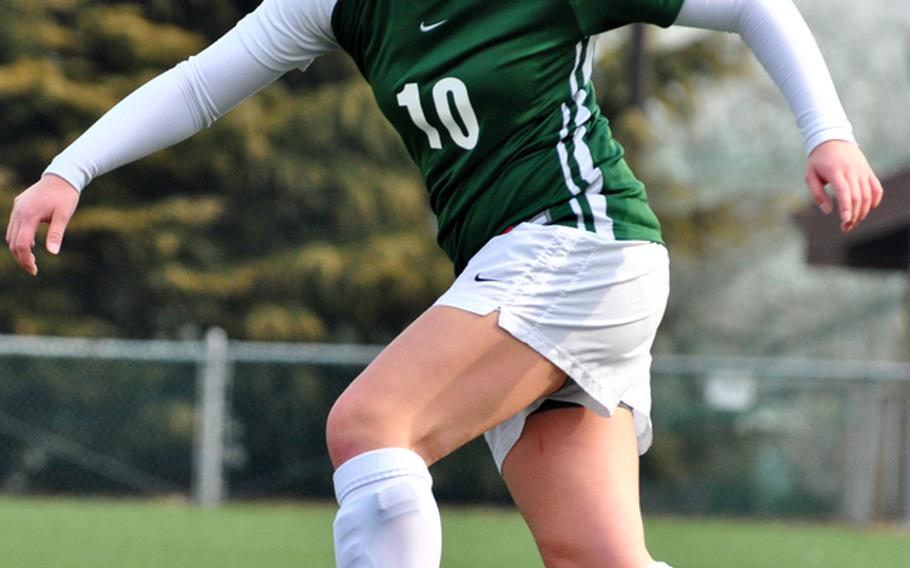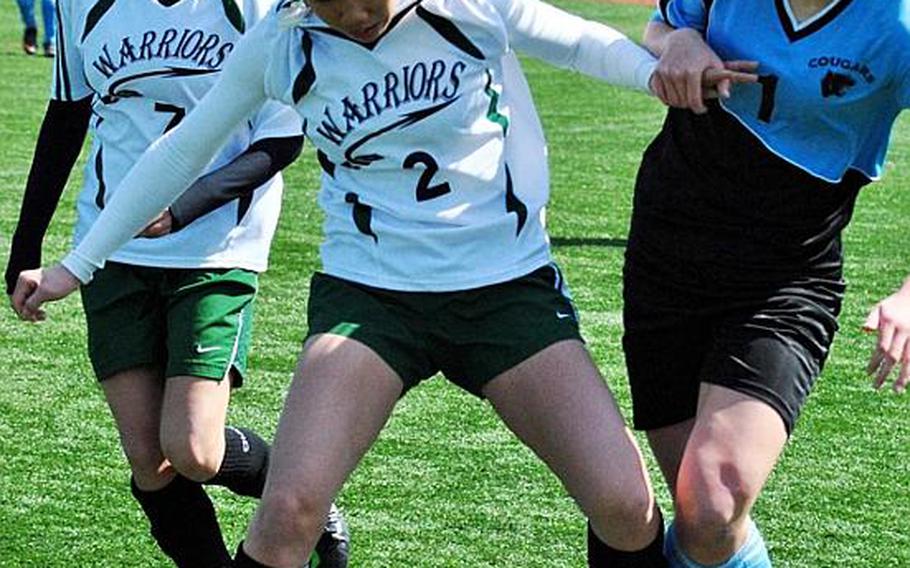 Ed Thompson could almost set his watch to it: His Daegu American girls soccer teams would start the season cold as ice, but heat up as frigid March turned to balmy April, then make a deep Far East Division II Tournament run in May.
This year, the Warriors sixth-year coach and his team find themselves in an unusual and pleasantly surprising role: Off to the best start in school history. Daegu is 5-0-2, with a combined 3-0-1 mark against the reigning Far East Tournament champions, D-I Seoul American and D-II Osan American.
"Right off the bat," Thompson said just before Tuesday's practice at Camp Walker's Kelly Field. "It made us feel comfortable at the start of the season. It's nice to get off to a good start for a change."
A far cry, he says, from the years when Daegu would open with league powers Seoul American and Seoul Foreign on the road one weekend and at home the next, getting their heads beat in all the way.
Despite those March troubles, Thompson's Warriors have fashioned a 50-35-8 record the last four years, including a 2007 D-II Tournament title. They've finished no lower than third place in the succeeding years.
Fueling that run has been a core of three All-Far East seniors, midfielder Angie Robinet, striker Kristina Bergman and defender Gulee Kwon, each leaders who have a combined three D-II Tournament titles under their belts in volleyball and basketball.
"This is it for them. It's all on the line for them, their last chance," Thompson said.
"All the veterans are better this year, the core that's been together; this is the last season for all of us," said Robinet, who has six goals and three assists. Bergman has three goals and two helpers, though she's on the shelf until after spring break with an injury.
Thompson calls Robinet the best player in the Korean-American Interscholastic Activities Conference this season.
"She's a polished player. She's doing everything right. We saw her potential as a ninth grader and she's worked her way up as team leader. And there's no question who's captain of this team."
When healthy, Bergman "brings a scoring threat to the table. She's really good at what she does," Thompson said. Kwon is "the most versatile player on the team. She can play anywhere I need her, she plays 100 percent and controls whatever part of the field she's at."
But while the Warriors are stocked for a run at the Far East D-II and Korean-American Interscholastic Activities Conference D-I titles now, the future holds bright promise as well.
Stepping in to help this season has been a group of eight freshman, five of them starters. Four have been together since sixth grade, playing at the youth level and at the high school level this year.
"It's nice to know I have something to build with," Thompson said.
Leading that group is Sarah Wright, a sweeper whom Thompson likens to Robinet when she was that age. "She and Gulee have been trading off at sweeper and the two have been playing substantial defense," he said.
Lari Robertson has scored three goals and is "just getting the hang of knowing where to be." Stopper Haley Clairborne plays much like Linda Martinez of the 2007 title team, Thompson said.
He acknowledges that replacing the likes of the senior core won't be easy. "We're going to have a bit of rebuilding to do, but we'll be competitive next year even with the loss," he said. "The ninth graders are learning a lot from the seniors. The learning curve from the first day of practice is pretty good. I'm encouraged by what I see."
Key to the learning curve is not so much the things that show up on a stat sheet, but what comes from within, Wright said.
"I learned especially from Kristina and Angie to never give up on anything," she said. "This is their senior year and they want to give it their all. No matter what stood in their way."
"Responsibility, how to deal with problems, how to react to things," Clairborne said. "We're becoming one, like a family. That's what's giving us the wins on the field."
Opposing coaches have taken notice. "They're solid throughout," Osan coach Sung Plourde said. "The key is Robinet making good plays. And those new players are good athletes. They're going to learn quick."
"They're tenacious, well-coached and have some on-field leadership," Seoul American coach Scott Bittner said. "They're a physical team. They have an awareness of the field."
Reigning KAIAC regular-season champion Seoul Foreign looms on the slate April 8, as does an April 20 visit to powerful Taejon Christian International. And injuries could always derail things. Still, Thompson and his players sound excited for the present and the future.
"We have a foundation and I see only good things coming from here as long as everybody stays healthy," Robinet said.
---
---
---
---