Far East Division II football championship
Daegu caps banner season by downing Zama
by
Dave Ornauer
November 6, 2010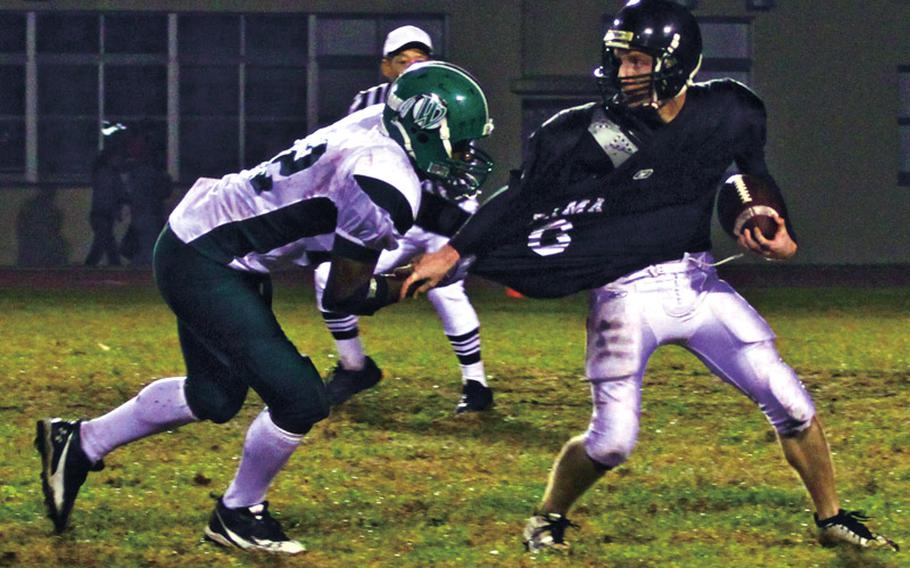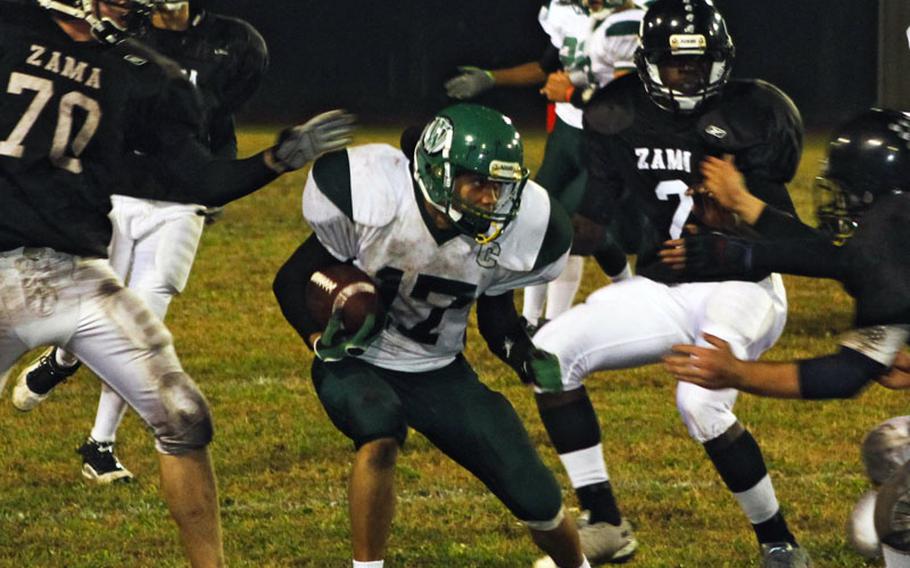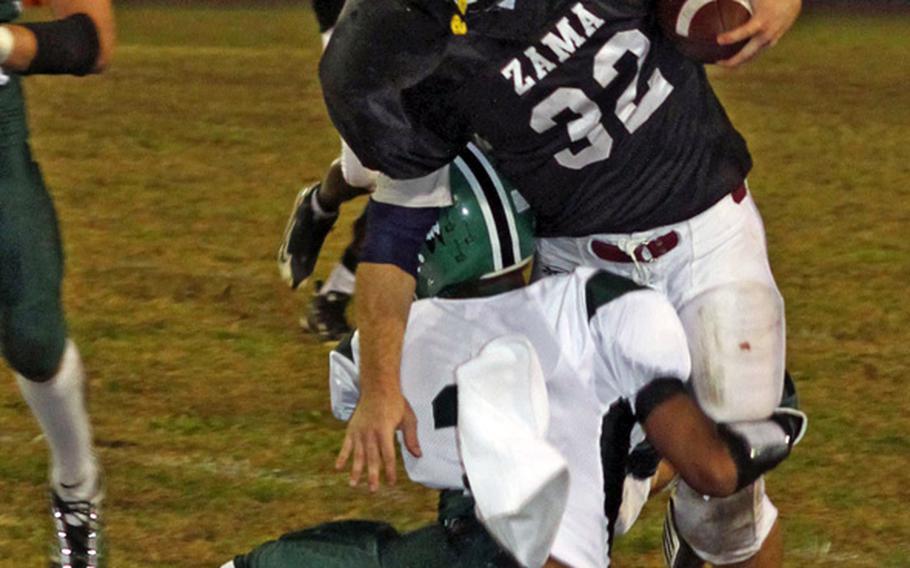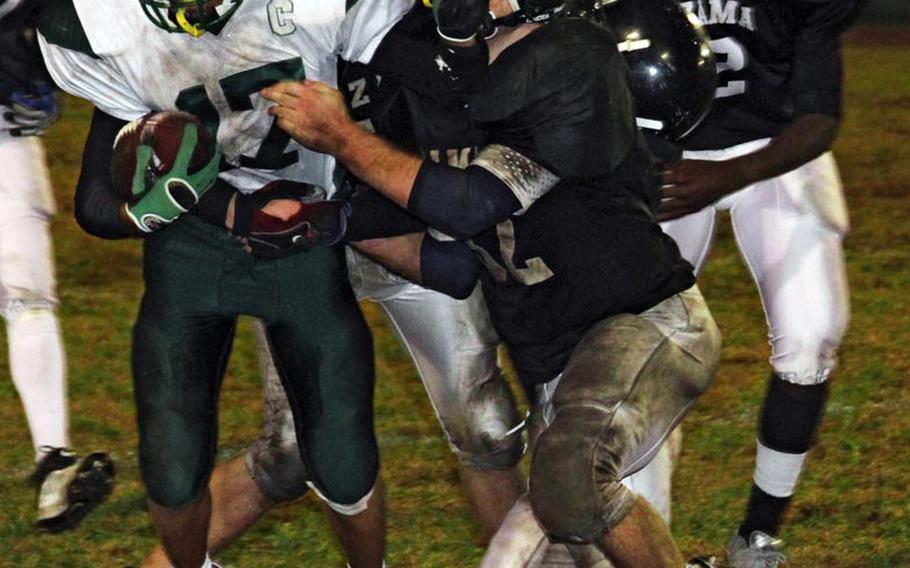 CAMP ZAMA, Japan – Before Saturday's championship game, Daegu American coach Ken Walter led his Warriors into Zama American High School's gym to view the 2009 Far East Division II title banner – which Zama had won, 46-38, last Nov. 7 on Daegu's home turf.
"You could hear a pin drop," Walter said, minutes after the Warriors repaid the favor by earning the 2010 banner, beating host Zama, 28-2, on Trojans Field. "It really affected them. That was everything to those kids. Take that banner home."
Diminutive junior Darius Wyche and senior captain Jarel "Tank" Connie led the way. Wyche had six tackles, three passes defended, a fumble recovery, an interception and rushed for a touchdown, while Connie ran 13 times for 89 yards and a touchdown and recorded two sacks for Daegu.
"Nobody said a word. We just stared at it," Connie said of viewing that banner. "I just couldn't believe that we were here to get it back. And all that work, all those months in the gym, it paid off. It's unbelievable. It doesn't feel real."
Connie and Wyche were poster-child examples of how the Warriors bought into assistant coach Luke Spencer's off-season weight-training regimen, Walter said. Connie had been bench-pressing 200 pounds prior to the 2009 offseason; now, he's up to 350.
After Daegu blew a 38-32 halftime lead in the 2009 title game, "I had a group of juniors come to me after last season and tell me, we'll do whatever it takes to be champions if you'll take us to the next level," Walter said.
"These guys have been working a solid year for this. It means everything to them."
With the victory, the Warriors also ended a bit of inglorious school history. Not since the boys basketball team in 1990 had Daegu American won a Division II boys tournament title in any sport.
"The guys have had to hear year after year about the girls winning titles and they hadn't won one, so you can see the emotion in these guys," Walter said. Daegu's girls teams have won four Division II titles since 2005.
On Saturday, Daegu was stopped on downs at Zama's 24-yard line on its first possession, then the Trojans reeled off a 76-yard, 17-play drive over 8 minutes, 45 seconds that ended just short of the Warriors' goal line when Zama quarterback Matt Cole fumbled the ball on fourth down.
Zama followed that goal-line near-miss by tackling Connie in the end zone for a safety that gave the Trojans a brief 2-0 lead.
But it was Daegu's ensuing free kick that gave Zama poor field position that turned the tide of the game, Trojans coach Steven Merrell said. "That was more of a turning point than them stopping us at the goal line," he said.
The Trojans gained just 92 yards on 34 plays the rest of the game, turned the ball over three times and Cole was sacked four times. Daegu's defense held Zama's rushing tandem of Michael Spencer and Andre Encarnacion to 102 yards on 26 carries, well below their average.
"We made too many mistakes," Merrell said. "We shot ourselves in the foot. We hurt ourselves as much as anything early on, we dug ourselves a hole and we couldn't get out of that."
Daegu's defense forced Zama to punt, and a 22-yard kick set up the Warriors at the Trojans 37. Quarterback Tre Griffin's 3-yard sneak eight plays later put Daegu ahead to stay, 8-2, 7:42 before halftime. Three minutes later, Jacobi Myles ran 9 yards to make it 16-2.
Wyche returned the opening second-half kickoff 63 yards to the Zama 22, from where Griffin rushed for a TD that put the Warriors up, 22-2, 21 seconds into the half. Connie capped the scoring with an 8-yard TD burst with 5:02 left.
Griffin amassed 97 yards total offense and Wyche had 93 all-purpose yards. The Warriors outgained the Trojans 218-168.
Despite the outcome, Merrell felt his Zama team accomplished much after the Trojans lost almost their entire interior from last season.
"Considering what we'd lost, people said at the beginning that we were rebuilding, but when you look at it, we were in the championship game," Merrell said. "For a rebuilding team, that's not too bad."
---
---
---
---