Prep roundup
Daegu boys break through for first victory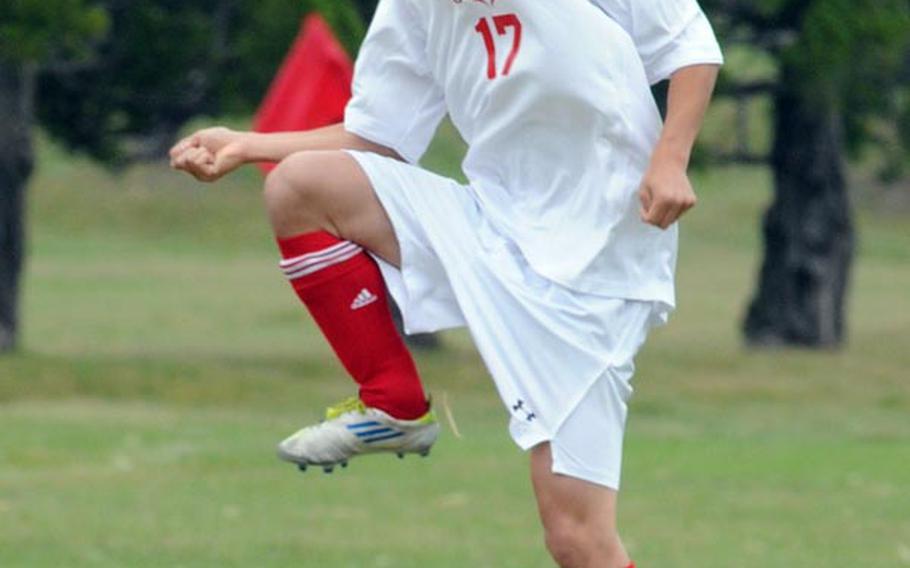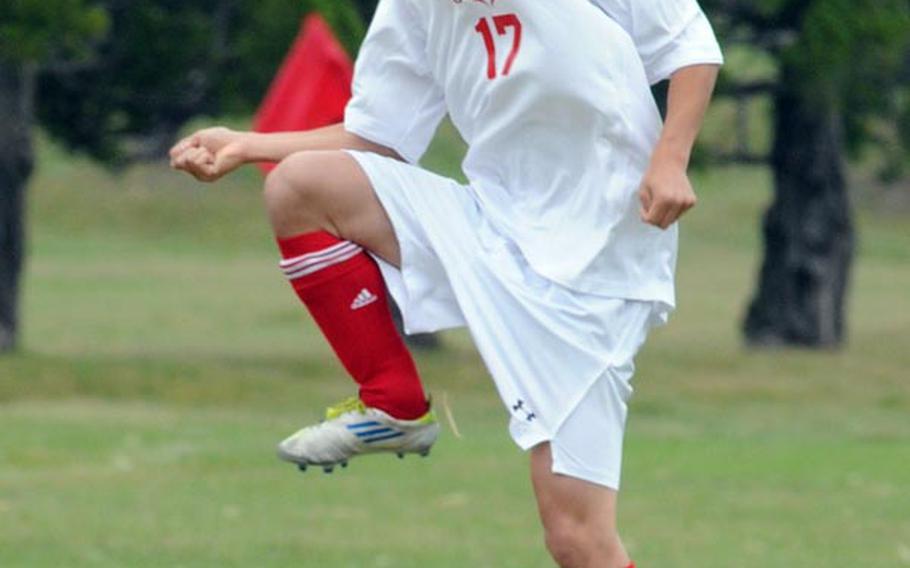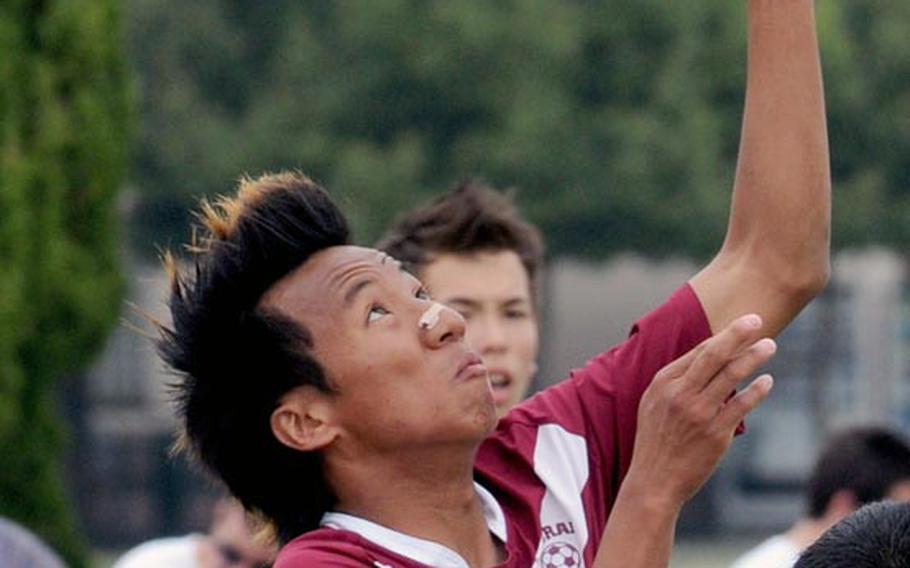 Grant Lee spent all of last season on the sideline with a damaged knee, watching Daegu go 4-19 and waiting almost until the end of the regular season to win its first match.
On a dreary, rainy, gusty Saturday, the Warriors almost repeated that template, except this time Lee was on the field scoring three goals to contribute to a first victory, 3-1 at Korea International. The Warriors improved to 1-9-4 in wrapping up the regular season.
"Perfect. This is what we've been working for," coach Larry Knierim said. "It's nice to get into the win column. They're playing together, starting to gel, and the icing on the cake was Grant getting that hat trick. As a senior and he missed last season, it's doubly sweet."
Daegu will likely be the ninth and last seed in this weekend's Korean-American Interscholastic Activities Conference Division I Tournament at Gyeonggi Suwon International School.
Lee wasn't the only player racking up hat tricks on Saturday.
Matthew C. Perry senior Tyelor Apple notched five goals, including a hat trick, in three matches, all Samurai wins over E.J. King, which gave Apple 52 goals on the season, beating the old DODDS Pacific and DODDS Japan mark of 48 set in 2001 by Zama American's Jimmy Flatley.
"It feels surreal," said Apple, who trails Pacific single-season record-holder Remco Rademaker's 61 goals in 2008 for Seoul Foreign. "My focus isn't on scoring, but us getting better as a unit."
The other hat trick belonged to Yokota's Michaela Atchley, who broke out of a scoring slump with three goals to power the Panthers past Robert D. Edgren 3-0 at Misawa Air Base.
"It's nice to get the monkey off her back," coach Matt Whipple said. "She's been struggling a little."
Goals came at a premium in the Asia-Pacific Activities Conference girls tournament in Shanghai, China, but Seoul Foreign's girls prevailed 1-0 in the championship match over International School Beijing, the fifth time in seven years the Crusaders have won the APAC Tournament.
Wet weather in Korea didn't put a damper on Far East track and field meet qualifiers in the 400 meters at Osan City Stadium. Alexa Miller and Ty White were the latest Seoul American athletes to qualify for the meet May 23-25 at Yokota Air Base.
DODDS Korea holds its final meet of the season Saturday at Camp Casey, the final deadline for athletes to qualify for Far East. That same day is the Kanto Plain Association of Secondary Schools finals at Yokota.
Yokota's Fred Gustafsson won both the 110 and 300 hurdles, powering the Panthers to third place in the boys' team standings, but not without a sturdy challenge from Nile C. Kinnick's Dustin Kimbrell. "Too close for comfort," said Gustafsson, the Kanto Plain 300-meter record holder.
In an international-school meet in Tokyo, Brittani Shappell of Seisen International Middle School shattered the Kanto and North Pacific Secondary Schools record in the 3,000.
The sixth grader was timed in 11 minutes, 1.6 seconds, besting reigning two-time Far East cross-country champion Amanda Henderson of Seoul American's time of 11:04.6 set in 2010. Claire Trelibs of Jakarta International holds the overall Pacific mark of 10:59.3 set in 1996.
Pacific 300-meter record-holder Stefani Loisel of Guam High came within .25 seconds of her own record on Friday, running a 47.92 and helping the Panthers win their third girls team title of the season.
On the diamond, Kubasaki succumbed to fielding errors and fell 7-2 to Ohya Baseball Club in the semifinals of the 8th Okinawa-American Friendship Tournament at Urasoe Stadium. It was the Dragons' first semifinal berth in the tournament's history.
---
---
---
---