D-II teams will all get to play each other after schedule change
---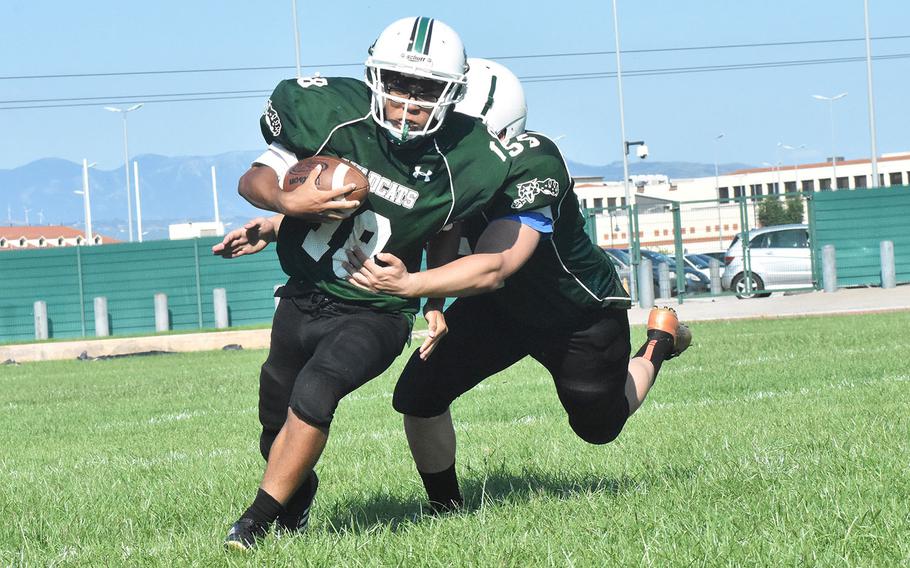 Italy is the center of the DODEA Europe football universe Saturday as Naples and Vicenza host consequential Division II games on the season's opening weekend.
Aviano was also supposed to host a game, but International School of Brussels couldn't make the transporation work.
While Division I is involved in non-conference tune-ups and Division III remains a week away from debuting its newfound brand of six-man football, Division II is rushing headlong into full-fledged regular-season matchups with major possible playoff implications. The all-Italy opening week is a fitting start to an unconventional regular-season schedule reconfigured at the final hour.
Soon after camp opened in August, a shortage of available players forced Baumholder to play six-man ball in Division III rather than 11-man ball in Division II, thereby rendering DODEA Europe's original schedule obsolete and setting off a chain reaction of late-summer changes on the gridiron.
Baumholder's absence left Division II with just seven teams, prompting a reimagining of the season. Last year, 10 teams were divided into two regions; the members of those regions played largely amongst themselves and sent their top two finishers into a four-team playoff round. This year, each team will play its six divisional rivals once apiece and two teams will advance directly to the Nov. 3 championship game at Kaiserslautern. DODEA Europe athletic director Kathy Clemmons said the exact process for determining those two finalists is still under discussion.
Clemmons pointed out that the new Division II format "mirrors" that of Division I, in which all six teams play each other once. But the presence of a seventh team in Division II means there's no available week for a semifinal round.
Further, the logistics in Division II, where teams are scattered from the Benelux to southern Italy, are far more challenging than in Division I, where five of six teams are clustered in Germany and only games involving England-based Lakenheath require long-haul travel.
"Transportation is challenging as the schools are spread out all over Europe," Clemmons said. "The individuals who acquire our transportation are rock stars! They work miracles."
The schedule presents fresh challenges for the players and coaches navigating it. That's equally true for 2017 champion Spangdahlem and runner-up Rota, both of whom have new head coaches this season.
Mike Laue, who led the Bitburg Barons to a half-decade dynasty before recapturing gold when the program shifted to Spangdahlem last season, stepped aside this summer and was replaced by athletic director and longtime assistant Chris Howard. The Sentinels open with a bye week as the division's other six teams kick off the season this weekend; they'll start their five-game slate Sept. 15 against visiting Aviano.
In Rota, Luke Spencer will make the leap from assistant to head coach while Ken Walter stays on as an assistant. The Spain-based Admirals, the 2016 European champion and 2017 runner-up, face a long road back to the title game; they won't play at home until the final two games of the regular season, including an Oct. 20 rematch with Spangdahlem.
"With four consecutive away games, we have to start sharp and stay sharp," Spencer said. "We cannot have a bad week."
That's true for all seven title hopefuls in a division that offers little room for error. The new system cut the number of postseason qualifiers in half while expanding the number of opponents for which each team must prepare.
"This year's schedule has to be what it is with seven D-II teams," Howard said. "Everyone gets to play everyone else."
This week's matchups should represent a worth start to a compelling season of Division II football.
At Naples, the host Wildcats and SHAPE Spartans are similarly of a mind to perpetuate strong 2017 showings. Naples reached the semifinals, while SHAPE ended its season with a 23-21 upset of Rota.
The Admirals, meanwhile, start their extended road trip against the Vicenza Cougars, the first of three trips they'll make to Italy this season.
Twitter: @broomestripes
---
---
---
---