DODEA-Europe boys hoops
D-I teams in a jumble after opening day surprises
by
Gregory Broome
February 19, 2020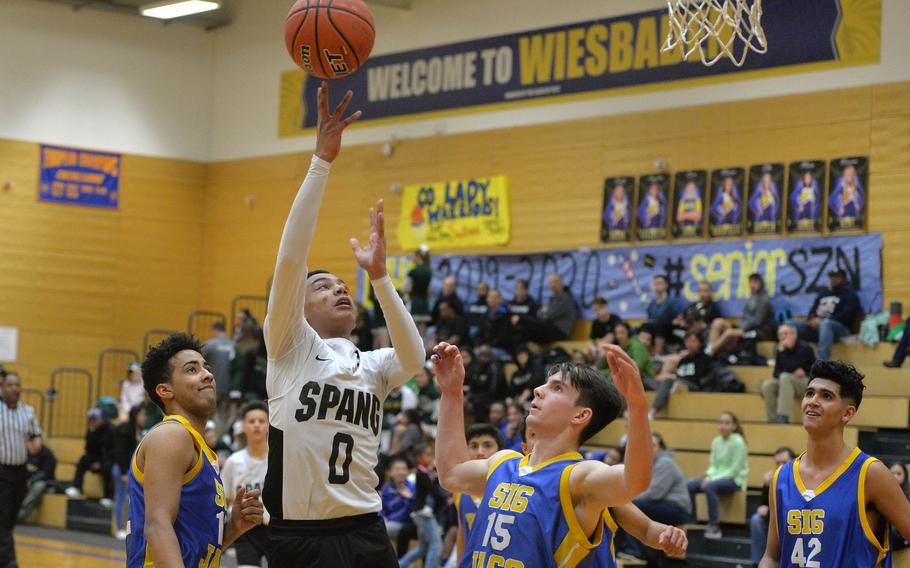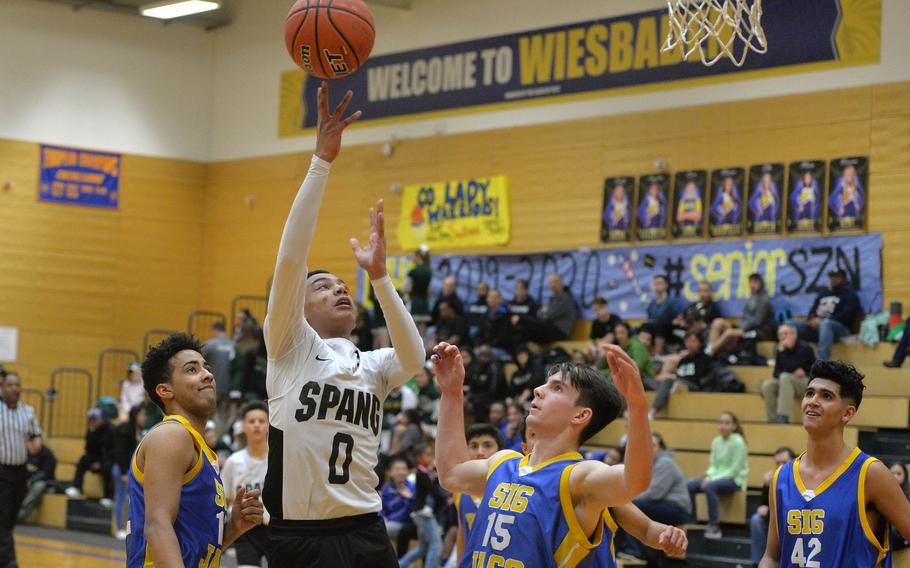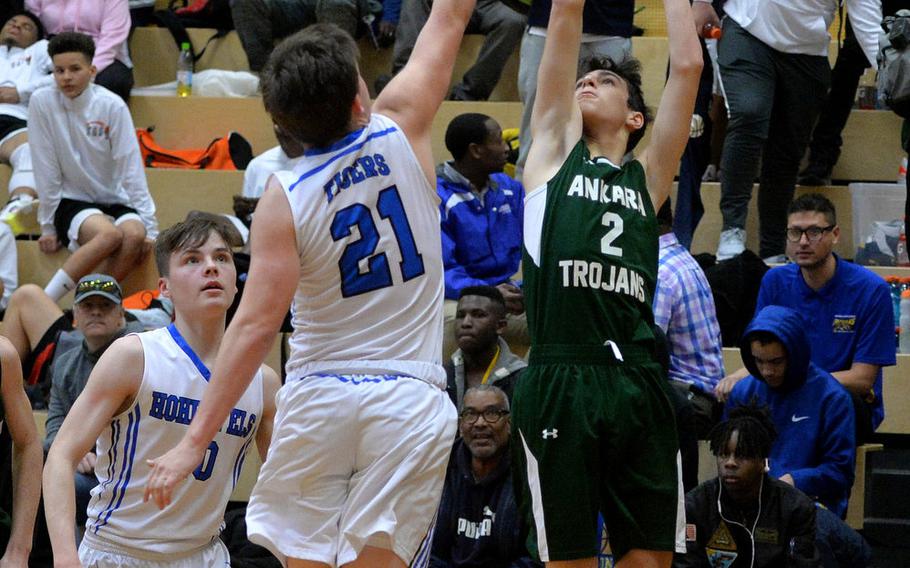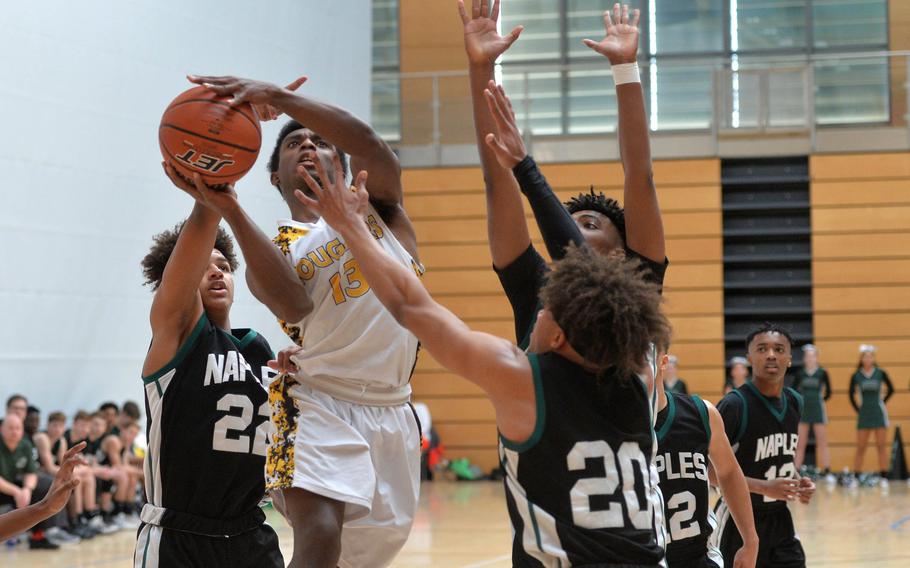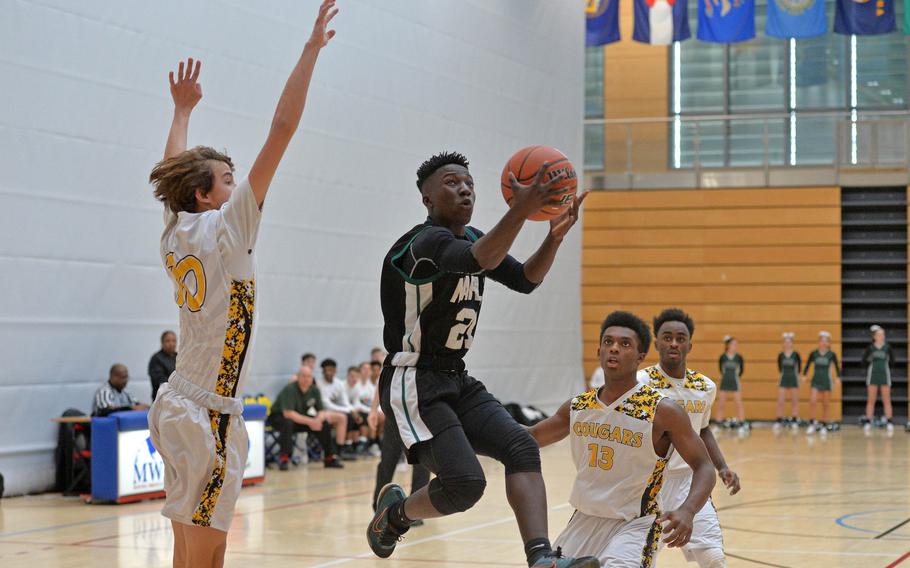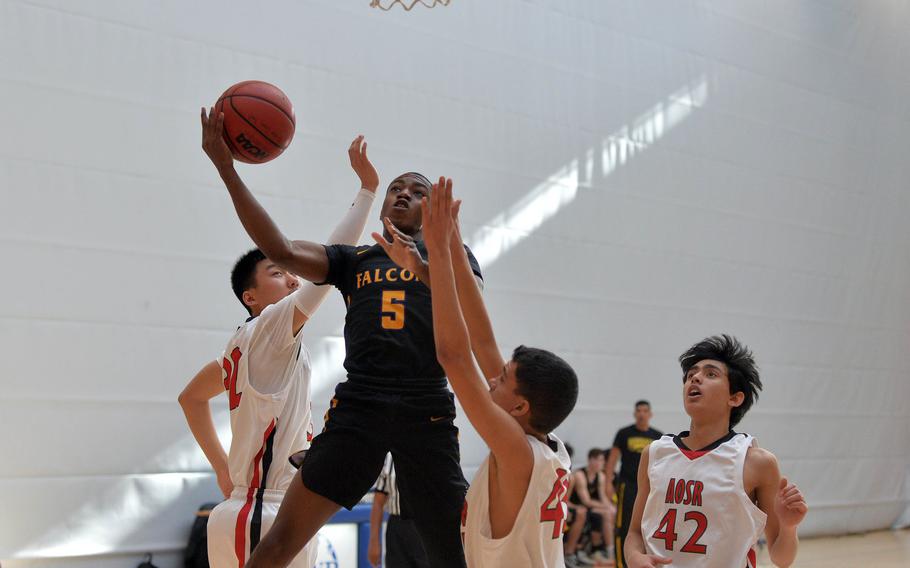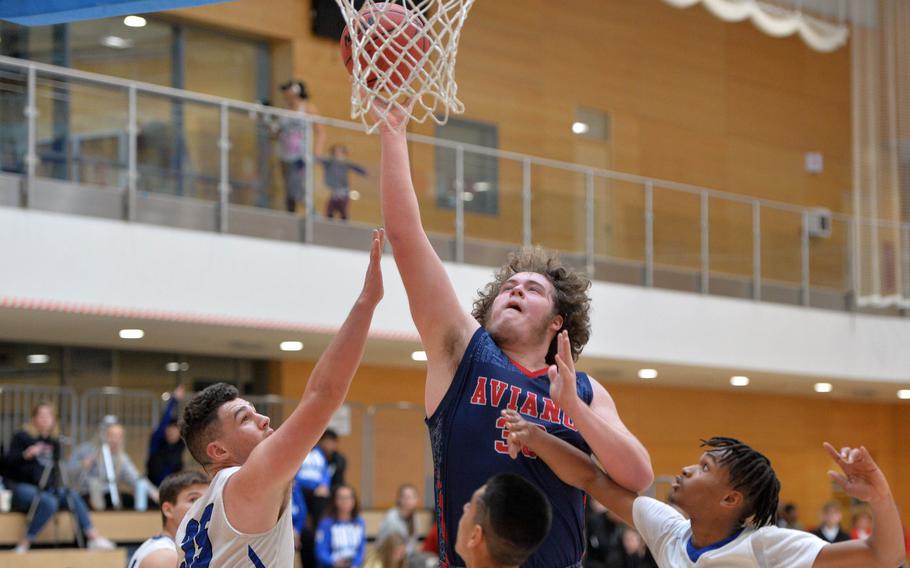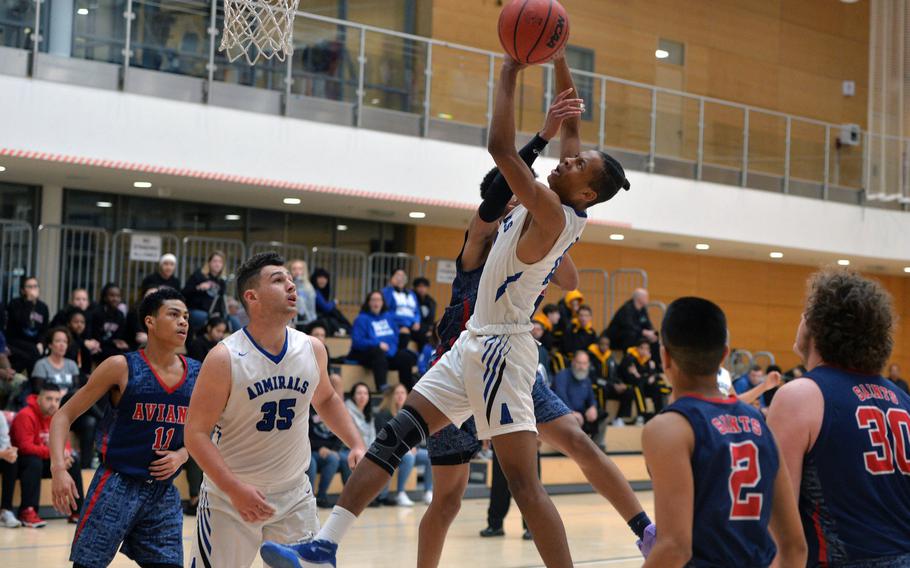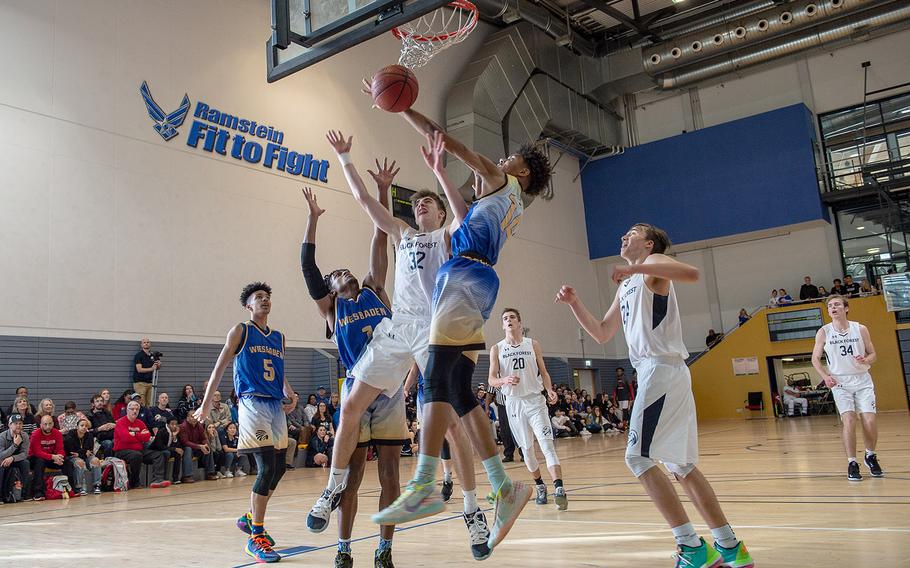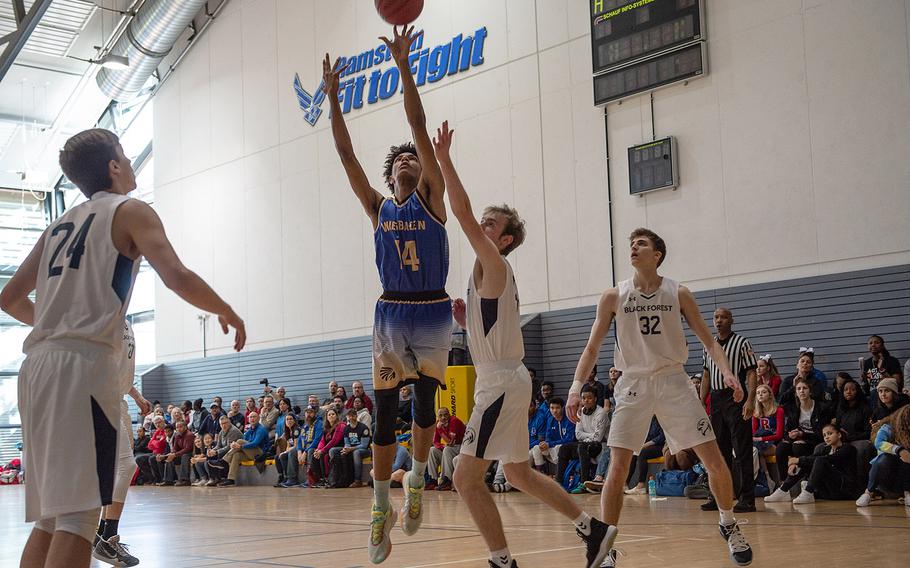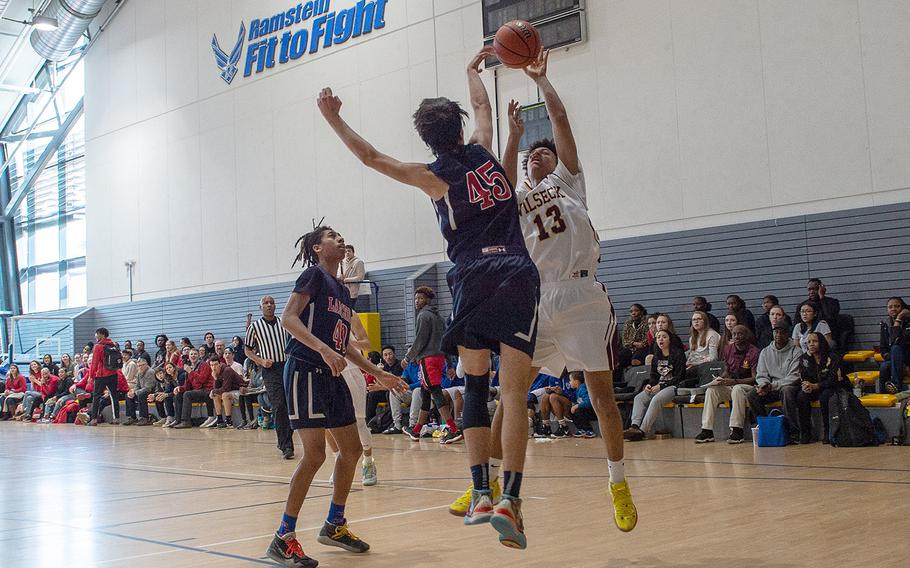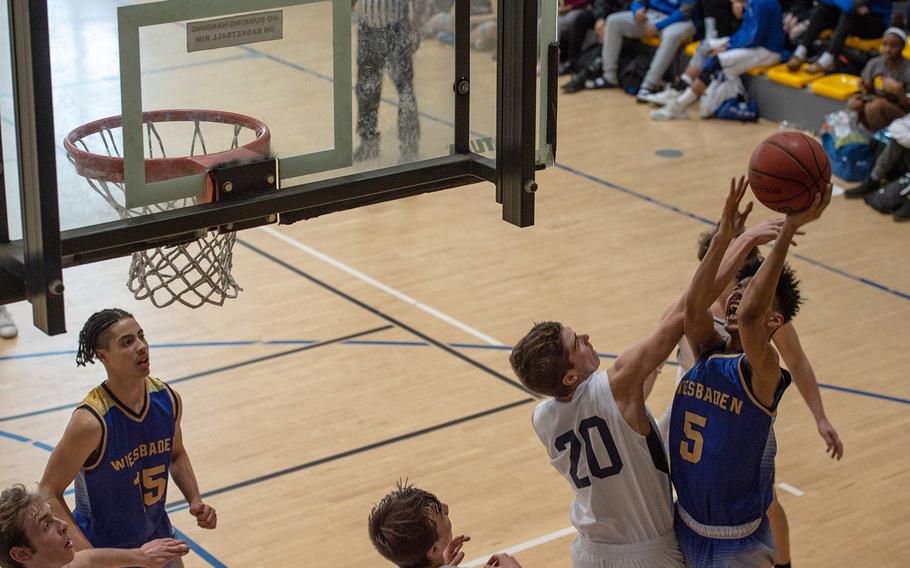 The 2019-20 DODEA-Europe boys basketball championship tournaments launched Wednesday in Ramstein and Wiesbaden as teams began to battle for spots in the elimination rounds Friday and Saturday.
Division IVilseck 44, Ramstein 38: The second-seeded Falcons knocked off the top-seeded reigning champions in an unusual opening-day battle of the tournament's top two overall seeds.
A change to this year's tournament format slotted seeds No. 1 and 2 in one pool along with the tournament's two lowest seeds, No. 7 Lakenheath and No. 8 SHAPE. DODEA-Europe athletic director Kathlene Clemmons explained prior to the tournament that the goal was to avoid a semifinal meeting between the top two seeds, in theory increasing the odds that the "most competitive" elimination-game matchup would take place in the championship game.
Vilseck, which seized the second seed with an impressive sweep of Black Forest in the final weekend of the regular season, won a pair of very competitive games on Wednesday to all but secure its semifinal spot. The Falcons, who edged Lakenheath 49-48 to open the day, can complete an undefeated preliminary run with a Thursday defeat of SHAPE. Ramstein, which handled SHAPE 45-27 earlier Wednesday, can lock in its semifinal berth with a win over Lakenheath.
Stuttgart 42, Black Forest 39: Seeds three through six piled into the pool opposite Ramstein and Vilseck and produced the expected brand of tense, high-stakes action.
The sixth-seeded Panthers typified the division's parity as much as anyone, entering the tournament with a record below .500 but with enough quality wins to earn the attention of their rivals. Early Wednesday, they earned another one.
Stuttgart held a comfortable double-digit lead entering the fourth quarter and withstood a furious 14-3 Falcon run over the final seven minutes to secure the morning win.
The Panthers opened their season with two losses to Black Forest by a combined six points, including one in overtime, and took several more close losses over the course of a 5-8 divisional season. But Stuttgart, which also enjoyed wins over higher-seeded schools such as Ramstein and Vilseck this season, never doubted its postseason viability.
"We've gotten better, we've progressed each week. I'm just happy we were able to do what we had to do to get our first W," said Ahmir Johnson, who led Stuttgart with 16 points. "This is when it really counts."
Kaiserslautern 50, Wiesbaden 48: The Raiders finally got the better of the Warriors as another meeting between the evenly matched rivals was settled by a single possession.
Tre Dotson lofted in a driving floater in the final minute and Darius Camp blocked Wiesbaden's attempt at a game-winning, buzzer-beating three-pointer to give fifth-seeded Kaiserslautern the win. The Warriors won the teams' regular-season meetings by scores of 76-75 and 51-49, with both games decided at the free-throw line in the final seconds.
Wiesbaden got off to blazing starts in each half, scoring the game's first six points and stretching a three-point halftime lead to double digits in the opening minutes of the third quarter. But the Raiders fought back each time to give themselves an opportunity to win late. Dotson scored 10 of his game-high 17 points in the fourth quarter, making all four of his clutch free-throw attempts in the process. Then Camp came through with the clinching defensive play, jumping "straight up" to avoid a foul and emphatically reducing the aspiring game-winner into a crowd-bound projectile.
The Raiders, lumped into a hyper-competitive pool without a weak entry, recognized the importance of the opening victory.
"Any of these teams can beat anyone," said Camp, who scored half of his 16 points in the third quarter. "You've got to have the momentum."
Kaiserslautern kept up that momentum later Wednesday with a 64-33 rout of Stuttgart, while Black Forest handled Wiesbaden 57-45 to hand the Warriors their second loss of the day. The Raiders can win the pool outright with a win over Black Forest on Thursday, while the afternoon's Wiesbaden-Stuttgart matchup also looms as a very consequential game.
Division IINaples 59, Vicenza 55: The Wildcats picked a great time to solve a season-long losing streak against their archrival.
Vicenza took 46-43 and 44-39 victories over Naples in a January regular-season doubleheader and held an advantage after halftime Wednesday. But the fifth-seeded Wildcats launched a successful second-half comeback to knock off the second-seeded Cougars.
"This was a big win," Naples guard Tyrell Holland said. "If we are to advance deep into the tournament, we are going to have to just take our time and... play our game."
Naples completed an unbeaten opening day with a 58-14 thrashing of Marymount, joining top seed American Overseas School of Rome and fourth seed Aviano at 2-0 through one day of the three-day round-robin tournament. The teams with the two best records at the end of Friday's play will advance straight to the Division II title game Saturday.
"I think that the Division II field is as evenly matched as I have ever seen in DODEA," Aviano coach Kevin Lehde said. "I don't see a clear favorite in our division."
Naples takes on both AOSR and Aviano on Thursday in games that should bring more clarity to the divisional hierarchy.
Division IIIBaumholder, Spangdahlem clinch: Tough games are in the forecast for the top-seeded defending champion Baumholder Bucs and fourth-seeded Spangdahlem Sentinels, but none materialized on Day 1.
Baumholder cruised past Sigonella 58-18 early Wednesday and clinched its semifinal spot with a 68-45 rout of Alconbury later in the day. Spangdahlem too posted two double-digit wins, 56-42 over Alconbury and 71-36 over Sigonella.
With the majority of its business handled Wednesday, the pool's two Thursday games are largely academic. Baumholder takes on Spangdahlem for semifinal seeding purposes while Sigonella and Alconbury square off for the love of the game.
Much remains to be decided in the opposite pool, however. Second seed Ansbach won 50-46 in an early upset scare against seventh-seeded Brussels to highlight a day comprised largely of blowouts.
broome.gregory@stripes.com Twitter: @broomestripes
Staff writer David Edge contributed to this report.