Crowded backfield heads All-Europe team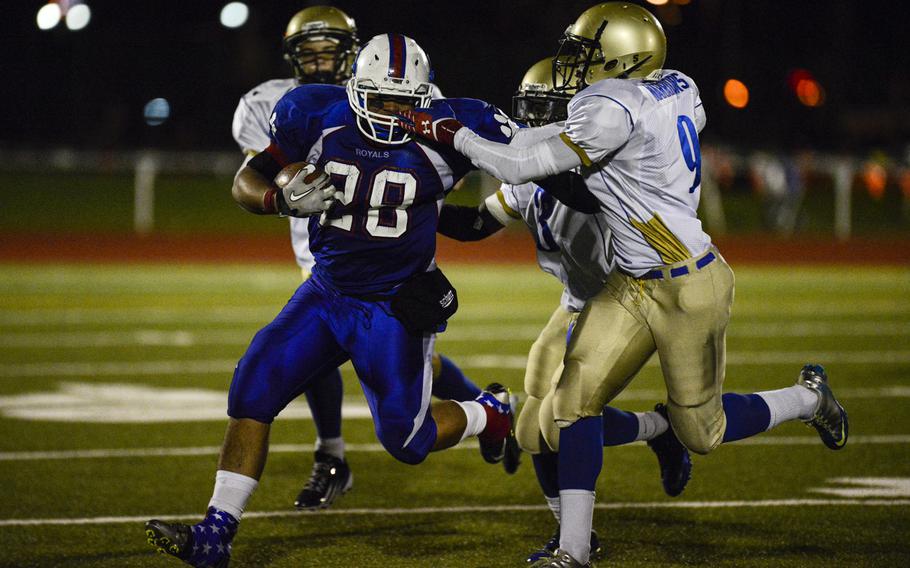 This article has been corrected
Elite running backs dominated the DODDS-Europe football season and especially the Nov. 2 doubleheader of European championship games. Now, they're dominating the postseason awards as well.
Nine running backs from eight different squads headline the 2013 All-Europe football team, a 48-player group selected by a committee of seven coaches led by DODDS-Europe athletic director Karen Seadore. That backfield contingent includes all four of the standout backs from the Final Four teams: Daivon Poole of Division I champion Wiesbaden, David Vidovic of Division II champion Hohenfels, Tevin Johnson of Division I runner-up Ramstein and Conner Manning of Division II runner-up SHAPE.
Ansbach's Dorian Jones, Naples' Juwan English, Vicenza's Ethan Fullmer and the Bitburg duo of Larry Jackson and Kenny Love round out the running-back roster.
Poole leads nine Warriors onto the roster, the highest haul among the 15 schools represented on the roster. The Wiesbaden players were split evenly between offense and defense, with quarterback Reymoi Lewis and receiver CJ Pridgen among four offensive selections and senior linebacker Dequan Reed leading five Warrior defensive standouts.
Ramstein placed seven players on the roster. Division II powers Bitburg and Ansbach, considered favorites for a title-game showdown before suffering semifinal upsets, placed six and five players on the team, respectively.
All six Division I teams were represented on the list. Patch placed three players, Vilseck landed two and Kaiserslautern and Lakenheath netted one selection apiece. In all, Division I accounted for 23 selections. Nine of the 13 Division II programs were represented for a total haul of 25 players. Players from the Independent League, a four-team league playing nine-man football, were considered, but none were chosen.
Offense
Player School Grade Position
Marshall Kontos ISB 12 QB
Reymoi Lewis Wiesbaden 12 QB
Dorian Jones Ansbach 11 RB
Larry Jackson Bitburg 11 RB
Kenny Love Bitburg 12 RB
David Vidovic Hohenfels 11 RB
Juwan English Naples 11 RB
Tevin Johnson Ramstein 12 RB
Conner Manning SHAPE 12 RB
Ethan Fullmer Vicenza 12 RB
Daivon Poole Wiesbaden 12 RB
Gabriel Moreno Ramstein 11 WR
CJ Pridgen Wiesbaden 11 WR
Jerome Farmer Vicenza 12 WR
Idar Sumpter Ansbach 12 OL
Alex Santiago Bitburg 11 OL
Justin Martel Bitburg 11 OL
Zane Zimmerman Naples 11 OL
Will Miller Patch 11 OL
Matt Ryan Patch 12 OL
Joseph Bahret Ramstein 12 OL
William Taylor Ator SHAPE 12 OL
Seth Kraft Wiesbaden 12 OL
Adrian Domijan SHAPE 11 K
Defense
Player School Grade Position
Victor Black AFNORTH 12 DB
Ian Alexander Bitburg 12 DB
Jayontray Grogan Naples 12 DB
Johnny Pack Ramstein 12 DB
Andrew Murray Wiesbaden 12 DB
Dequan Reed Wiesbaden 12 LB
Austin Benton Ansbach 12 LB
Brian Debel Ansbach 12 LB
Devin Billups Bitburg 12 LB
Tony Saintmelus Hohenfels 10 LB
Tysean Hendrix Kaiserslautern 12 LB
Justin Menges Lakenheath 12 LB
Branden Simonson Ramstein 12 LB
Isaiah Adkins Vilseck 11 LB
Josh Pleake Ansbach 12 DL
Isaak Giefer Baumholder 12 DL
Steve Ashbaugh Patch 12 DL
Vladimire Sequera Ramstein 12 DL
Clay Coon SHAPE 12 DL
Armando Saldana Vilseck 12 DL
Tim Cuthbert Wiesbaden 11 DL
Jonathan Skeesick Wiesbaden 12 DL
Gumchow Cho Wiesbaden 12 DL
Robert Navarro Ramstein 12 Athlete
Selection committee: Tim Mobley, Brussels; Marcus George, Ansbach; Larry Daffin, Hohenfels; Mike Laue, Bitburg; Greg Blankenship, AFNORTH; Steve Jewell, Wiesbaden; Carlos Amponin, Ramstein; Karen Seadore, DODDS-Europe.
Correction
Jonathan Skeesick's grade and Tony Saintmelus' school were incorrect in an earlier version of this article.