Cross country, tennis players get final tuneups for championships
by
Gregory Broome
October 19, 2017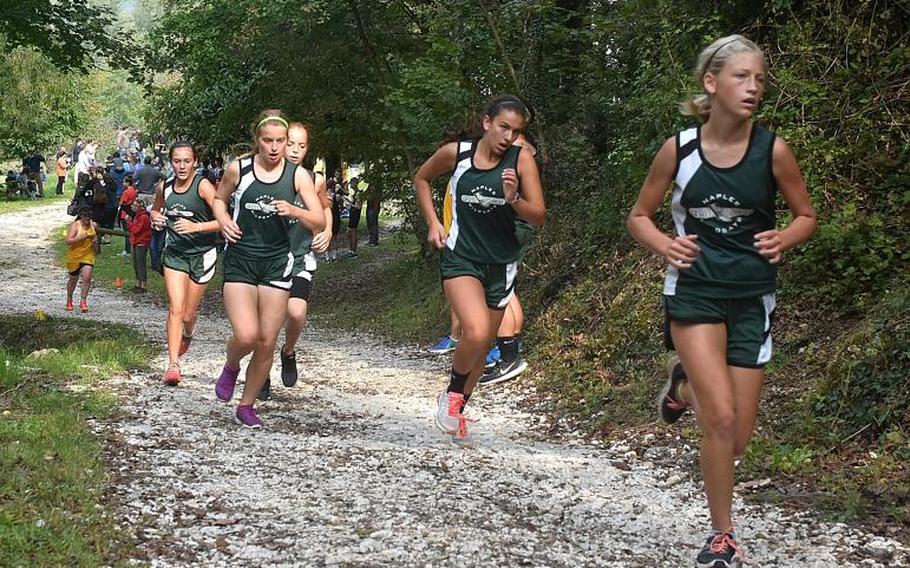 Football isn't the only DODEA-Europe sport ending its regular season this weekend.
A slate of five cross country and six tennis meets conclude those sport's regular-season schedules and point the way to next weekend's set of European championship events. The tennis championships run Oct. 26-28 at Wiesbaden, while the cross-country final is set for Oct. 28 at Baumholder.
Teams in both sports are largely staying close to home for the final meets.
The five cross country meets are arranged along strict geographic lines and against very familiar opposition. Alconbury hosts United Kingdom neighbor Lakenheath and a handful of Benelux schools. Six Italian programs are split between two meets at Aviano and Rome. The crowded field of teams from Germany pile into well-populated meets in Baumholder and Ramstein.
Stuttgart's attendance at Ramstein is of particular interest on the course. The Panthers and Royals have already met twice this season, with the Stuttgart girls and Ramstein boys each recording two team wins. But the Royal boys are coming off a mild upset loss to Kaiserslautern, while the Panthers dominated both sides of a meet in Bavaria last week.
A similar scene will play out in tennis. None of the six visiting teams are so much as crossing a country border for to play Saturday, a rarity in DODEA-Europe athletics. Lakenheath visits Alconbury in England, while Marymount and American Overseas School of Rome leave the Italian capital for respective trips south to Sigonella and north to Vicenza. The German slate features three local rivalries as Stuttgart visits Ramstein, Wiesbaden heads to Kaiserslautern and Vilseck goes to Hohenfels.
Wiesbaden freshman Charlotte Kordonowy comes into the final weekend undefeated and looking to cement her spot as the girls singles championship favorite with a conquest of Kaiserslautern.
Twitter: @broomestripes