Coronavirus concerns prompt change in DODEA Korea basketball schedules
by
Dave Ornauer
January 30, 2020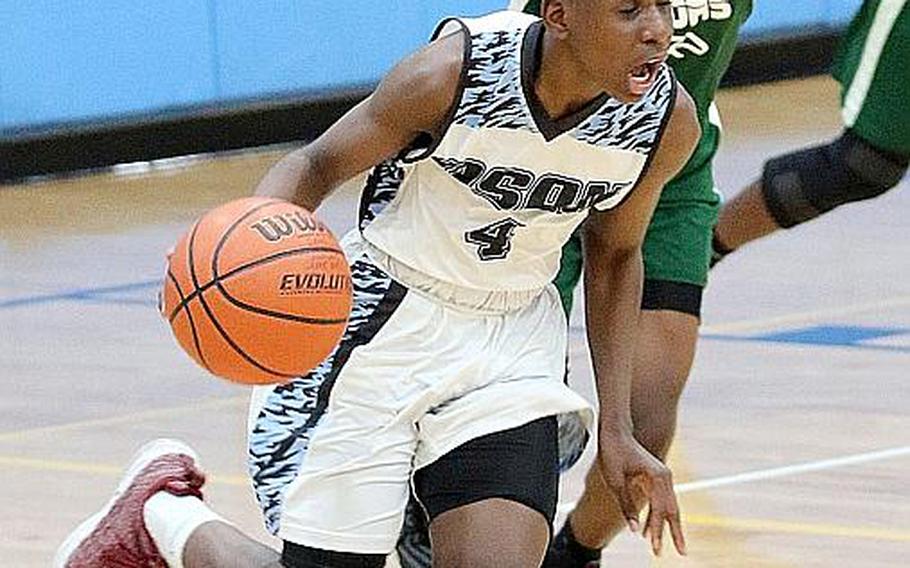 For the first time in its 48-year history, the Korean-American Interscholastic Activities Conference has canceled basketball tournaments due to health concerns brought on by the new coronavirus, league officials announced Wednesday.
Instead, KAIAC's three DODEA member schools, Osan, Daegu and Humphreys, will play what some coaches are calling the DODEA-Korea Cup, a six-game, three-team jamboree on Saturday starting at 9 a.m., Osan athletics director and KAIAC president Linda Concepcion said.
"Full day of basketball. Bring your seat cushions," Concepcion said in an email to the DODEA-Korea coaches.
Multiple media reports as of early Thursday afternoon showed at least 170 dead and more than 7,700 cases of coronavirus in China. Nearly 60 million people are under full or partial lockdown in Chinese cities. At least 91 cases have been reported outside China, five in the U.S.
"Thankfully, we do not have any cases of the virus in any of our schools," DODEA-Pacific spokesman Dave Allison said.
For the moment, Far East tournaments in wrestling at Osan and boys basketball at Humphreys and girls at Kadena are still a go, according to DODEA-Pacific athletics coordinator Tom McKinney.
But DODEA-Pacific is eyeing the coronavirus situation closely, according to a letter sent to parents by DODEA-Pacific director Lois J. Rapp, a copy of which was obtained by Stripes.
"We will continue to monitor the situation, coordinate with our military health partners and provide updates to our community should further steps become necessary," the letter said in part.
Of KAIAC's 17 schools, 14 stated they were opting out of any out-of-school activities over the next two weeks, including the KAIAC tournaments, due to the spread of the virus and fears students might contract it, Concepcion said.
"It just doesn't seem to be the wise thing to do right now," said Paul Rader, boys basketball coach and athletics director at Seoul Foreign.
Seoul Foreign was scheduled to play KAIAC Blue Division's final regular-season games at Osan on Wednesday, but opted to forfeit those contests, Rader and Concepcion said.
The KAIAC tournaments being canceled elicited disappointment on the part of several coaches.
"We really need the games," Osan boys coach Robert Penry said. His Cougars, Osan's girls and Humphreys' and Daegu's teams each played 10 regular-season KAIAC games and will each get four more games on Saturday.
Humphreys' teams also played at last weekend's American School In Japan Kanto Classic, the boys playing six games and the girls five, giving them something of an advantage over Osan and Daegu.
Penry and other coaches said the DODEA-Korea teams were counting on the KAIAC tournament games in preparation for Far East tournaments, scheduled for Feb. 20-22. The boys Divisions I and II tournaments are at Humphreys and the girls D-I and D-II at Kadena.
Had the games at Osan not been scheduled this weekend, "there would be a month between our last games (Jan. 18 against Osan) and the time Far East starts," Daegu boys coach and athletics director Blake Sims said.
"We're hoping to keep sharp. But I totally understand the scenario. We couldn't have predicted this. I understand the safety precaution."
Daegu's girls had much at stake; they were seeking redemption for losing the finals of both the KAIAC Cup and Far East D-II tournaments last season, coach Jonathan Van said.
"It was part of our preseason goals, to go back to the Cup tournament and Far East," Van said, adding, however, that "I understand the concern (about coronavirus) because this is a serious matter."
New coach for Blackhawks girlsHumphreys girls will play its games at Osan on Saturday with a new coach. Steve Boyd, in his second season coaching the team, stepped down for personal reasons following the Kanto Classic, Allison said.
Humphreys' JV coach Eddie Rozzi and varsity assistant Michelle Gaurraci will take over. The Blackhawks are 9-1 in KAIAC Blue Division play and 10-5 overall, including a 1-4 ledger at the ASIJ Kanto Classic.
"We'll be ready," Rozzi said of the Blackhawks' chances at Far East D-I on Okinawa, their next major competition. "Some tough teams, but I feel like the field is more level this year. It should be a good Far East."
What's left this weekendAside from the DODEA-Korea Cup, one major in-season basketball tournament also remains a go this weekend: the 14th Okinawa-American Friendship Tournament, being held again at the Foster Field House on Saturday and Sunday.
The two-day tournament keeps its same format as in past years, pool play the first day and bracket play the second day, 24 games to be played on two courts, according to tournament director Fred Bales of Kubasaki.
On the mats, wrestling sees the end of its regular season in Japan as the six Tokyo-area schools get together Saturday at St. Mary's for the Kanto Plain finals.
Korea's wrestling teams, except for Seoul Foreign, will engage in the next-to-last regular-season meet on Saturday at Incheon Physical Education School.
ornauer.dave@stripes.com Twitter: @daveornauer