Home Team
Cornett a triple threat this year for Saints
by
Rusty Bryan
April 25, 2012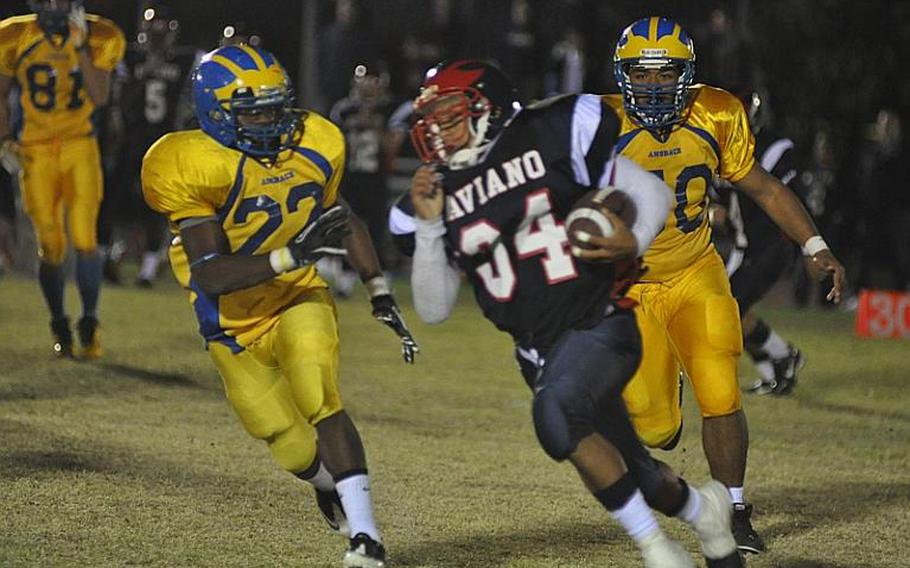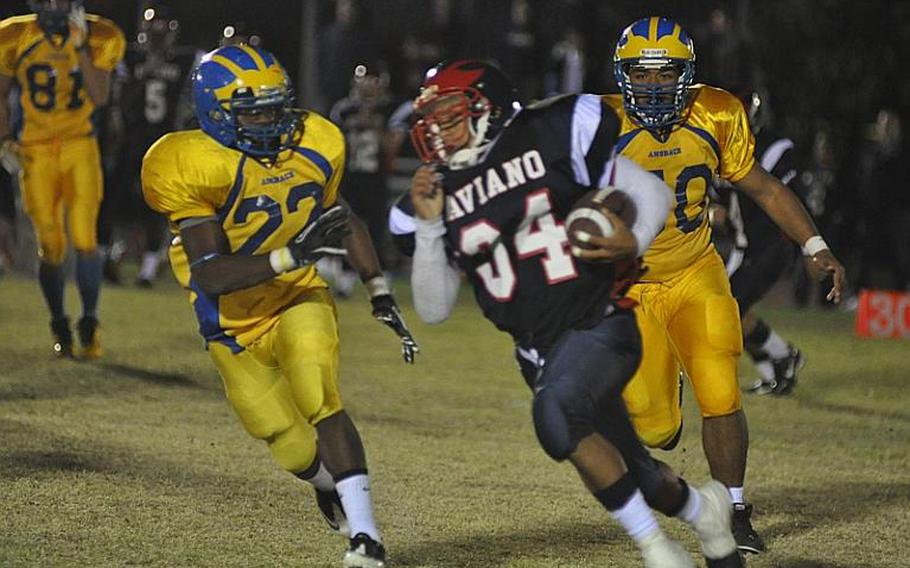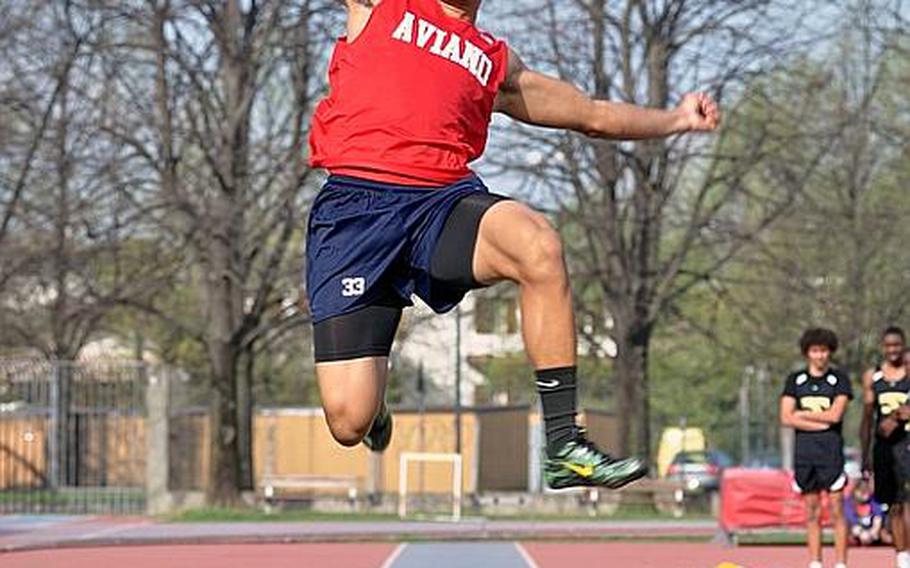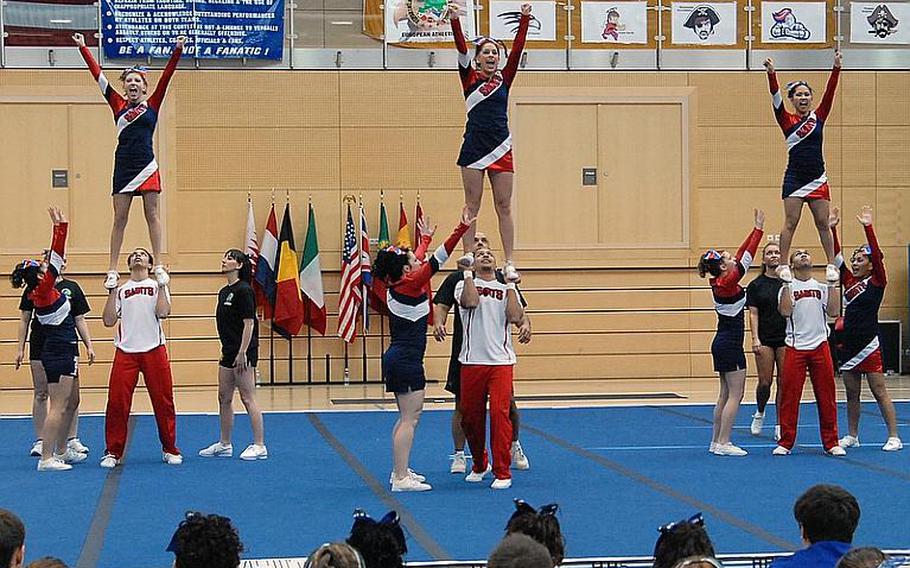 When dealing with Aviano senior Darien Cornett, expect the unexpected.
Cornett, the reigning European long-jump champion, is an All-Europe football player and, of all things, an All-Europe cheerleader, too.
So which of those is his favorite activity?
None, it turns out.
"Basketball," he replied quickly when asked that question by telephone on Monday. "My Dad's from Kentucky and has been a coach all his life."
Come again?
Cornett doesn't even play basketball for the Saints. Instead, he decided to become a cheerleader.
It strikes the outsider as a strange choice for someone who owns the athleticism to star on the hardwood. To Cornett, who began learning to tumble as a sophomore in Arizona with cheerleading on his mind, it's a natural progression.
"It's a lot of fun," Cornett explained about his winter career change. "It's not just yelling. It's a big challenge."
And basketball isn't?
"There aren't many of us 5-8 guys in the NBA," Cornett said.
There are, however, 5-8 guys who can play basketball at the All-Europe level, and at least two observers, Cornett's father and long-time Aviano basketball coach Ken McNeely, can be forgiven for wishing Cornett, who averaged over 10 yards per carry as an All-Europe running back last season, had chosen to try to become an All-Europe point guard, too.
"His dad was kind of disappointed at first," McNeely said by telephone of the younger Cornett's decision, "but what kids want to do is important. He wants to try to go to college on a cheer scholarship. Our job as coaches is to try to support them."
Cornett already has the cheerleading goal in the bag. He's been accepted by Northern Arizona University and the school's spirit team, too.
"They looked at my tryout tape," Cornett said, "and said they'd love to have me on the squad."
Cornett said he's waiting to hear from another college, the University of Oregon, where a chance to cheer and walk on to the Ducks' perennially powerful track team would be a huge plus.
"That'd be ideal," Cornett said of taking his talents to Eugene, where he would likely prove as big a surprise to the Nike-fueled world-class jumpers there as he was to first-year Aviano sprinting and jumping coach Jeffrey Dean.
"At first, I was shocked at how short he is," Dean said by telephone on Monday about Cornett, who struck European long-jump gold last May by clearing 21 feet, 4 inches, "and by how far out he can go without seeming to be trying hard."
That kind of ability and success would lead one to expect that the long jump is Cornett's favorite event.
Wrong again.
"The triple jump, by far," replied Cornett, who also runs relays, when asked his favorite spring event. "It's just that challenge. It's not an event for the meek. You've got to be centered."
Centered is exactly what Cornett is, according to Dean.
"We've never adjusted his form," Dean said of the way Cornett attacks the athleticism-demanding triple. "We've added or taken away steps depending on the different approach tracks, but that's it. His technique is perfect."
Cornett said his first two years at a high school in Goodyear, Ariz., helped him learn the triple's arcane moves.
"We had a really good coaching staff covering every aspect of the event," Cornett said, "even a sprint coach to help us just on the approach."
Cornett is still in touch by email with those coaches, and his present coach predicts lots more success for the athlete who's eyeing double jump-gold this time around at Europeans.
"He's got a great future in the triple and the long jumps," said Dean, who rates Cornett as one of the best jumpers he's ever coached. "His stern will and drive to succeed will carry him far."
That's one expectation, at least, that we probably can depend on.
---
---
---
---