DODEA-Europe boys soccer
Contenders galore as boys tourneys approach
---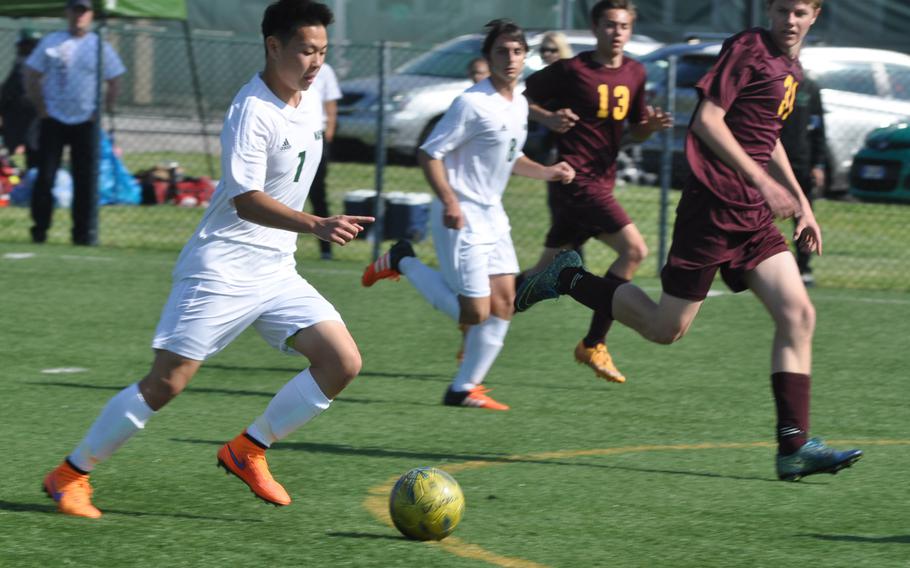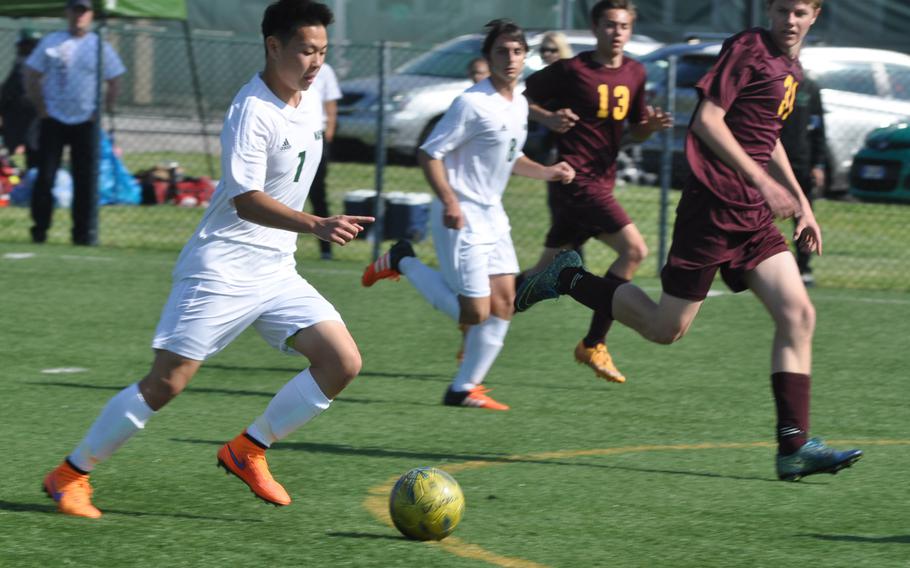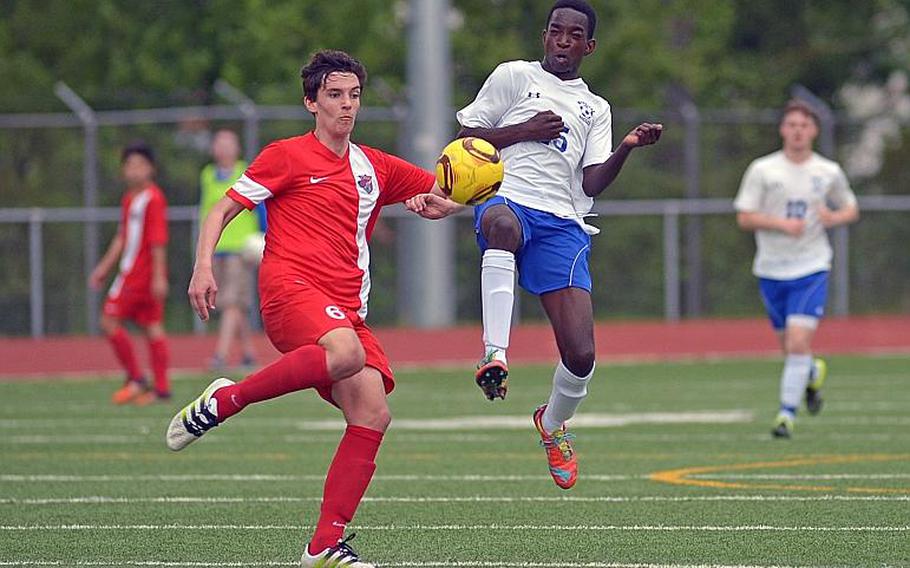 Three European champions will emerge from large, evenly-matched fields of legitimate contenders this week as the 2016 DODEA-Europe boys soccer championships play out at sites around the Kaiserslautern Military Community. The event opens Wednesday and concludes with three championship games Saturday at Kaiserslautern High School.
Division I The schedule calls for the DODEA-Europe season to end Saturday with a Division I championship game crowning an undisputed champion. It's a good thing, because this pack of evenly-matched teams might otherwise never produce a clear leader.
Ramstein is the defending champion after beating International School of Brussels 1-0 last spring. The Royals have a good chance at repeating, but a loss to Stuttgart and a scoreless tie with Kaiserslautern prove they're vulnerable.
ISB showed it belonged back in the title conversation with a final-weekend win over Wiesbaden, but the Raiders faltered in a title-game rematch with Ramstein the next day, taking a 3-1 loss.
Wiesbaden has a middling 2-2-1 divisional record but has hung tight with everyone, including both 2015 finalists, and has the potential put it all together this weekend.
Kaiserslautern is talented and consistently competitive but has trouble closing out games, as evidenced by tie games against Division I rivals Wiesbaden and Ramstein and even Division III Ansbach.
Naples has produced a strong body of work this spring, but the same was true last spring when the top-seeded Wildcats bowed out of the bracket prematurely.
Vicenza picked up a signature win over Stuttgart on April 29 but has otherwise been erratic, most notably in shutout losses to Naples and Florence.
Finally, Stuttgart opened its season emphatically with a 3-0 win over Ramstein and a 4-2 win over Kaiserslautern in its first two games. But they tailed off soon afterward with losses to Wiesbaden and Vicenza and a scoreless tie with Naples.
Division II It used to be that Marymount dominated Division II boys soccer. Those days ended last spring, and don't appear to be coming back this season.
To be clear, the reason for the newfound parity in DODEA-Europe's middle class is not that Marymount has noticeably declined. The Royals appear as dangerous as ever, as evidenced by lopsided regular-season wins over divisional rivals AOSR and Aviano and impressive defeats of solid Division I programs Naples and Vicenza.
Rather, it's the field that has closed the gap. Most notably, of course, is Bahrain, the team that unseated Marymount in 2015's riveting championship-game shootout. As usual, Bahrain has no regular-season DODEA-Europe record upon which to prognosticate, but the defending champs figure to be centrally involved.
A minor divisional realignment last year brought a new challenger into the mix: Florence. The Wild Boars won last year's Division III championship, and have the talent to pull off a division-switching repeat. They proved as much this spring by playing Marymount to a 2-2 draw.
Meanwhile, Black Forest Academy has sailed through its spring schedule, notching blowout wins over AOSR, Aviano, Ansbach and Division I Vilseck. BFA and AFNORTH are eying a title-game opportunity after settling for a third-place matchup a year ago.
Division III With its move to Division II, Florence will be replaced as Division III champion. Why not the team that replaced it in the division entirely?
Ansbach dropped to the small-school level due to a drastic decrease in student population. Counterintuitively, that's led to a resurgence for the moribund Cougar boys soccer program. Ansbach shook off years of futility early this spring with a pair of strong showing against Division I opponents, followed by a two-day April breakout that included a 5-0 defeat of Bitburg and a 4-1 defeat of Baumholder. A 1-1 tie with Division I contender Kaiserslautern later that month reiterated the Cougars' newfound relevance on the DODEA-Europe soccer scene.
If the Cougars are to make the next leap to the level of champion, they'll need to withstand a difficult field that includes Alconbury, Brussels and Sigonella.
Twitter: @broomestripes
---
---
---
---