Contenders aplenty as spikers head to courts
by
Gregory Broome
October 30, 2013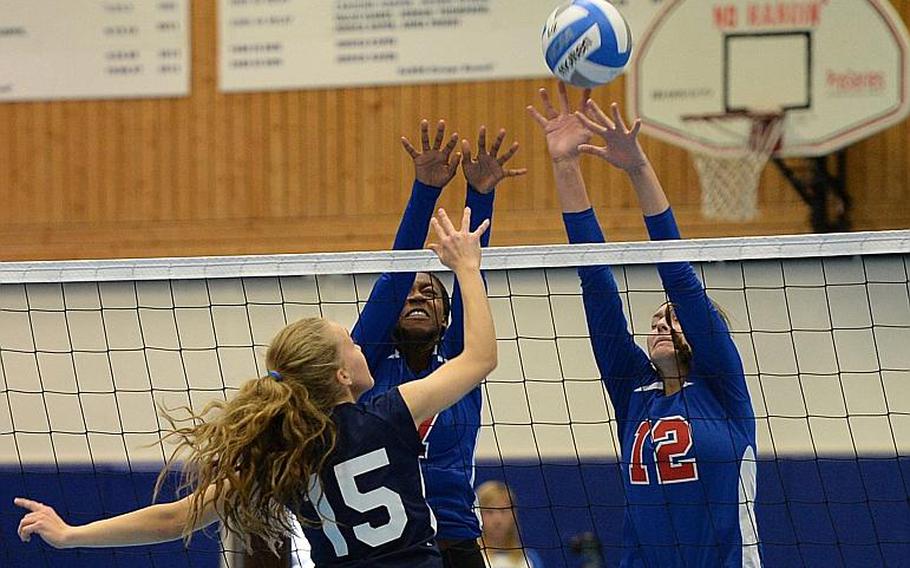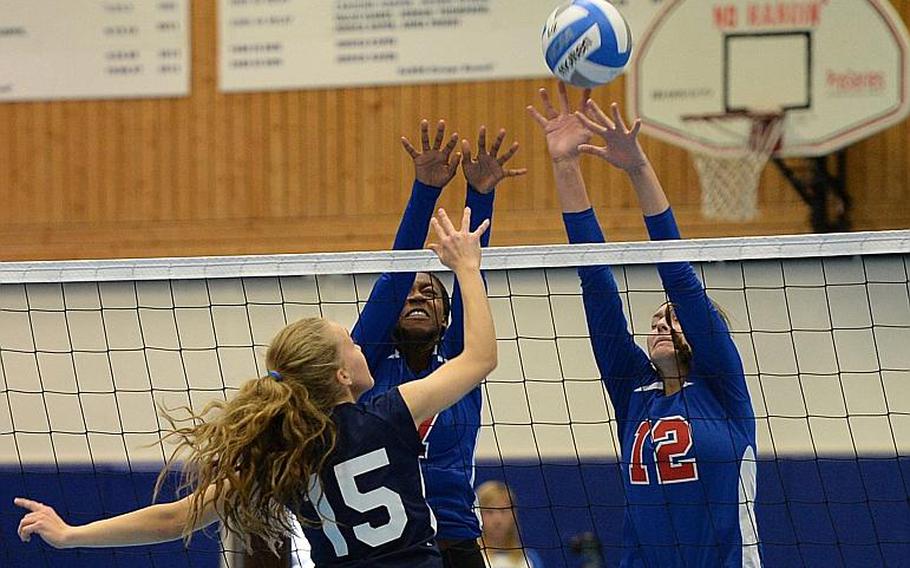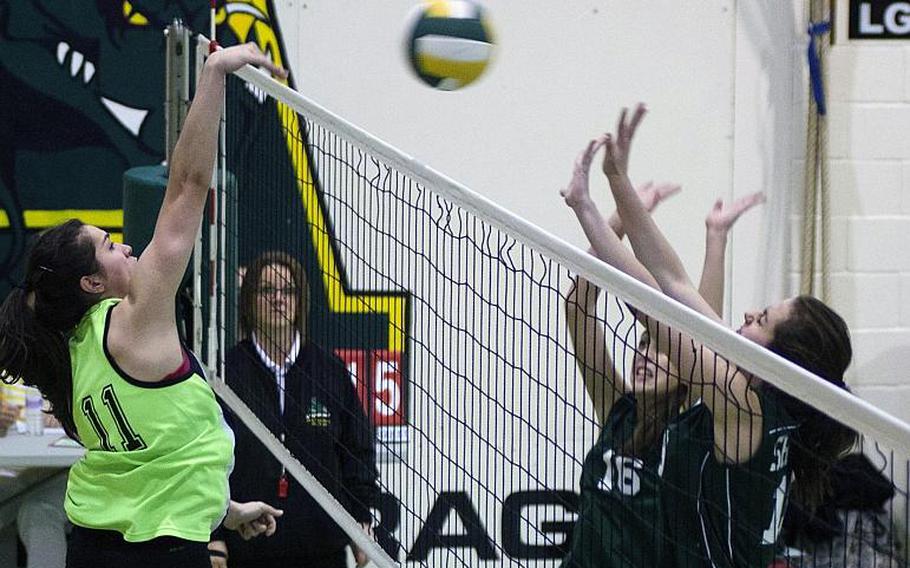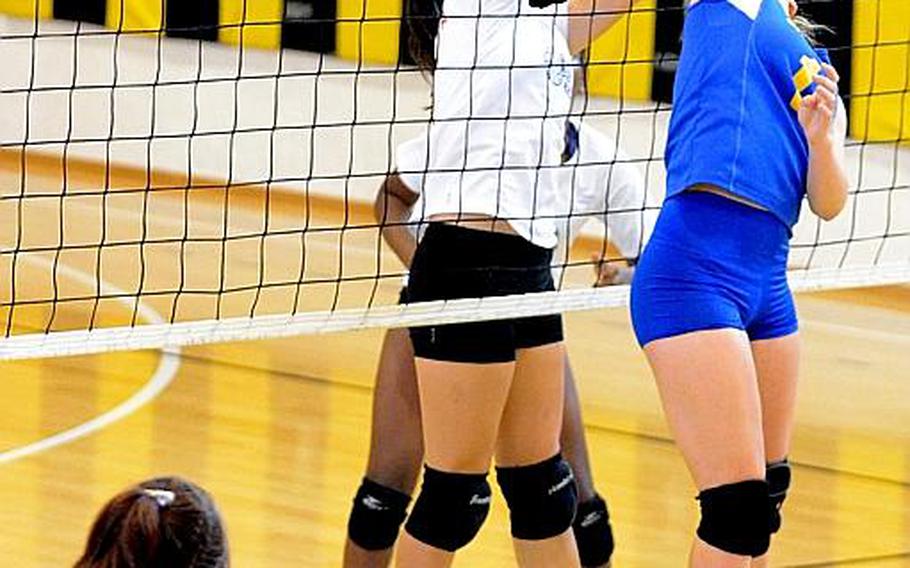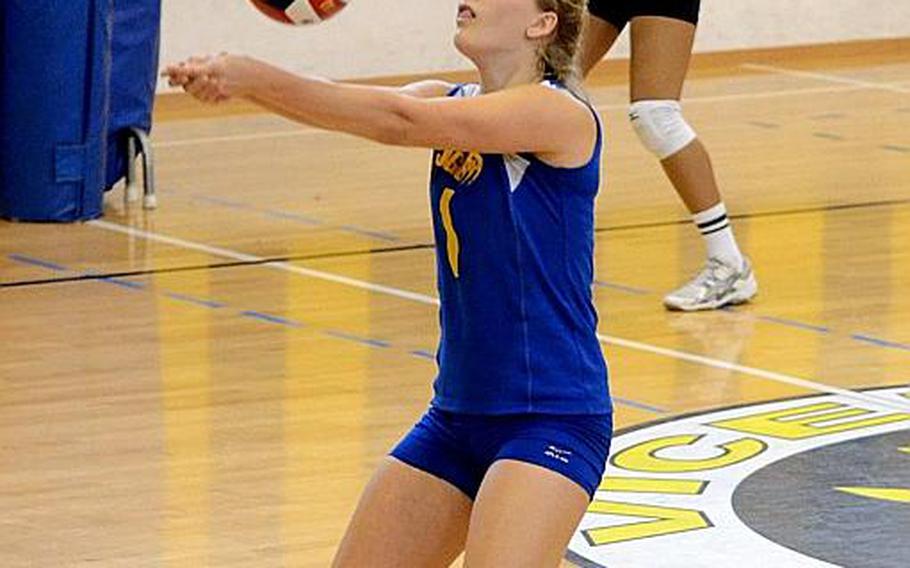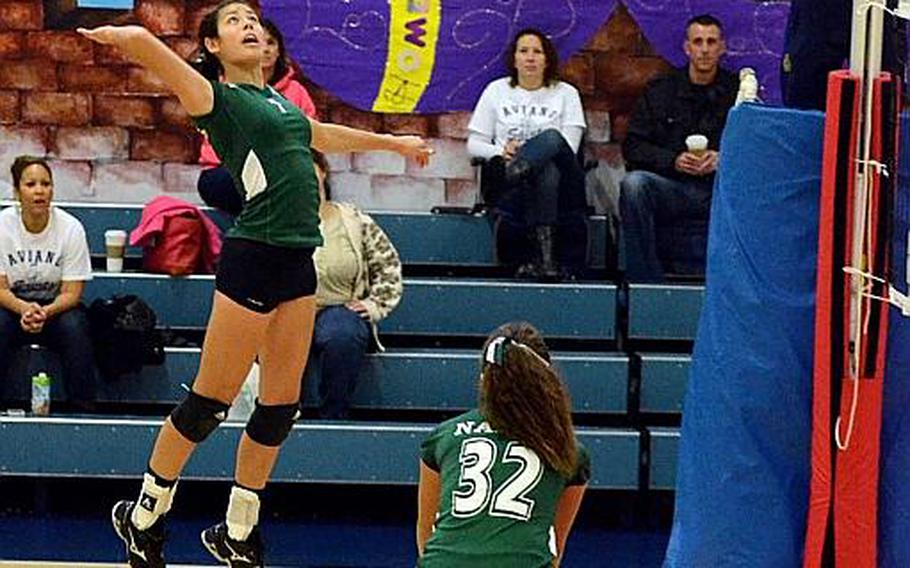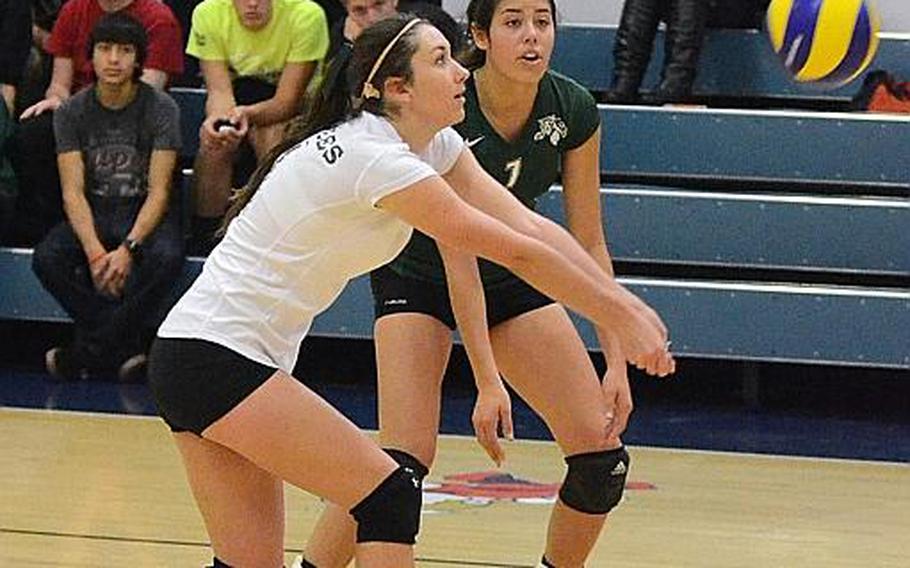 A powerful reigning champion reduced to a No. 2 seed. A team accustomed to dominance now challenged by a new, higher level of play. A group of frustrated contenders finally offered an easier path to a title.
The above storylines and as-yet-undetermined new narratives will play out at this week's DODDS-Europe volleyball championships, a three-day event set for locations around the Kaiserslautern Military Community in Germany.
The tournament starts with preliminary play Thursday, moves into its elimination rounds Friday and concludes with championship and third-place matches Saturday.
Here are the top contenders to win European crowns this weekend:
Division I
With nary a weak team among them, DODDS-Europe's six large-school contenders have staged a furious battle for supremacy all season.
Ramstein looms over the bracket as reigning champions. With new contributors replacing the wealth of talent they lost since last season, the Royals cruised to a 10-2 regular-season record.
But Ramstein has also looked vulnerable at times this season, especially against Patch. The Panthers lost last year's European title game to the Royals, but their season-long mission of vengeance has so far been a rousing success.
Patch is responsible for both of Ramstein's losses this season and needed just four sets on each occasion to earn the wins. The Panthers were rewarded with the tournament's top seed. With sky-high confidence and incumbent stars Mercedes Deets and Rachel Hess determined to erase last year's disappointment, the Panthers will be a force.
Still, that top seed doesn't help much in the round-robin format played in Division I. Regardless of the numbers assigned, the Panthers and Royals will face a challenge in every match they play.
Third-seeded Lakenheath features veteran leadership and star power on a squad led by All-Europe senior Jourdan Hodge.
Fourth-seeded Kaiserslautern opened its season by sweeping Patch in what would stand as the Panthers' only loss.
Wiesbaden has shown flashes, twice taking opening sets from Ramstein before succumbing to defeat.
Vilseck, while saddled with the only losing record among Division I teams, is an experienced and dangerous team that could easily knock off one or more of its higher-seeded rivals.
"Any team can play with any team this year," Vilseck coach Brian Swenty said. "A lot can happen come tournament time."
Division II
The straightforward six-team setup in Division I stands in stark contrast to the sprawling Division II bracket.
Fifteen teams occupy the Division II tournament's two pools. With that kind of depth, several of those teams have a good shot at emerging at tournament's end.
Rota, the three-time defending Division III champion, has been bumped up to the higher level. The Admirals' isolation from the organization's other schools prevents them from playing a meaningful DODDS-Europe schedule, but their intense matches against high-level local club teams and the presence of Stars and Stripes Athlete of the Year Aspen Luna ensure they won't be in over their heads in the larger-school pool.
The top-seeded Admirals will quickly encounter the best their new division has to offer in defending champion Naples. Led by their own star in Victoria Krause, the Wildcats answered last year's undefeated title run with a solid 10-2 regular season to earn the pool's No. 2 seed.
As compelling as it is, the Division II tournament will go much deeper than this champion-versus-champion matchup. American Overseas School of Rome tops the opposite pool, sporting a 12-0 record that includes wins in both of its matches against Naples.
At the top of their game, the hard-hitting Falcons are skilled enough to render the anticipated Naples-Rota showdown a mere sideshow.
Just as Naples is a strong No. 2 seed to Rota, 2012 European runner-up Ansbach looms as a threatening second seed to AOSR. Head coach Desma Colburn said the Cougars are eager to avenge last year's "devastating" title-match loss to Naples and have developed the attitude necessary to overcome any adversity awaiting in this year's tournament.
"At this point in the season we are really starting to understand what it means to fight back and not give up when a team goes on a run," Colburn said. "We've started playing at a higher level and are really gaining each other's trust on the court."
Count Vicenza, Black Forest Academy and Alconbury as dark-horse threats. Alconbury is a particular wild card, having joined Rota in graduating from Division III and turning in a strong 6-3 regular season.
Division III
Now mercifully relieved of juggernaut Rota's smothering presence at the top of their division, DODDS-Europe's eight remaining small schools are looking forward to a tournament filled with fresh opportunity.
Sigonella coach Shawn McCarthy said the departures of Rota and Alconbury inspire "mixed emotions." While the Admirals dominated tournaments and trophy cases, they also pushed other Division III schools to "improve their programs."
Sigonella, with a solid 6-6 record earned mostly against Division II opponents across Italy, is a prime candidate to take over Rota's spot. The bracket's top seed, however, goes to Brussels, which posted an 8-3 record in its own tough northern region.
A pair of familiar regional foes — Florence for Sigonella and Menwith Hill for Brussels — will race their rivals to the top, as will largely-unknown squads from distant Incirlik, Ankara and Lajes. Bamberg hopes to close its program in memorable fashion.
Mediterannean
While girls teams from across Europe battle it out in Germany, DODDS-Europe's Italy-only boys division will determine its champion with a two-day event at Aviano.
AOSR defeated Marymount in last year's final, and both expect to contend again. But its 10-0 Naples that enters as the heavy favorite; the Wildcats have lost just two sets all season. Vicenza came the closest to knocking off Naples in a 26-24, 23-25, 25-20, 25-17 defeat Oct. 5.
Ankara, Incirlik, Sigonella and host Aviano round out the eight-team field.
Twitter: @broomestripes