College coaches swing through Germany
by
Rusty Bryan
December 19, 2007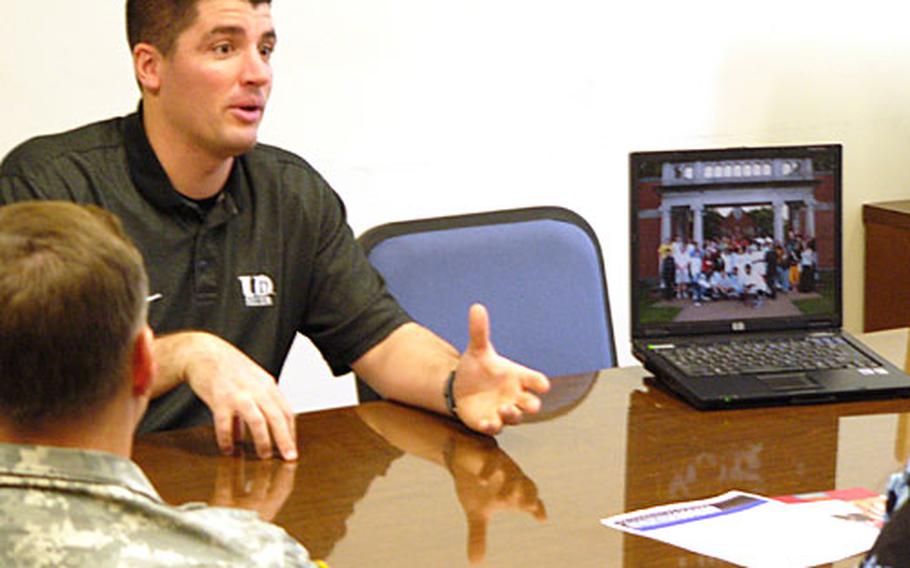 HEIDELBERG, Germany — Although she's some three years away from deciding on a college, Mannheim freshman Anna Cressler took away plenty to ponder from her Tuesday meeting here with coaches from the University of Dubuque.
"It was good," said Cressler, an Olympic Development Program soccer player, about her nearly hour-long chat with Dubuque head soccer coach Jason Berna. "I got a lot of inspiration."
Berna, along with Dubuque Spartans football coach Vince Brautigam and associate admissions director Bob Broshous, began a four-day swing Monday through six high schools in Germany.
The aim of the tour is to acquaint Europe-based athletes with the opportunities the NCAA Division III school offers. The trio is scheduled for sessions at 1 and 5:30 p.m. Wednesday at Ansbach and closes out Thursday with a noon session at Vilseck and a 5:30 p.m. date at Hohenfels.
Some 75 Department of Defense Dependents Schools athletes have found homes at Dubuque since the school began its overseas outreach nine years ago, Broshous told Anna and her mother, Regine, at the get-acquainted meeting.
"We understand who you are," said Broshous, a retired soldier. "We know the sacrifices you and your families make to serve our country."
Berna, who had four former DODDS-Europe grads on his 2007 men's roster, saw one of them, Hohenfels All-European Idrissia Soumaoro, make the all-conference team as Dubuque went 10-8-1. Berna's other male DODDS grads for 2007 were Anthony Marshall, also of Hohenfels, Claudio Giraldi of SHAPE and Fulgencio Beken of Hanau. Ramstein grad Jackie Ventrice and Aviano's Stephanie Patrick made Berna's women's team in 2007.
"It's an easy fit for them," Berna said of the DODDS-bred Spartans. "There are a lot of familiar faces."
Like Berna, football coach Brautigam arrived bearing game videos. He showed it to Heidelberg lineman Shali Thompson as the two exchanged information and looked at architects' plans for the school's new athletic and fitness facility and stadium.
"Brennan Relaford (a Ramstein grad and wide receiver) really had a great season for us," said Brautigam, who has coached such former DODDS stars as Edmund Woods and Brandon Stevens of Wiesbaden, and Aaron Scott of Kaiserslautern. "If he keeps working, he has a chance to become an All-American."
As a Division III school, Dubuque is not permitted to offer athletic scholarships. But Broshous said the school gives financial aid to many of its students.
"All the aid comes through the school," Berna explained. "That means I don't have a scholarship that I can hang over your head. If you get hurt, you don't have to worry about losing your aid."
Regine Cressler found solace in the meeting.
"We feel so isolated over here," she said. "Yet, we saw it was possible for someone attending an American school in Europe to get picked up by a school in the States."
---
---
---
---