Home Team
Cobras no longer slithering in the basement
by
Dave Ornauer
April 20, 2017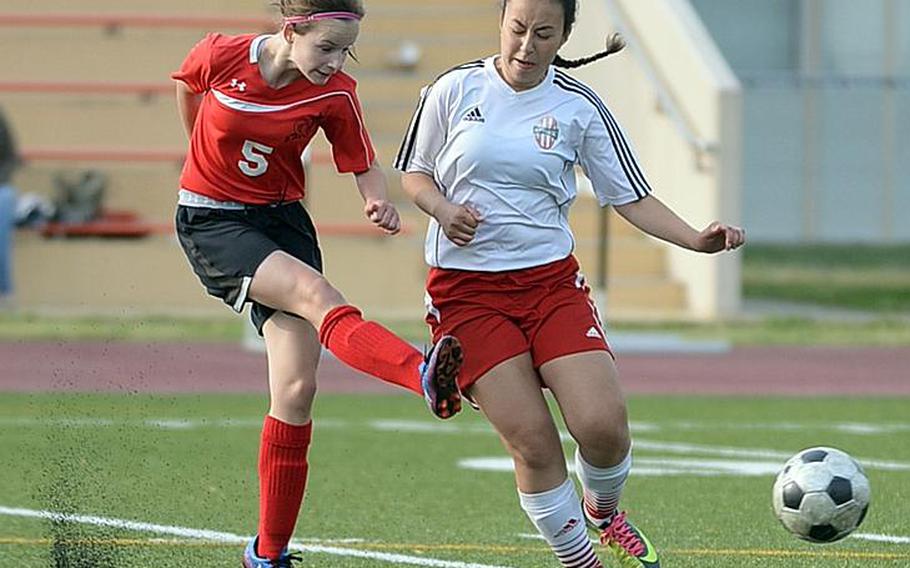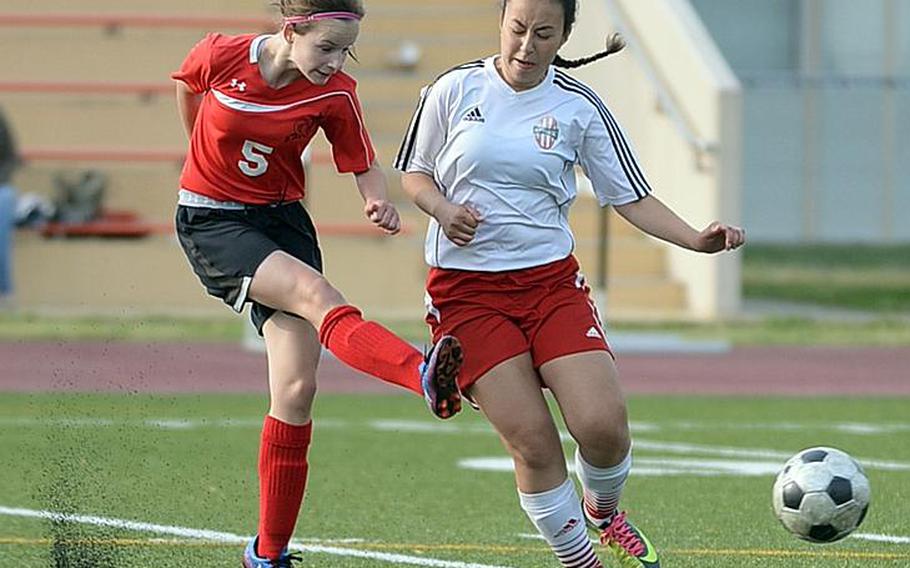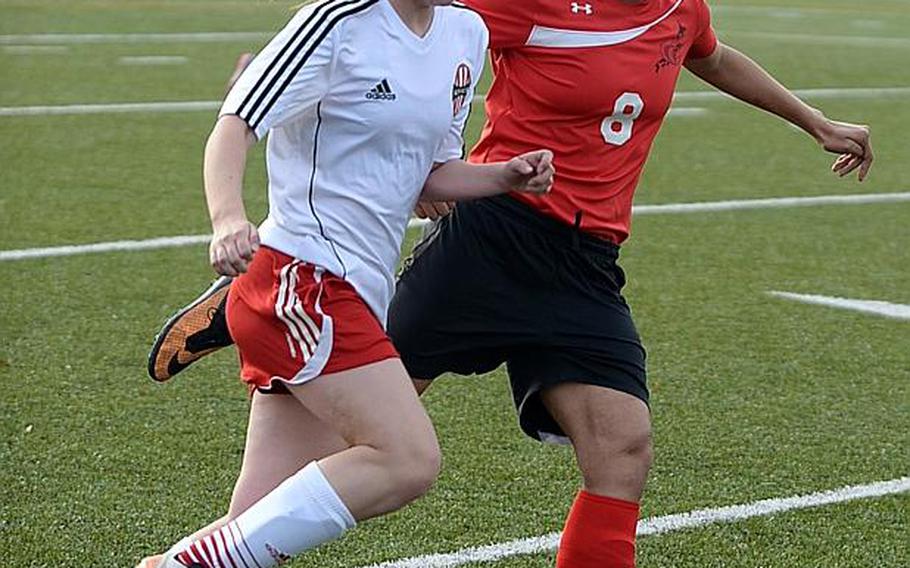 CAMP ZAMA, Japan – After five years of losses and frustration, the E.J. King girls soccer team appears as if it might be turning the corner.
The Cobras may or may not win a championship this season, but it looks like they'll be knocking on the title door pretty soon.
Players and coaches say it's a mix of determined holdovers, new talent and coaching that's not new.
Following a 2-2 draw Thursday against two-time defending Far East Division II champion Yokota in the DODEA-Japan tournament, King is 6-5-3, the best start in school history.
The wins equals the Cobras' entire total of their first five seasons (6-98-11). Among those wins was a school-first 2-1 win last Friday at Nile C. Kinnick.
"Every year, it was a different coach; continuity in coaching (helps a team) get to know your style of play and bring structure to a program," said Kylee Venetsanakos, in her second year as Cobras' head coach after being an assistant in 2015.
Compared to the 2016 season when the Cobras went 1-20-2, "it's really different," said Aika Talavera, in her third year with King.
Talavera and fellow senior Aisha Rogers have been part of the core group that Venetsanakos has kept together going on three seasons. But with the addition of the Shultz sisters, junior Natalie and freshman Gabriella, "the love of soccer came back for me," Talavera said.
"Our chemistry got better," she said. "They (Shultzes) really like soccer and they push us to get better, to think more positively."
"These girls work really hard for me," Venetsanakos said.
The program started in 2011 under coach Billy Clites as a club team – not part of the high school. The Cobras only got a couple of regular-season matches and a last-minute invite to the Far East Division II tournament. King added girls soccer officially in 2012.
It was an exercise in frustration for the team's cornerstone players, Tiffany Long and Nickie Phousongphouang, the team taking tentative steps forward only to start over the next season, the latter said.
"We had many newcomers and rarely had girls with any experience in soccer," said Phousongphouang, currently attending college in Minnesota. "Every year, we started with the basics and by the end of the season we started learning the game; then, the next year, we had to start over."
The size of the school (155 enrollment) made things just as tough on coaches. "I feared we'd not be able to maintain a team at a school (E.J. King's) size year in and year out," said the team's second coach, Steven Casner, who's now coaching at Kubasaki.
"I spent more time carrying (injured) players off the field than coaching," Casner said. "We would get a beating, but the girls always had a positive attitude."
Casner's assistant at Kubasaki, Chris Anderson, was in a similar situation coaching girls at Matthew C. Perry 10 seasons ago. Just as the Shultz sisters have added a spark to the Cobras' current lineup, Anderson toughed it out and got in some transfers who lit the spark.
"Consistency plays a big part," he said. "Teachers at small schools are asked to do a lot. Coaches who know a little bit and are willing to invest a little, it makes a big difference. It takes time. But when it happens, it's magical."
His Samurai went on to the Far East D-II championship that year. That might not be the case for this season's Cobras, but coaches and players say sustained success might be just around the bend.
"We can help this team," said the younger Shultz, who already has 11 goals this season – five more than Phousongphouang's old career record.
She and Natalie played for Annandale United, a traveling club team in Virginia. "On my old team, I wasn't really a striker, but (teammates) encouraged me to shoot, and I'm trying to pass that on to my teammates here."
"I hear Gabi yelling 'Shoot!' at me, so all of us are getting more offense minded," Talavera said. "It doesn't matter if we can shoot or not; you have to try. I think that's helping us think more positively."
Venetsanakos says she has one more season left beyond this one at the Cobras' helm. Whether this season's progress spells championship or having to continue working toward it, "I hope whoever takes over gives it the same love I have," she said.
One thing's for certain – Casner says he'll be watching from afar. "You never completely leave someplace," he said. "Anything they can do to bring them success brings a smile to my face."
Twitter: @ornauer_stripes
---
---
---