Coaches evaluate Super Six football matchups
by
Rusty Bryan
November 4, 2010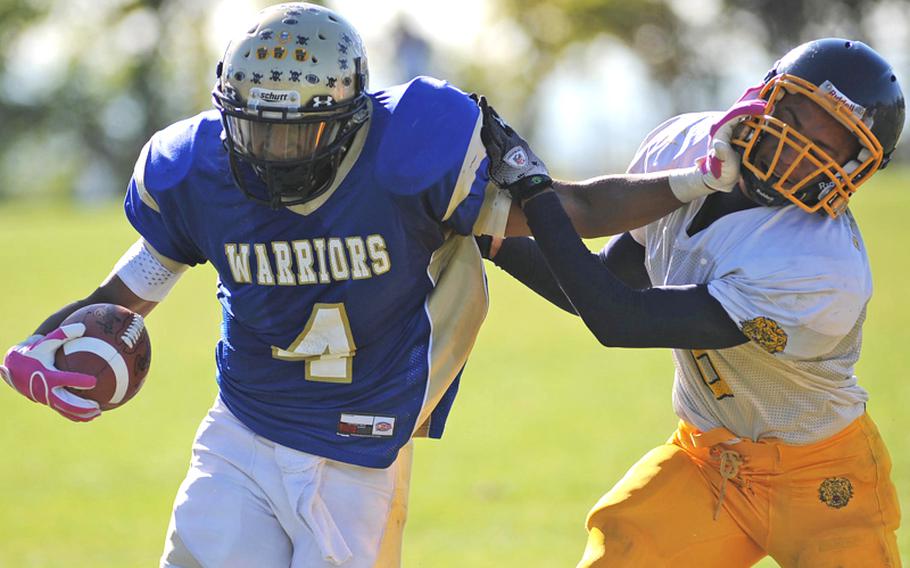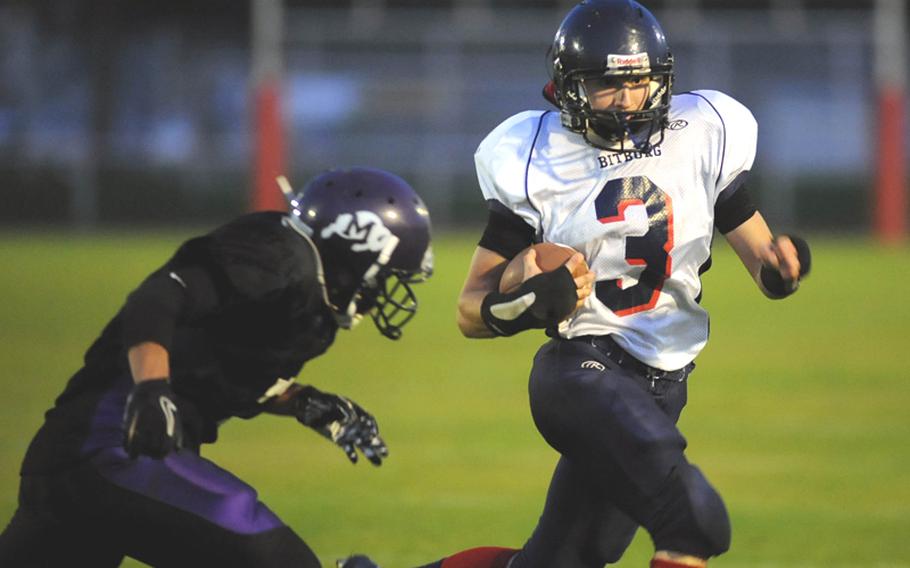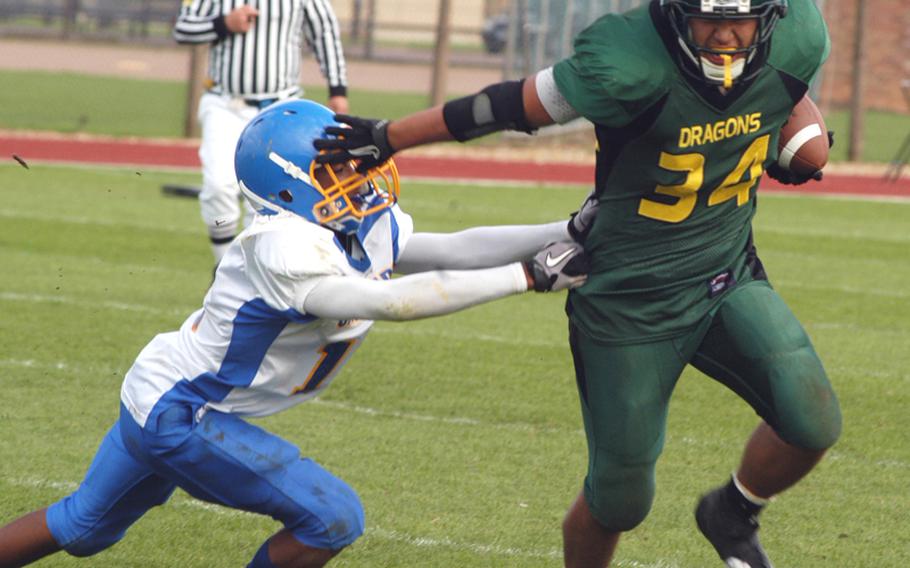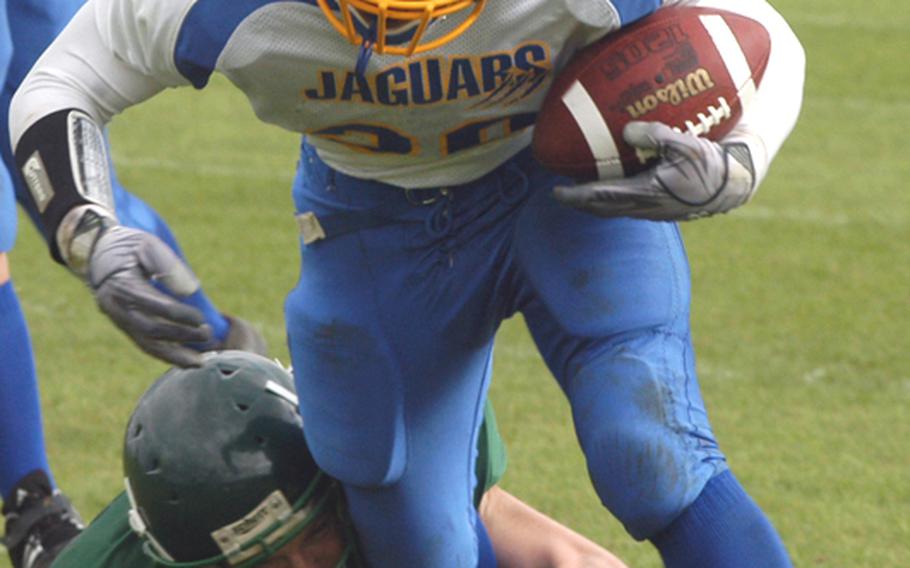 Football, in huge quantities, is on the menu Saturday for the annual DODDS-Europe Super Six championship tripleheader in Baumholder.
First, starting at noon, will be defending champion Alconbury and unbeaten Sigonella squaring off in the Division III title game.
Defending champion and unbeaten Bitburg is scheduled to begin defense of its D-II crown against Mannheim at 2:30 p.m.
Heidelberg, unbeaten again, will take on Wiesbaden for the third time this year in the Division I final at 5 p.m.
A $5 ticket — $3 for students — is good for all three games. Other options are to tune into the Pentagon Channel on AFN or log on to www.afneurope.net. Both will carry the games live.
To preview the games, Stripes turned to head coaches Jim Hall of Vilseck, Carter Hollenbeck of Baumholder and Pete Resnick of Menwith Hill.
Each coached against both finalists in his division this season.
Division III Alconbury vs. Sigonella(Previous meeting: Alconbury 26, Sigonella 20 in double-overtime Sept. 25 at Alconbury. Game later forfeited for using an ineligible player.)
Resnick broke down the nine-man finale in this e-mail:
Team speed: Advantage Sigonella. Their wideouts (Marco Summerfield and Marco Montero) ran the jet sweep successfully. . . . Quarterback (Larry Stevenson) is elusive and options well with Kahlil Bowen and Jeff Lastrella.
Team strength: Advantage Alconbury. With Kerey (Kuheana) running behind an excellent offensive line and fullback, their team has an excellent power attack.
Coaching: Even. I'd expect Alconbury to try to figure a way to lessen Sigonella's speed advantage — the weather may help, too — and I would expect Sigonella to crowd the line of scrimmage with their 3-4 defense to meet Kerey before he gets started.
Motivation: The slight advantage Sigonella may have this year is their chance for revenge from last year's playoff loss (35-28, the Jags' first loss of the season) and this season's overtime defeat . . .
Division II Bitburg vs. Mannheim(Previous meeting: Bitburg 21, Mannheim 6, Oct. 8 in Mannheim)
Hollenbeck shared his insight in this e-mail:
Bitburg and Mannheim are both excellent teams with strong coaching staffs. Mannheim players and coaches have done a wonderful job of focusing on the school's last year in existence. It is obvious that their emotions will be a factor in this championship game.
Mannheim's shifting offense poses challenges . . . as it's balanced for the run and passing games. Defenses must respect the passing game, especially if the weather is bright . . . with little to no wind. There were two catchable passes in the previous meeting that might have made a difference in the outcome of that game, proving that these two teams are evenly matched.
Bitburg impressed me last week by breaking out of its traditional double-tight end wishbone offense and shifting into some spread formations while executing the offense perfectly. It was flawless against Naples in piling up 61 points. Mannheim's 3-5-3 and Bitburg's 5-3 defenses are aggressive and hostile . . . which is why the last meeting was 14-6 until the last three minutes.
Keys to the game
Good weather should favor Mannheim and its passing game, creating multiple threats. Bitburg's power game may want to see a blizzard. . . . How do you stop a tank driving down the field?
Both teams are evenly matched in regards to offense and defense, so I believe the difference-maker will be special teams. Blocked punts, reverses on kickoffs, or players not breaking down will pay dividends for one of these two teams. Bitburg has been to the title game before and knows how to win close, high-quality games. Mannheim will have to use their emotions to counter the experience factor of Bitburg.
Division I Heidelberg vs. Wiesbaden(Previous meetings: Heidelberg won 47-21 at home Sept. 18 and 54-19 in Wiesbaden Oct. 9)
Hall evaluated the game in this e-mail:
Coaching: Both coaches do a great job within their respective programs, they design their offenses and defenses to the talent that they have. (Even)
Offense: Heidelberg has a two-headed attack in Sterling Jones (speed) and Chris Cuthbert (power). As you prepare for that attack, then one of the other backs . . . or (QB) Kevin Grey gets into the act. Wiesbaden has Daniel Harris, who can hurt you at anytime and anywhere; Ryan Reagin is a good QB in Wiesbaden's offense, and don't forget Tevin Teal, Erik Stouter, Antonio Trawick or Kenyatta Hill. (Advantage Lions)
Defense: Heidelberg has a couple of defensive ends who are hard to block and get around, and linebackers who fly to the ball. If they have a weakness, it has to be the counter and flats when passing. Wiesbaden has linebackers who like to contain the middle. . . . They also fly to the ball — you have to counter and hit the tight end on passing downs. (Advantage Lions, with speed)
Special teams: Wiesbaden has a punter who can change field position with a stroke of the foot. Their kickoffs can be deadly if they decide to on-side the ball — don't let Harris handle the ball! Heidelberg does a good job on special teams. Jones can change the game if you allow him some space with the ball. (Advantage Warriors)
Intangibles: Heidelberg has defeated Wiesbaden twice during the season, but this is for all the marbles. Heidelberg has been in this game for the last several years. They were defeated last year in the championship (35-21 by Ramstein), and they want it bad this year. Wiesbaden has also been here before, last time as a D-II school (2008), [but] it has been a few years since their last visit as a D-I school (2004). When all's said and done, the Warriors will have to play mistake-free football, have long, solid drives, eat the clock up, and score every time they have the ball. The Lions will depend on what got them here — solid play, mistake-free football and speed blended with power football. (Advantage Lions)
Look for Heidelberg to hoist the trophy as champion.
---
---
---
---