'Coach K' recalls his Army years during visit to Camp Casey
by
Erik Slavin
August 18, 2006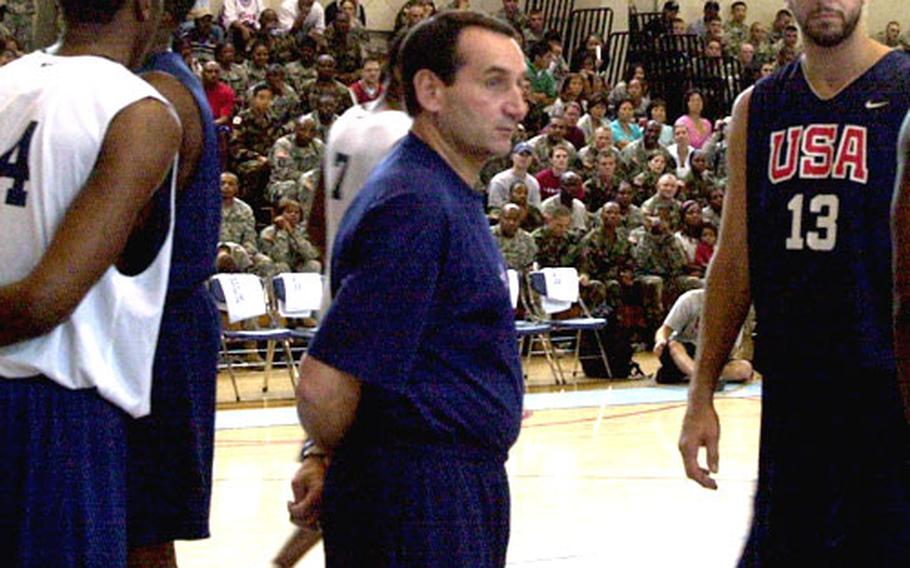 CAMP CASEY, South Korea — Before he became the famous "Coach K," Duke University and Team USA basketball coach Mike Krzyzewski was one of many soldiers stationed within eight miles of the Demilitarized Zone.
Former Army Capt. Krzyzewski was a field artillery liaison to the infantry in the early 1970s at Camp Pelham, later named Camp Garry Owen.
Krzyzewski returned to Area I on Wednesday with the USA basketball team, which appeared before about 1,000 servicemembers at Carey Gym on Camp Casey.
"The whole world has changed here," Krzyzewski said of his former Area I stomping grounds. "The dirt roads looked like demolition races when someone got to a stoplight."
Krzyzewski later transferred to Yongsan Garrison to coach service basketball teams, then moved on to coach the U.S. Military Academy Prep School in Fort Belvoir, Va. After resigning his commission in 1974, he worked as a graduate assistant for up-and-coming coach Bob Knight, for whom Krzyzewski played as a West Point cadet.
After a year with Knight, he took over the Cadet head coaching job for five years before moving on to Duke to become one of the winningest coaches in college basketball history.
As both an Army officer and a college coach, Krzyzewski has taught and led younger people whose futures, to some extent, depended on him.
As the Team USA basketball coach, that isn't the case; most of his players are a few years older and all of them are multimillionaires. Consequently, Krzyzewski said, he has adapted to his team but without forgoing the concepts he's taught since he pinned gold bars on his shoulderboards.
"I'm not going to do things the way I do them at Duke," Krzyzewski said. "But we still adhere to the same core values."
He said concepts such as loyalty, trust and teamwork still can be reinforced among members of a group when they're dedicated to winning.
"They want to play really good basketball," he said. "There is not one ego that has to be bigger than another ego."
To drive home those selfless concepts, Krzyzewski once brought to practice a soldier blinded in Iraq. Some players said they couldn't help but be touched by the soldier's dedication to his combat team.
Most of the players on Team USA knew what they were getting when Krzyzewski replaced Larry Brown as head coach. If they didn't ask team players Shane Battier or Elton Brand, they always could ask one of the many Duke graduates playing around the NBA.
"He's a very motivational guy. He's funny, too," said Denver Nuggets forward Carmelo Anthony.
Krzyzewski's methods ultimately will be judged by Team USA's win column. After a disappointing bronze medal finish in the 2004 Olympic Games, expectations are high. True to his Army roots, Krzyzewski is ramping up the training regimen to get Team USA to the top.
"We practice a lot more than in the NBA," Anthony said. "But the more time we get together, the better we'll be."