Clear favorites head girls tournaments
by
Gregory Broome
February 21, 2016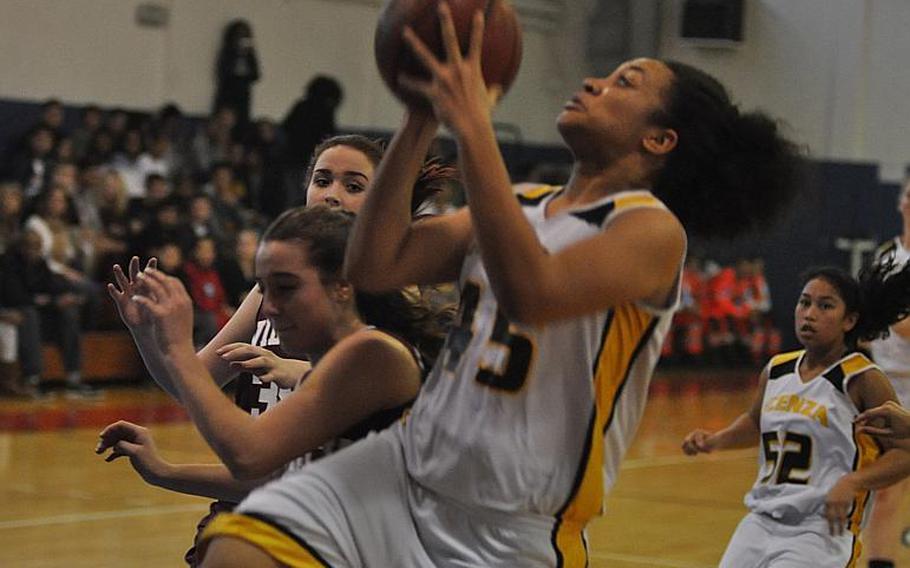 Long-awaited clashes between distant rivals will headline the DODDS-Europe girls basketball tournament, set for Wednesday through Saturday at sites around southwestern Germany. Division I preliminary play opens at Kaiserslautern while Wiesbaden hosts the opening days of Division II and III competition; the elimination rounds shift exclusively to Wiesbaden on Friday ahead of Saturday's slate of title games at Clay Kaserne Fitness Center.
Division I Two teams are in a league of their own in Division I. And they'll finally share a stage this week.
In Germany, the Ramstein Royals have been undefeated and largely unchallenged, with the only single-digit margin of victory of its season coming in a one-point win over Division II Black Forest Academy. They've whipped every Division I team they've played twice, a list that includes six of the eight other teams in the division.
But it doesn't include the Vicenza Cougars.
While its location on the opposite side of the Alps denies Vicenza the chance to see regular large-school competition, it hasn't stopped the team from building its own undefeated record and growing a profile as a potential champion. And the Cougars have proven themselves against Division I opponents whenever they've been made available, registering double-digits wins over Naples (twice), Stuttgart and Vilseck.
The Royals and Cougars share other similarities beyond their matching résumés - both have multiple impact players at a variety of positions, and both were within a win or two of European gold this time last year. Ramstein has seamlessly added senior newcomer Bella Rodriguez to a core of returning starters, helmed by point guard Desiree Palacios and forward Lindsey Breton, that reached the Division I title game. The Cougars, a 2015 semifinalist, have an ideally balanced lineup between the perimeter marksmanship of Emma Knapp, the dominant post work of Adrianna Lovelace and the all-around effectiveness of versatile freshman wing Jordan Wakefield.
Though it doesn't preclude any of them from making a surprise title run, the rest of the Division I field has played a level below the unbeaten Cougars and Royals. Kaiserslautern and Stuttgart have shown the potential to cut in on the presumed Ramstein-Vicenza tango.
Reigning champion Wiesbaden has all but fallen out of title contention this winter in the throes of a rebuilding year. The Warriors, Lakenheath, Naples, SHAPE and Vilseck will look to outperform sub-.500 divisional records they produced in the regular season.
Division II There's not a stronger defending champion in DODDS-Europe than the reigning Bitburg Barons, an undefeated juggernaut headlined by arguably the two premier talents in the division. Point guard Alexa Landenberger and post Elise Rasmussen provide an inside-outside combination that has proven all but unstoppable, both in last year's title run and throughout the winter.
If Bitburg has a nemesis, it's the Black Forest Academy Falcons. Bitburg has handled BFA in recent meetings, including last year's title game and both of their regular-season meetings this season, but the Falcons have been very competitive on all of those occasions. A hot shooting night from Cailynn Campbell or a particularly stingy effort by BFA's elite defense could swing the matchup towards the Falcons.
Should either Bitburg or BFA falter, there are plenty of capable teams on the fringes of contention waiting to take advantage.
Aviano and American Overseas School of Rome split their doubleheader this season, accounting for the only divisional loss suffered by either squad. Neither of these Italian schools crossed paths with Bitburg or BFA this winter, so it's possible that unforeseen matchup problems could favor the underdogs.
Rota takes its usual spot wild-card spot in the bracket, while returning semifinalists AFNORTH and Hohenfels would like to redeem subpar regular seasons with strong postseason runs.
Division III For most of the winter, a small-school title rematch between the champion Baumholder Bucs and runner-up Sigonella Jaguars seemed a foregone conclusion.
But that conclusion looks like a premature leap now.
The Ansbach Cougars, a new arrival to the division after their demotion from Division II earlier this school year, shook up the seemingly predictable race with a convincing February sweep of Baumholder. The games were the only two Division III games of the season for Ansbach, but they're enough to put the Cougars in the midst of the small-school title picture.
Baumholder, led by reigning Stars and Stripes girls basketball Athlete of the Year Eliyah Tillman, won't relinquish its title easily. And Sigonella, boasting arguably the deepest and most talented overall rotation in the division, is far from an easy out.
Returning semifinalists Alconbury and Brussels also figure to make noise in the small-school bracket.
Twitter: @broomestripes
---
---
---