Chris Eubanks 'discus'ses the discus
by
Rusty Bryan
April 29, 2004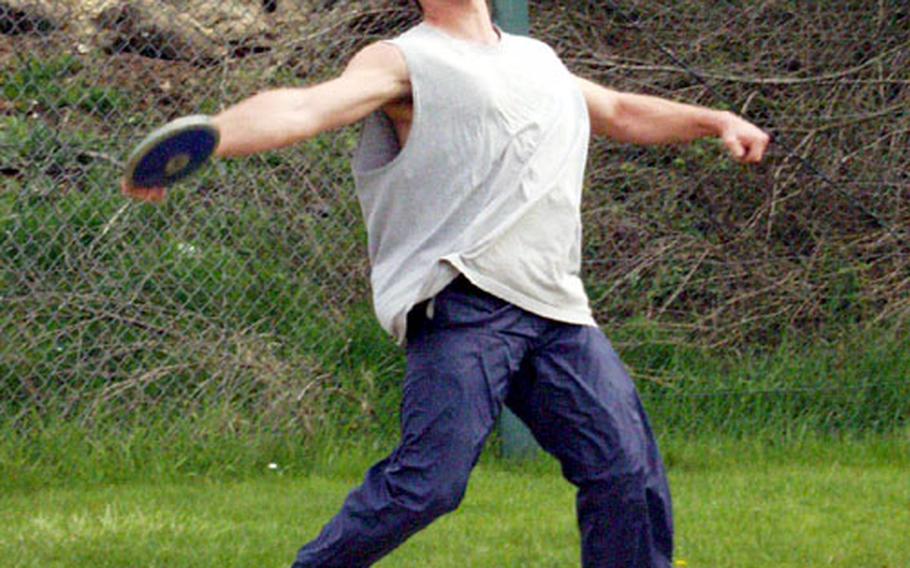 BITBURG AIR BASE, Germany — A discus may look like a Frisbee, but throwing one isn't the same. Just ask Chris Eubanks. To throw the discus successfully, the Bitburg High senior said, a thrower needs the first-step quickness and power of a sprinter, the footwork of a dancer, the precision form of a figure skater, the command of a control pitcher, the digital dexterity of a card shark and a sailor's feel for wind and weather conditions.
And, "it helps to be tall," said Eubanks, an 18-year-old Texan who isn't, at least by the standards of world-class discus throwers. But even at only 6 feet and, therefore, lacking some of the leverage of taller performers, he stands head and shoulders above the DODDS-Europe discus field.
In his first year of DODDS competition last spring, Eubanks won the European championships with a throw of 147 feet, 2 inches, which surpassed the second-place toss by more than 10 feet.
Last Saturday at Lakenheath, Eubanks unleashed a throw of 141-2, which is nearly 20 feet farther than his closest competitor for this year, Chuck Madden of Kaiserslautern.
And that throw, Eubanks said Tuesday, came under less-than-ideal conditions.
"There was no wind at all to help us," he said.
"The ideal condition for the discus is to throw into a bit of a headwind," he said, explaining that the spinning discus, much like an airplane wing, gets lift from taking off into a headwind.
The wind, however, is just a small part of the equation.
"Discus is more form than anything else," said Eubanks, who took up the event in junior high in Texas. "The biggest key is starting from the ground up. You can't just step into the ring and start throwing."
Eubanks said his first step was mastering the release.
"Most people don't know it, but the discus has to spin backward," he said. "That means you have to release it off your index finger. Most people release it off their pinkie."
Once a thrower gets the release down, Eubanks said, he must work on form.
"If you do one thing wrong, it can throw off the whole throw," said Eubanks, who as a team captain also works with Bitburg's two female throwers.
Eubanks demonstrated what he meant as he prepared to do one of the 21 full-form throws he would do this day at practice … assuming all goes well.
"If I have three bad throws," he said, "I do three more. You work on getting everything right."
Bitburg coach Pete Vadney has noticed his captain's work ethic.
"He's a natural leader and a hard worker," Vadney said. "He's a technician. He's learned how to break down his throws. He works on each piece, specifics, at practice. He's not just standing in the ring and throwing."
It's all evidence, Vadney said, of the competitive fires that were burning in Eubanks when he arrived at Bitburg from Texas as a junior.
"He's the most committed track athlete I've ever had," Vadney said. "Unlike most of our DODDS athletes, he's had the privilege of executing at top-level state competition in the States. He was among the top 12 in Texas as a sophomore."
It's a far cry from DODDS-Europe, Eubanks said, where you regularly get to "see" your competition.
"The biggest problem over here is that I won't see someone like Andrew Aarons of Würzburg until the Europeans," he said. "Until then, it's just numbers on paper."
Aarons is far behind Eubanks in the discus, but right on his heels in that other weight event, the shot put. Eubanks recorded a DODDS-best, 45-¾ last week; Aarons posted a 44-11¾ the same day in Würzburg.
Eubanks works on the shot every other day at practice the same way he does the discus.
"I'd love to win the double," he said.
---
---
---
---