Boys European soccer preview
Champs will have tough time winning again
---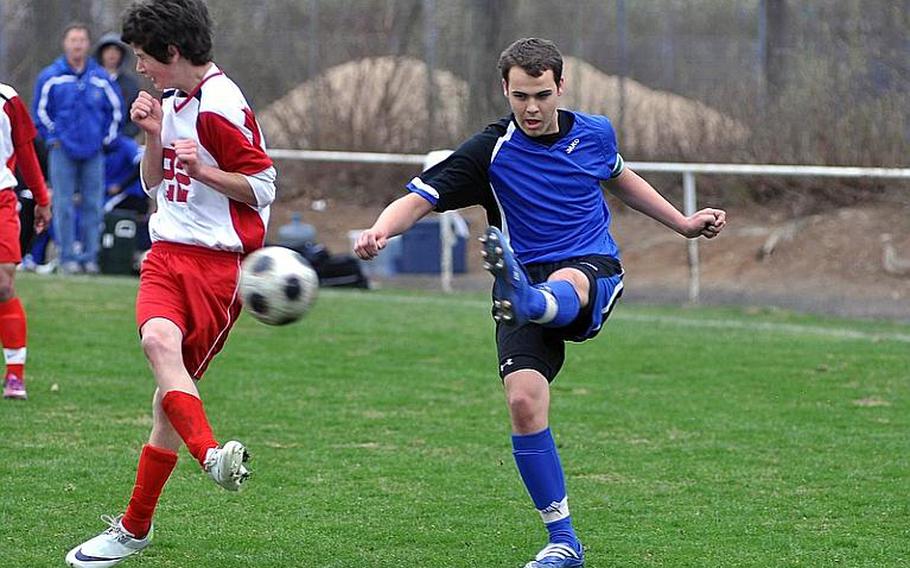 The defending Division I, II and III boys' high school soccer champions are in peril of one-and-done seasons in the throne-room, based on seeds for the three events released Wednesday.
D-I champion Ramstein is No. 4 this time around; D-II king Marymount International School of Rome is seeded second to Region III champion Hohenfels, and 2011 D-III titlist Sigonella is No. 2 to top-seeded Alconbury in 2012.
A division-by-division look at the three tournaments, scheduled to be played Monday-Wednesday at German clubs in Landstuhl, Reichenbach-Steegen and Waldmohr, Germany, and wind up Thursday at Ramstein High School:
Division IEither of two unbeatens – top-seeded International School of Brussels (5-0-1) and No. 2 Kaiserslautern (5-0-2) – figure to unseat the Royals (5-1-1), according to the seeding committee. ISB, the 2010 D-I runners-up led by All-Europe forward Alessandro Pryce, downed Ramstein 3-1 and tied Kaiserslautern 1-1 during a two-day road swing through Germany last month. K-town completed its unbeaten season last Saturday with its second draw of the campaign, 1-1 against visiting Ramstein.
Needless to say, K-town, for one, is looking to improve on those two outcomes, compiled by a senior-laden team that its coach, Ken Robinson, calls the school's best this century.
"Both Ramstein and ISB are good passing teams, so it will be very difficult and challenging to control the game," Robinson emailed on Monday, "but we are up for the challenge."
Robinson added, however, he wasn't ruling out the chances for two teams he hasn't played in 2011 – No. 3 Vilseck (5-1-1), a 39-goal-scoring team in 2011 that posted five shutouts in seven outings, and No. 5 Heidelberg (4-1-2) – in the pool-play-with-crossover-semifinals event.
Division IIHohenfels, which claimed the Region III title over D-I powers Vilseck, Heidelberg and Patch, will find itself challenged again in the D-II event, which requires its 15 teams to play two pool-play games on Monday, then sorts the teams into a win-or-go-home, single-elimination bracket the rest of the way.
That sort of format puts severe pressure on Hohenfels (6-1), because D-II is where most of the soccer-first international schools reside. Lurking as potential major obstacles for Hohenfels are 2010 D-I champion SHAPE (5-2), seeded third; No. 4 American School of Milan (5-2); No. 5 American Overseas School of Rome (5-2), and AFNORTH, seeded No. 7 in spite of going 5-2. If that weren't enough of a mountain to climb, there's No. 2 seed Marymount International School of Rome (6-1), the defending champion and this year's Region IV champion, which lost only when forced to forfeit a scheduled game last month at Vicenza because of travel difficulties.
Division IIIThe small-schools division is always a crap-shoot, Alconbury coach Jeffrey Black emailed, because of the X factor posed by the remoteness of most of the teams from each other.
"There are only a few of us that get to see each other throughout the season, and yet there are teams out there that no one really knows about." Black wrote. "Two years ago, Ankara was a five- or six-seed, yet they go undefeated in the tournament and win the championship. No one, other than Ankara themselves, knew just how good they were going to be that year."
Alconbury (5-1-1) is the No. 1 seed this season, and like some of the D-I teams, the Dragons will be out to rectify a tie, this one the 2-2 verdict they registered against visiting Rota last month. Sigonella, toughened by its usual season playing Italy-league D-II teams, is No. 2, with Brussels third, Rota fourth and Ankara fifth in the 10-team field which will play a pool-play-with-crossover-semifinals format.
---
---
---
---