European tennis
Champions, veterans, rookies all seeking titles
by
Gregory Broome
October 25, 2017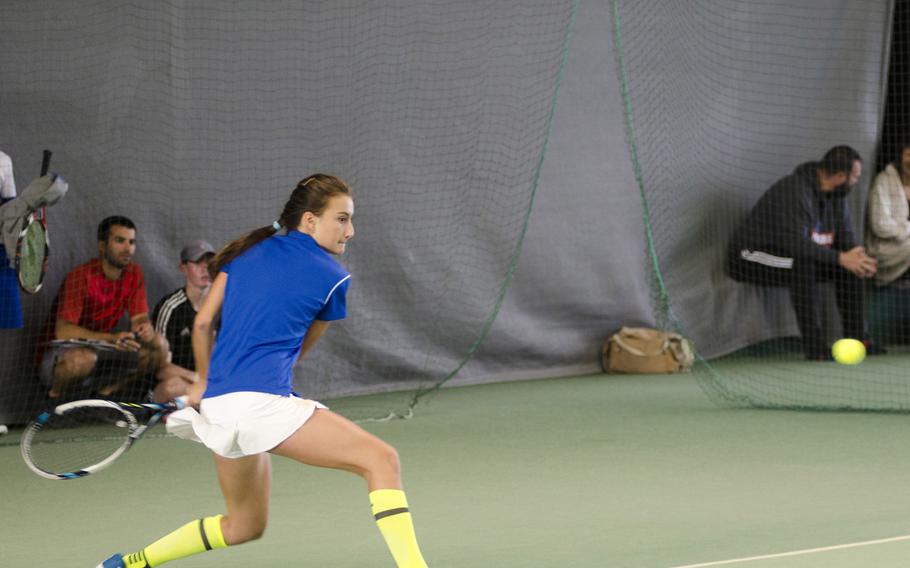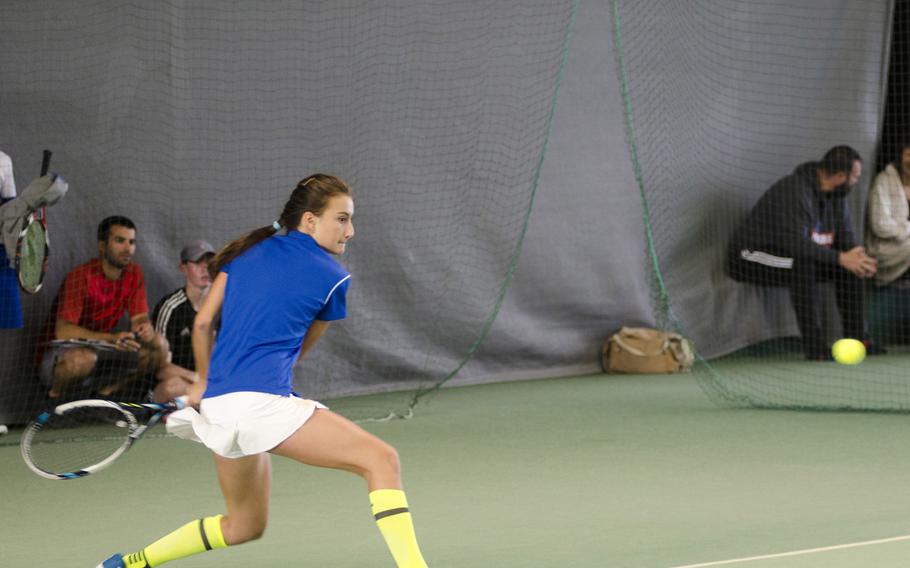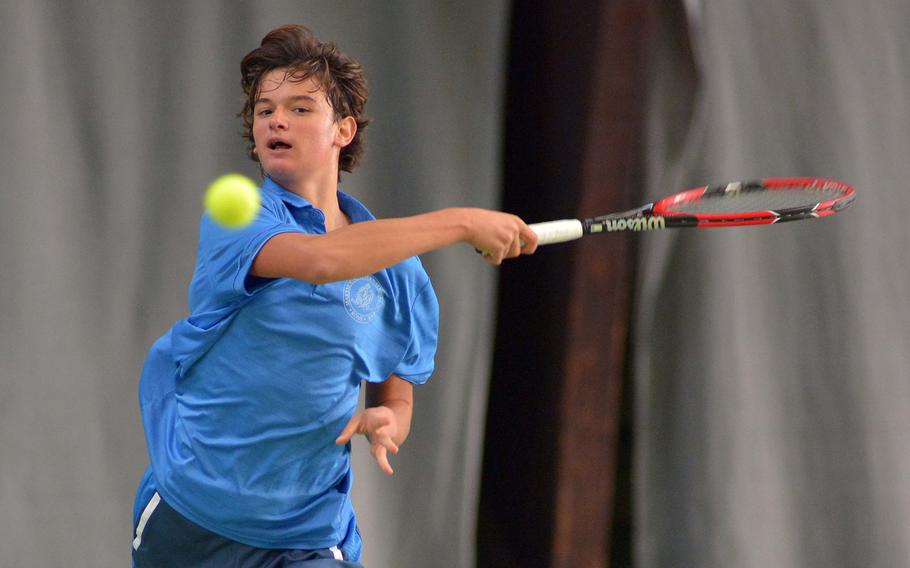 Contenders of both the novice and experienced variety will descend on Wiesbaden, Germany, over the next three days to compete in the DODEA-Europe tennis championships.
A group of 24 singles competitors and 22 doubles teams will vie for the four championships available in the tournament, the second European championship event of the 2017-18 school year. Among the entries are a freshman phenom looking to launch her DODEA-Europe career with a title, a strong returning champion atop the boys singles field and a returning doubles champ defending her crown alongside a new partner.
Girls Wiesbaden had high hopes for incoming freshman Charlotte Kordonowy coming into the fall. So far, she's exceeded even the highest of expectations.
Kordonowy has been on the Warriors' radar since she was in sixth grade, coach Tom Rooney said, when she would trade volleys with Jade Sullivan, a former European singles champion at Wiesbaden. Though a nominal freshman, Kordonowy brought years of competitive experience to her DODEA-Europe debut.
It's shown up in the results. She comes into the tournament undefeated and with several high-profile straight-set wins to her credit, enough to earn her the bracket's top seed.
The new challenge for Kordonowy is volume. Though she's already bested many of DODEA-Europe's best, this week she'll see them all at once, and the competition is as diverse as it is fierce.
Wiesbaden's local large-school rivals are represented in the form of Stuttgart's Kendall Smith, Ramstein's Cami Carswell and Kaiserslautern's Kalin Olsen.
Italy sends a strong contingent including Vicenza's Catherine Gulihur, Marymount's Elena Vittori, American Overseas School of Rome's Camilla Lynch and Naples' Genesis Torrent, all looking to bring the country a second straight title after Kaya Rand won for AOSR in 2016.
DODEA-Europe's smaller programs will also present some challenges, namely Alexandria Bohn of Brussels, Chloe Witty of Hohenfels and Chloe McHenry of Bahrain.
The girls doubles bracket is headlined by a Ramstein team featuring half of last year's championship duo and a worthy replacement. Megan Stretch has fit perfectly this fall next to returning doubles champion Amanda Daly, who teamed with Sophie Tomatz to win the 2016 title.
The top obstacles to a Royal repeat include Emelia Lenz and Emma Passig of Spangdahlem,
April Sullivan and Amy Stutzman of Naples, Melissa Pritchett and Shelby Albers of Wiesbaden and Margaret Cayce and Josephine Little of Kaiserslautern.
Boys A proven champion is perched atop the boys singles bracket in Marymount's Mathias Mingazzini, who cruised to the 2016 title with an impressive straight-set championship match victory. The junior is a heavy favorite to add to his trophy case this week.
But after playing a largely local schedule during the season, he'll at least see some fresh opponents this week, and one among the group might be game for a bracket-toppling upset.
Stuttgart senior Zach Snow has the chance to cap his first and only season in DODEA-Europe with a singles crown. Seasoned contenders Noah Banken of SHAPE, Aljaz Urbanc of Brussels and Mark Butler of Kaiserslautern could also mount a serious threat to Mingazzini's reign, as could the champ's Roman neighbor Guido Plebani of AOSR.
Boys doubles is perhaps the bracket most impacted by the preseason decision of International School of Brussels to withdraw from DODEA-Europe tennis, along with most other sports. ISB produced last year's winning boys doubles team and one of its semifinalists last year, in addition to the runner-up team on the girls side.
Among the favorites to fill the vacancy are Bradley Roxbury and Bradley Russell of Stuttgart, AOSR's Federico Sarti and William Hsia, Seth Banken and Gregor Vargyas of SHAPE and Ramstein's Grady Gallagher and Jordan Liebig. Gallagher finished second in last year's doubles competition with former partner Ben Mouritsen.
Twitter: @broomestripes